VRAM and RAM both are types of memory that are used in computers and smartphones. They are easy to be confused with each other but are very different from one another in terms of applications, working process, costs, and even importance. In this article, we're going to briefly discuss the differences between VRAM vs RAM, and how they work.
VRAM vs RAM
To have a distinguishable understanding of RAM and VRAM, we have to know what they are, how they work, and where do we need them.
By Definition
RAM (Random access memory) is a type of memory where the processor stores all necessary information temporarily while running a program or operating system. On the other hand, VRAM (Video RAM) is a type of dual-ported DRAM (Dynamic RAM) that stores image data associated with the display only. Its main job is to produce an image to be shown on the display.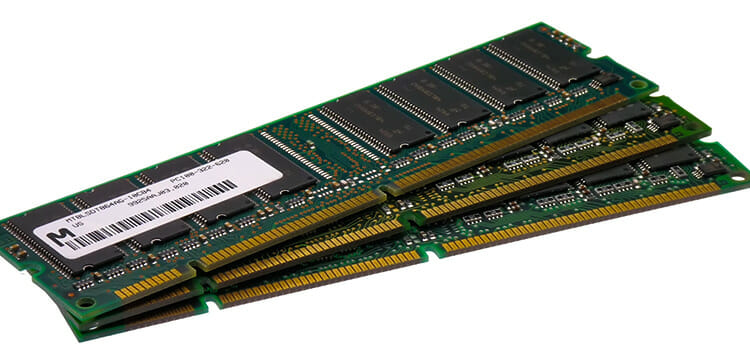 How RAM and VRAM Works
Both RAM and VRAM work in a similar manner, but are used in completely different scenarios. RAM can be found in any computer and smartphone, ranging from 512MB to 32GB or more in very high-end systems. You can check RAM and VRAM easily. They can usually be upgraded in computers and laptops, by buying more RAM sticks and connecting them to the motherboard. More amount of RAM gives a smoother performance and increases the capability to run heavier and more applications at the same time. For issues, you can check drivers for GPU, and the RAM itself.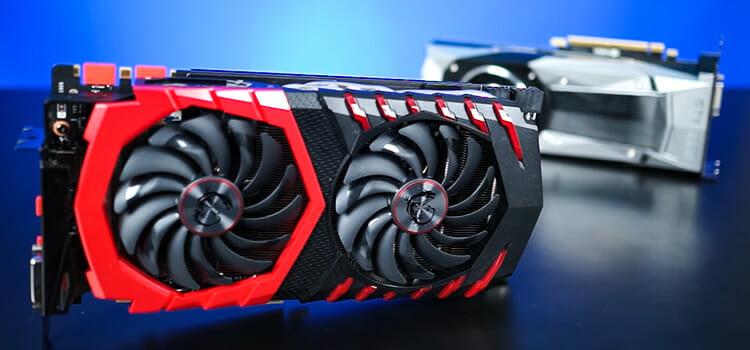 VRAM on the contrary is very different in application. In many systems, VRAM applies for external GPUs (Graphics processing unit). In other cases, without dedicated graphics cards or GPUs, a small portion of RAM itself works as VRAM. This portion is used solely for image and texture creation that are sent to the monitor.
Types of VRAM
There are various types of VRAM for different purposes. Generally, we use these 4 types of VRAM:
Synchronous Graphics RAM (or, SGRAM) is the most conventional type of VRAM that is used in systems. It is also very cheap and is a type of clock-synchronized dynamic RAM (DRAM). SGRAMs can work as a dual-ported memory but originally is a single-ported one. Clock speed is a crucial item here. Modern GPUs use GDDR5 (SGRAM DDR5) for its higher clock speed and cheaper expenses. GDDR5X is a new form of GDDR5 VRAM with higher bandwidth (56 GB/s in compared to the old 28 GB/s) and higher clock speed (14 GB/s in compared to 7 GB/s) and lower voltage. It can be found in the highest-end graphics cards.
Multibank DRAM (or, MDRAM) is another type of cheap video memory that boasts higher efficiency. It improves performance by dividing the whole memory into segments, and then use them separately.
Window RAM (or, WRAM) is another dual-ported video memory that is used in high-performance needs where more bandwidth is required.
Rambus DRAM (or, RDRAM) is a single or, dual-channel VRAM with simplified dedicated buses to increase performance significantly. The data transfer rate is very fast, close to 800 MHz range.
High Bandwidth Memory (HBM) is a more advanced and newer form of VRAM that can operate in lower power and still produce a much higher bandwidth than conventional GDDR5s. Although the clock speed is lower, the HBM technology is still under the development phase.
Types of RAM
RAMs come in many different form factors and specifications. They are mainly of 2 types:
Dynamic RAM (DRAM) is used as the memory of a computer or laptop. DRAMs are made of transistors, capacitors, and ICs. The capacitors store data temporarily and refresh continuously due to electrical charges. DRAM also comes with many types like SDRAM, DDR SDRAM, and RDRAM. The latest DDR SDRAM is the DDR5 memory. DDR3L and DDR4 are the most widely used.
Static RAM (SRAM) stores data in itself as long as the power supply is continued. So, it doesn't require continuous refreshing like DRAMs and is also much faster. But as a result, SRAMs are also very expensive compared to DRAMs.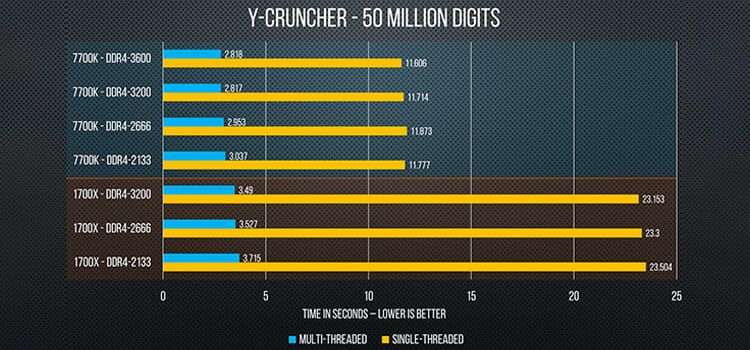 DRAMs are used in 2 types of modules. Single inline memory module (SIMM) were used in old computers. Modern computers use Dual inline memory module (DIMM) which utilizes both sides of modules. It comes with more connector pins and provides a much faster data transfer rate.
VRAM vs RAM Usage
RAM is used continuously from starting up a computer to shutting down. The usage turns up significantly when a new application is launched, or when multitasking. A high portion of RAM can also be used when browsing the internet and keeping many tabs open at the same time, or watching high-quality multimedia.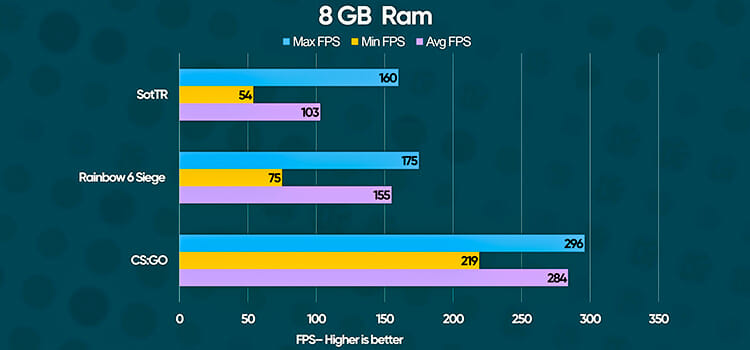 On the other hand, VRAM is only used for creating image data and showing it to the monitor. So, in normal computing, VRAM usage is very low. If you have a dedicated GPU, it will sit idle almost all the time. But it will play a huge role when gaming or using design software, or doing graphics-heavy works.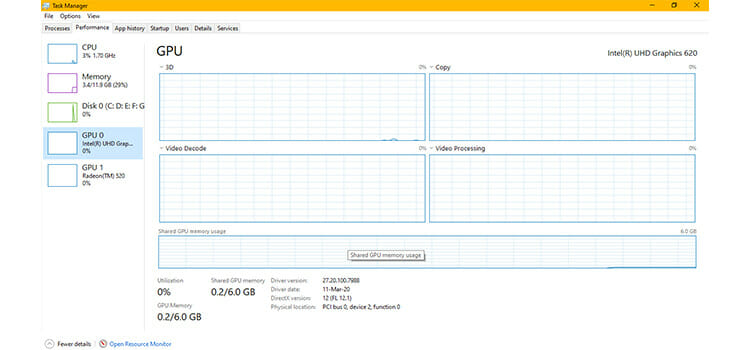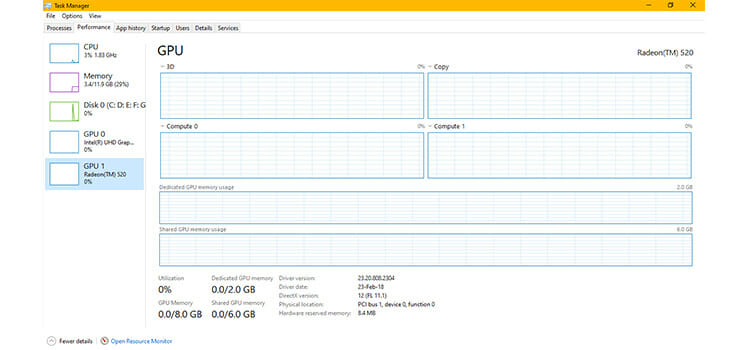 We can see both the VRAM and RAM usage in the task manager. In the GPU 0 section, the VRAM usage is shown, and in the Memory section, RAM usage is shown. For dedicated graphics cards, another section GPU 1 is displayed.
VRAM vs RAM Gaming
Typically, a computer with sufficient RAM can run perfectly with normal usage like multimedia playing, browsing, streaming, and doing office works. Here, a small portion of RAM itself works as VRAM to fill the need of displaying content. Microsoft Basic Display Adapter and Intel HD Graphics drivers are integrated graphics that utilize this VRAM, and no dedicated GPUs are needed. You can increase VRAM for your integrated graphics if needed.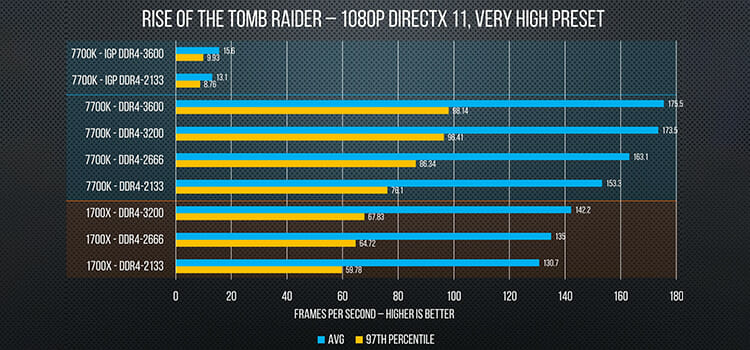 However, when it comes to gaming, rendering, or design works, dedicated GPU with more VRAM totally excels in basic RAM performance. Without VRAMs, modern games run very poorly, or not run at all with just RAM. You can play very old pc games without VRAM but newer games all require dedicated VRAMs to perform normally. These games come with lots of high-resolution texture quality, ambient occlusions, and require dedicated memory to render the images.
So, to build a gaming pc, a comparatively good external GPU is a must. Otherwise, while running these games with just RAM, a big chunk of memory extinguishes to render the images, and the games become very slow, drop frame-rate and become almost unplayable.
Conclusion
In this article, we've briefly discussed the comparison between VRAM vs RAM. Both of these are crucial to computer performance. To sum up, RAM is a primary need for every computer to run smoothly. But for gaming and other graphics-intensive works, a dedicated GPU with extra VRAM is a must. While RAM is relatively cheap, GPUs are much more expensive. And without GPUs, a portion of RAM works as video memory or, VRAM.