Decoding the Error: 203 Memory Module Failed Self-Test | How Do I Fix
I've always been surrounded by the seamless operations of computers. But let me tell you, there was this one day, coffee in hand, ready to dive into my tasks, when my screen flashed the ominous "203 Memory Module Failed Self-Test" error. Talk about a mood damper! I felt the weight of tech confusion, and if you're here, I bet you're in the same boat. Fret not, my fellow tech-troubled friend. I dove deep, deciphered this conundrum, and I'm here to guide you through the mist of this memory maze.
First things first, let's decipher the code. The "203" in this error message indicates that the computer's memory module, typically RAM (Random Access Memory), has encountered an issue during its self-test. But what exactly does that mean, and what can you do about it?
In simple terms, when our dear computer runs its routine health check, sometimes, it finds that the RAM, its short-term memory powerhouse, hits a glitch. But what on earth causes it, and how do we swing our tech-wand to fix it? Let's roll up our sleeves and dive right in!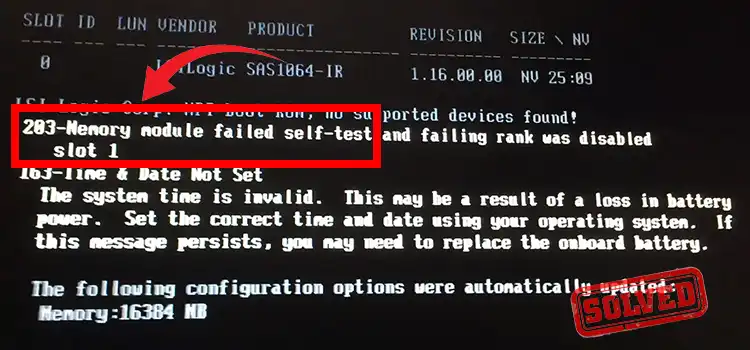 What Is the 203 Memory Module Failed Self-Test Error and What Does It Do?
Before we tackle the error, it's essential to grasp the role of RAM in your computer. RAM is like your computer's short-term memory. It stores data and instructions that your CPU (Central Processing Unit) needs while it's actively processing tasks. Think of it as a workspace where the CPU temporarily stores and works with data, enabling swift access for running applications and tasks.
How You Can Do to Fix the Issue: A Step-by-Step Guide
If nothing above work, you can follow the steps in the following guide to help you identify and fix the issue:
Power Down: Always shut off your computer and unplug it before doing any internal work.
Open 'er Up: Access the inside of your PC. For most desktops, this involves removing screws on the back of the tower and sliding off the side panel.
Reseat the RAM: Gently release the clips holding the RAM stick in place, then remove the stick. Carefully replace it, ensuring it clicks securely into place.
Clean Out Dust: Using a can of compressed air, gently blow away any dust from the RAM slots and other components.
Check for Physical Damage: Inspect the RAM stick for any obvious signs of damage. If any are found, the stick will likely need replacing.
Boot and BIOS: Power up your PC and, if necessary, enter the BIOS to ensure RAM settings are correct.
Software Test: Utilize diagnostic software like MemTest86 to test for any non-obvious issues.
Seek Expertise: If you're still encountering problems, or if you're unsure about any of the steps, it might be time to turn to a tech expert.
Error 203: What Went Wrong
The "203 Memory Module Failed Self-Test" error suggests that during the computer's power-on self-test (POST), a diagnostic process it runs to check for hardware issues, a problem was identified within the memory module. This could be due to various factors, such as:
1. Faulty RAM Stick
The Culprit: One of your RAM sticks may be malfunctioning. This can happen due to manufacturing defects, wear and tear, or even static electricity discharge.
What to Do: In this case, you might need to identify the problematic RAM module. This often involves testing each RAM stick one by one to pinpoint the faulty one. If you find a problematic stick, it's time for a replacement.
2. Poor Connection
The Culprit: Sometimes, the RAM stick isn't making proper contact with the motherboard due to a loose connection. This can occur during transportation, handling, or if the RAM stick wasn't securely installed.
What to Do: Power down your computer, open the case, and ensure that the RAM sticks are seated correctly in their slots. Reseating them can often resolve the issue.
3. Dust and Debris
The Culprit: Dust and debris can accumulate over time, causing poor connections or overheating. This can lead to memory-related errors.
What to Do: Regularly cleaning your computer, especially the interior, can help prevent dust-related issues. Use compressed air to blow out any accumulated dust gently.
4. BIOS or Motherboard Concerns
The Culprit: BIOS settings or motherboard issues might interfere with RAM operation. Incorrect BIOS configurations can impact how RAM is recognized and utilized.
What to Do: Verify your BIOS settings and make sure they're configured correctly for your RAM. If you're unsure about this, you might want to consult your motherboard's documentation or a professional technician.
In Closing
Encountering the "203 Memory Module Failed Self-Test" error can be unsettling, but it's often a solvable issue. By understanding the role of RAM, pinpointing the problem, and taking appropriate action, you can help your computer's memory module get back on track, allowing your system to run smoothly once again.
Curious Queries?
Is There A Way To Test My RAM for Issues Without Physically Removing It From My Computer?
Yes, there are software tools like MemTest86 that can help diagnose RAM issues without physically removing the modules.
Can A Ram Issue Lead To Data Loss Or Corruption?
While RAM errors can cause crashes and system instability, they typically don't lead to data loss or corruption. Your data stored on the hard drive or SSD is more likely to be affected by those issues.
Is It Safe For A Non-Tech-Savvy Individual To Attempt Ram Troubleshooting?
Re-seating RAM sticks is a relatively straightforward process and can often be done by individuals with basic technical knowledge. However, if you suspect other issues or aren't comfortable, seeking professional help is a wise choice.
Subscribe

to our newsletter

& plug into

the world of technology