While gaming computers are a thing, the world is going more toward portability and functions. Hence, the need for a gaming laptop is evident. 
In terms of Acer vs MSI gaming laptops, both of them are the best option for gaming. It's true that there aren't lots of differences between them except some specific differences. 
But for the price range and performance, MSI and Acer are on the top likings. That is why we put MSI vs Acer gaming laptops head-to-head comparing for you today.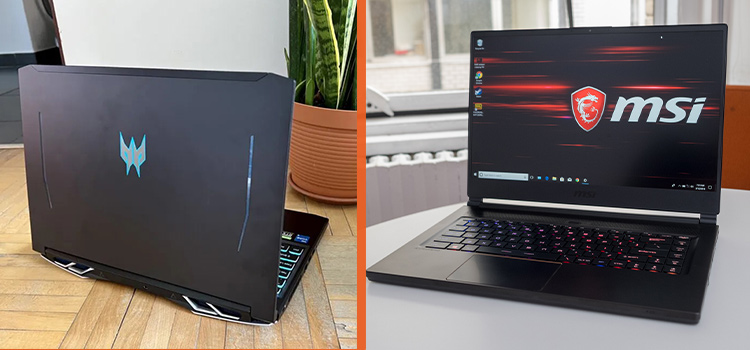 Which Is the One: Acer vs MSI Gaming Laptop
While both pack a lot of power in them, there are still tiny differences between the two brands. And for gamers, those small touch makes a whole lot of difference. 
To elaborate, we are going to help you with a chart and then move on to the discussion right away. 
Comparison Chart: MSI Pulse vs Acer Predator Laptop
| | | |
| --- | --- | --- |
| Item | MSI Pulse (GL66 11UGK-431IN) | Acer Predator Helios 300  |
| OS and General Features | | |
| Operating System | Windows 10 Home, Windows 10 Home (64-bit) | Windows 11 Home Basic (64-bit) |
| Display Type | QHD (None touch) | LED (None touch) |
| Screen Size | 15.6 inches | 15.6 inches |
| Display Resolution | 2560 x 1440 pixels | 1920 x 1080 pixels |
| Display Feature | 165Hz DCI-P3 100% | Full HD IPS LED Backlit Display |
| Processor & Speed | | |
| Processor and Generation | Intel Core i9 (11th Gen) | Intel Core i7 (11th Gen) |
| Speed and Clocking | 4.6 GHz, Octa Core Turbo Boost Upto 4.6 GHz | 2.5 GHz, Octa Core Turbo Boost Upto 4.9 GHz |
| Graphics Processing Unit (GPU) | NVIDIA GeForce RTX 3070 6 GB | NVIDIA GeForce RTX 3060 GDDR6 8 GB |
| RAM | 16 GB DDR4 | 16 GB DDR4 |
| Other Components | | |
| Bluetooth Verison | v5.1 | v5.2 |
| Ethernet | Gb LAN | No |
| WiFi | Intel Wi-Fi 6 AX201(2 x 2 ax) | 802.11 b/g/n/ax |
| USB Ports | 1 x USB Type-C, 2 x USB 3.0, 1 x USB 2.0 | 1 x USB 3.0 |
| HDMI | 1 x HDMI Port | 1 x HDMI Port |
| Keyboard | RGB Gaming Keyboard (Backlit) | Gaming Keyboard (Backlit) |
| Microphone & Headphone Jack | Yes | Yes |
| Multigesture Touchpad | Enabled | Yes (Needs enabling) |
| Weight | 2.25 kg | 2.3 kg |
The Difference in OS, Display Resolution, and Type: Acer Wins Over Msi, but There's a Catch!
Looking at the specification, you can see that the MSI Pulse comes with Windows 10 as an official operating System whereas the Acer Predator has Windows 11. But that is just a minimal inconvenience you can always update to the latest version. Besides, Windows 11 is still new and comes with a lot of bugs and incompatibilities. 
The display is superior in Acer gaming laptops as they have a LED display with 1920 x 1080 pixels resolution. The MSI has a QHD display but shines in resolution with 2560 x 1440 pixels. And we would suggest the MSI over the Acer for this reason.
How Is Their Performance: Acer vs MSI
In terms of memory, performance, and GPU, the MSI again runs first in the race. As it comes with the latest intel core i9 processor which can be overclocked to 4.6GHz. The Acer Predator on the other hand has just an intel core i7. But it can be overclocked to 4.9GHz. Which is amazing!
In terms of performance, both of them go head to head. 

Worth of Money: Acer vs MSI
If you prefer a high-end gaming laptop with a vivid display and still less expensive, then you may go for MSI. 
But if you're looking for better performance for a comparatively greater cost, then you may go for Acer Predator.
If you're still a bit unsure about which one to choose, there's nothing to worry about. Now, we'll state the reasons behind choosing each of them so that you can choose the one that goes with you.
Why Should You Choose Acer Gaming Laptop?
You can get the Acer Predator laptop since it's fully set up and ready to offer its consumers a high-level gaming experience. These laptops operate remarkably well because they have top-tier RAM, processors, graphics cards, screens, etc.
Moreover, these laptops are dependable and robust. They have a sturdy construction that can easily handle the strain of regular use. They also have impeccable hardware that, with regular maintenance, will let them last for a long time. 
Acer is capable of making hard drives that can withstand drops and bumps so that their high-quality screens stay more durable. Also, these laptops have a fairly extended battery life.
If you want the best gaming laptop available and can afford that expense, then surely Acer Predator is a perfect choice for you.
Why Should You Choose MSI Gaming Laptop?
MSI is renowned for its groundbreaking design work. All of their models feature contemporary design aspects including an aesthetic appearance. If you desire something exceptional, they're absolutely worth taking into account.
MSI laptops come with accidental damage protection. It will cover most of the accidents that help to avoid repair expenses.
Also, they are comparatively less expensive. The main attraction they create is by being even more cost-effective, yet they offer top-notch performance.
Even they have several cutting-edge technologies made particularly to meet the demands of PC games, ensuring an excellent gaming experience.
Additionally, MSI laptops include some of the lightest gaming laptops available. They get lighter and appear slimmer which is really fascinating.
Frequently Asked Questions (FAQs)
Are MSI gaming laptops worth it?
Yes. MSI has been making motherboards and processors for gaming computers even before they brought in their own brand of laptops. So when you are getting an MSI gaming laptop, you know it will be optimized to the fullest.
Does Acer make good gaming laptops?
Yes, some of Acer's highlighted laptops are particularly capable of running modern highly configured games. Some of the laptops are relatively affordable, making them an excellent option for gamers on a tight budget.
Is MSI or ASUS better for a gaming laptop?
Both MSI and ASUS are better as gaming laptops. All gaming laptops are designed for gaming, so they must have the right hardware for gaming. The difference comes when there are more or fewer configurations or features. MSI has a stylish look and captivating specifications, while ASUS has the best motherboard available.
Is MSI a good brand for non-gaming laptops?
If you are not a frequent gamer, but still want an MSI laptop for regular usage, you can definitely go for it. As the display and processor are upgraded to overcome any glitches and high usability, it will take on any daily tasks with ease.
Conclusion
As you've read this far, we hope that you may have the necessary knowledge regarding Acer and MSI gaming laptops. Both brands manufacture amazing and attractive gaming laptops with the latest features. Now, it's up to you which features you desire most and which laptop is capable to provide them the most.