From cool vlogging to adventurous hill tracking, from the celebration of an event to festivals, from social media to framing special moments, video is everywhere. The creation of stunning videos is nearly impossible without the help of a video editor. If you are a beginner and want to taste the flavor before investing in an expensive video editing software, you need to know about the best video editing software. Most of the renowned video editing software comes with skyscraping prices, but some good options are completely free. Here in this article, we'll point out the 5 best free video editing software.

Best Free Video Editing Software 
1. VideoProc Vlogger  
If you are searching for an ideal all-in-one video editing with all types of premium features without any cost, VideoProc Vlogger would be a perfect choice for you. It is a user-friendly advanced-level video editing software by which you can make impressive videos for your social media, websites, and commercial uses. Especially if you are a vlogger who wants to explore new things and love to make cool videos. VideoProc Vlogger is topping at this list because of its premium features that are only found in expensive video editing tools. Here is some feature of VideoProc Vlogger;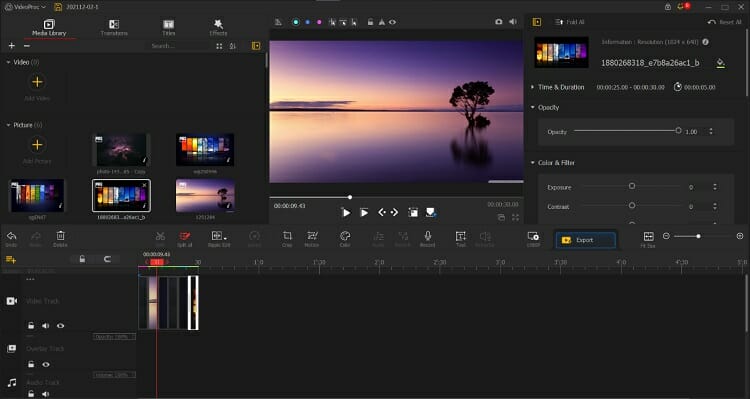 Wide selection of essential editing software
Stabilizing and enhancing video
Motion effect, motion graphics, keyframe and motion cropping
Multi-track and frame-by-frame editing
Fixing grainy photos
Adding and removing watermark
Transitions and overlays
Previewing effects and filters in real-time
High-quality audio editor
Edit to the beat
Adjusting color and HSL (Hue, Saturation, and Lightness) color value
Green screen/chroma key
PIP (Picture in Picture) video editing
93 built-in 3D LUTs
Data compression
Audio filters and analysis
Speed Ramping
Supports 4K
Uses full GPU and level-3 hardware acceleration
VideoProc Vlogger has no converter options for the edited video. To solve this, you can use VideoProc converter to convert your videos. VideoProc Converter has a media downloading option from more than 1000+ websites. Both VideoProc Vlogger and Converter have two versions, Studio version, and Free version. VideoProc Vlogger is a game-changer of free video editing software. Free versions of VideoProc Vlogger is a game-changer for the following reasons;
In most of the free video editing software, you will notice watermark on video after finishing up editing. Though watermark is disabled in VideoProc Vlogger, you can add watermark on your own. 
By using VideoProc Vlogger as your video editing software, you can easily make your stunning video content. Without any type of monthly subscriptions.
There are no limits on features in VideoProc Vlogger free version. So, you can easily pick the features you need to edit your video.
No limits on quality and exports
Maximum free video editing software has limitations in quality and exportation. VideoProc Vlogger's free version doesn't have any limitation on quality and exportation. You can control the quality of your video and exportation on your own. 
Learn more about VideoProc Vlogger >
2. DaVinci Resolve
DaVinci resolve is one of the Best free video editing software. Though it has much-advanced software, it is not easy to edit your videos with it, especially when you are new to video editing. DaVinci Resolve is mostly not for newbies, because it takes time to learn the features of this video editing software. It also needs a powerful GPU to edit your videos. This video editing software has some exceptional features. Here are some features of DaVinci Resolve;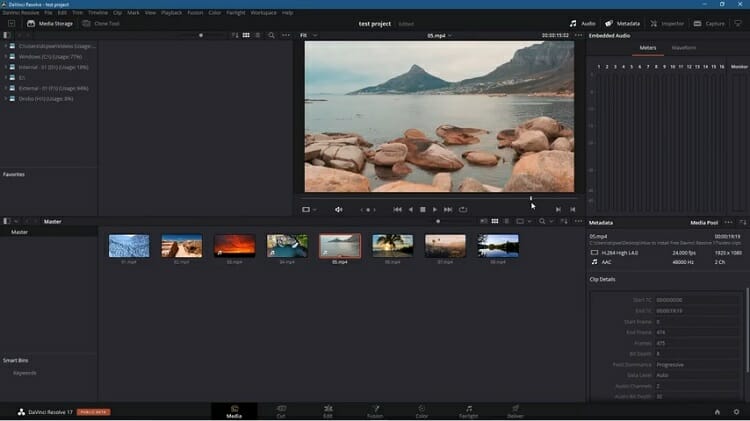 Fair light audio editing software
Motion graphics
Intelligent color correction
Multi-user collaboration
Quality post-production audio software
Editing skin tones. 
Dual timeline 
Motion graphics 
Picture to picture editing
Auto editing
Reasons to avoid:
DaVinci Resolve offers you both studio and free versions and is available in Windows, Mac, and Linux. Though it has some advanced and exceptional features, it takes time to learn the features of DaVinci Resolve.
Learn more about DaVinci Resolve >
3. Lightworks 
Lightworks is another free video editing software to edit your videos. It is also one of the oldest video editing software. Though it has access to video editing tutorials, it offers a long range of advantages for professional use. Once it was used to make movies like Pulp Fiction, Congo, and 28 Days Later. Lightworks is best to learn the tutorials. It has some special features. Here are some notable features of Lightworks;
Access to tutorials 
High precision video trimming
Export to 720p
Multicam support
Speed optimization
Real-time team project sharing 
Easy sharing of videos with fast export to social media
Supports a wide range of video format
Reasons to avoid:
Not support 4K editing
Trick and hard to learn
Though Lightworks is one of the best free video editing software, it doesn't support 4K editing, and it is little tricky to work with it. Lightworks also comes with two different versions, Studio and pro. You can install it in Windows, MAC, and Linux to edit your videos with it. 
4. Shotcut
Shotcut is a video editing software for base-level video editors. It is an open-source video editing software so that you will have access to all its features right after downloading it. Though it supports 4K video editing and offers some advanced effects and filters, it is not suitable for advanced-level video editing.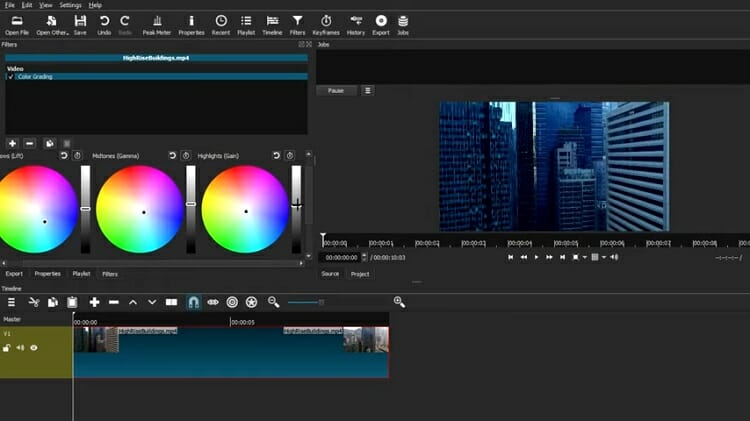 Multi-platform compatibility
Open-source program
4K HD resolution
Timeline editing
Native Video and audio editing
Advanced audio filters
Interactive UI
Chroma key
Simple interface
Customizable filters 
Steep learning curve for most beginners
Can't preview filters
Confusing interface
As an open-source video editing software, Shotcut offers a wide range of features. Though it was developed to use in Linux, you can use it on all platforms and all types of modern devices. Shotcut has some unusual and quirky interface that takes time to learn.
5. Openshot 
Openshot is another open-source video editing software that is countable among the best. It has simplified advanced features. For the beginner, Openshot offers unlimited built-in templates, credit scrolling, frame stepping, time mapping, audio editing, and real-time preview. It has an unlimited video layer. You can create powerful key-frame animation by using Openshot.
Unlimited layers
Real-time preview
Advanced Timeline 
Variation in effects
Simple interface
Time mapping
Frame stepping
Built-in templates 
Credit scrolling 
Keyframe animation 
Openshot is nearly perfect for beginners and intermediate-level video editing, but it is not an expert-level video editing software. Compared to Shotcut, it has only a few video tutorials. You can use Openshot on all kinds of devices and operating systems.
Frequently Asked Questions (FAQ)
What is the benefit of using advanced GPU to edit videos? 
GPU is helpful for expert-level video editing. It is essential to complete animations, 3D tasks, rendering graphics effects, and high-resolution video editing.
What is level-3 hardware acceleration? 
Video transcoding has 3 parts, decoding, processing, and encoding. In level-3 hardware acceleration, all three parts of video transcoding are assisted by hardware.
What is 3D LUTs?
3D LUTs (3D Lookup Tables) is used to map color spaces. It enables matching and integration of color tone and creates a unique look of image and video.
Summing Up
All of these five video editing software are free and have some differences in specializations. Shotcut and Openshot are open-source video editing software. They are not suitable for expert-level editing. DaVinci Resolve and Lightworks have complications for beginners. You can use VideoProc Vlogger to edit all types of videos without any complications. Of course, your experience doesn't matter. Though it is not supported in Linux operating system.