Can FHD Monitors Display 4K? What are My Findings
When discussing monitors and resolutions, FHD and 4K are two terms that consistently pop up. But what happens when they cross paths? If you're wondering if your FHD monitor can show that dazzling 4K content, you're in the right place.
In short, an FHD monitor cannot display true 4K resolution, but it can downscale and display 4K content at its native 1080p resolution.
Navigating the realms of pixels and resolutions can be tricky. So, let's break it down and see what happens when 4K meets an FHD monitor.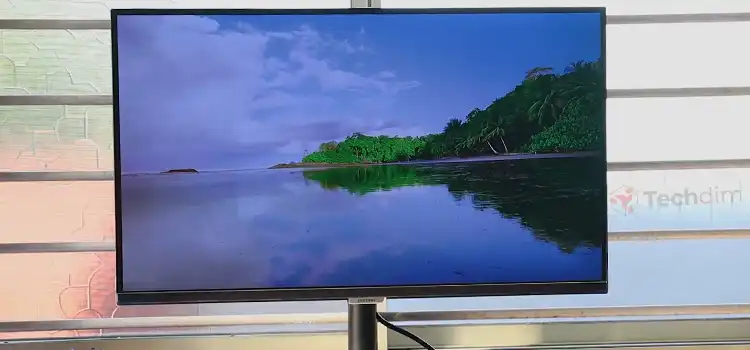 Is It Possible for an FHD Monitor to Show 4K?
While the short answer is "no", understanding why involves a deeper dive into display technology. A monitor's resolution is determined by the number of physical pixels on the screen. An FHD monitor, by definition, has 1920×1080 pixels.
This is a fixed grid. To display 4K content, which is 3840×2160 pixels, you'd need a grid that's double in both horizontal and vertical dimensions. Read on to learn the reasons why an FHD monitor can't display true 4K.
Why It is Not Possible
Physical Pixel Limit: An FHD screen physically lacks the necessary pixel density to show 4K without downscaling. It's like trying to fit a larger image into a smaller frame; some details will inevitably be left out.
Display Electronics: The electronics that drive the display are designed specifically for its native resolution. Asking it to show 4K natively would be akin to asking a car to fly; it's just not built for it.
Bandwidth Limitations: Driving a true 4K display requires a lot more data. An FHD monitor's internals might not be equipped to handle that kind of data throughput without lag or other issues.
FHD vs 4K: At a Glance
Before we can explain whether an FHD monitor can display 4K, it is crucial to understand the differences between these two resolutions. Have a quick look at the table below:
| | | |
| --- | --- | --- |
| Feature | FHD (Full High Definition) | 4K (Ultra High Definition) |
| Resolution | 1920 x 1080 pixels | 3840 x 2160 pixels |
| Pixel Count | Approx. 2.07 million | Approx. 8.3 million |
| Detail & Clarity | High detail | Ultra-high detail |
| Typical Screen Sizes | 20″ to 30″ | 27″ and above |
| Bandwidth Requirement | Lower | Higher (4x FHD) |
| Hardware Demand | Moderate | High (especially for gaming) |
| Content Availability | Widespread | Growing, but not universal |
The fundamental difference between FHD and 4K lies in their resolutions. FHD, standing for Full High Definition, offers a resolution of 1920 x 1080 pixels, which sums up to around 2.07 million pixels on the screen.
On the other hand, 4K, often referred to as Ultra High Definition, boasts a whopping 3840 x 2160 pixels, amounting to approximately 8.3 million pixels. This sheer number means that 4K provides an ultra-high level of detail, especially evident on larger screens.
Typically, FHD monitors range from 20″ to 30″, while 4K screens are more common in sizes of 27″ and above.
When it comes to content streaming and transmission, 4K demands significantly higher bandwidth than FHD, requiring about four times the data for the same screen size. This also means that for tasks like gaming, 4K pushes hardware to its limits, requiring powerful graphics cards and processors.
Lastly, in terms of content availability, FHD is universally accessible and is the standard for most broadcasts. 4K, though growing in popularity, isn't as widespread. Many streaming services now offer 4K options, but the content pool isn't as vast as its FHD counterpart.
What Happens When 4K Content is Played on an FHD Monitor?
When you play 4K content on an FHD screen, a series of processes are set in motion to ensure that this higher-resolution content is viewable on a display with fewer pixels.
1. Downscaling Process
The primary mechanism that comes into play is downscaling. This involves taking the content, which was originally designed for a display resolution of 3840×2160 pixels (4K), and compressing it to fit the 1920×1080 pixel grid of an FHD monitor.
2. Averaging Pixels
In the downscaling process, groups of pixels from the 4K content are averaged out to represent fewer pixels. This ensures that the images or videos do not appear oversized or fall outside the viewing area of the FHD display.
For Example: Consider a simplified scenario where a 4×4 grid of pixels (representing the 4K content) needs to be represented in a 2×2 grid (representing the FHD monitor). The color and brightness values of the pixels in each 2×2 section of the 4K grid would be averaged out, and that average would be used to determine the value of a single pixel in the 2×2 FHD grid.
3. Hardware and Software Role
Downscaling isn't just a passive process. It often involves both the monitor's internal electronics and the device feeding the 4K content. Many modern graphics cards, streaming devices, and even Blu-ray players have built-in capabilities to downscale 4K content efficiently to 1080p, ensuring a seamless viewing experience. On the other side, the monitor's electronics can also play a role, particularly if the content is being fed at its original resolution.
4. Adjustments to Frame Rate and Bit Rate
Sometimes, if the hardware detects potential playback issues due to the high bit rates of 4K content, it might also make adjustments to the frame rate or bit rate to ensure smooth playback on an FHD monitor.
So, What Is the Best Solution?
If you're trying to make the most of 4K content but are using an FHD monitor, you might be thinking about the best approach. Let's weigh in on this:
Upgrade to 4K: The most direct way to enjoy 4K content is to get a 4K monitor.
Optimize Downscaling: Ensure devices like graphics cards or streaming boxes are efficient in adapting 4K content for 1080p displays.
External Downscalers: Dedicated devices are available that can convert 4K input to 1080p output, ensuring consistent quality.
Adapt Content Choices: Choose 1080p streams when available for smoother playback tailored to FHD monitors.
---
Summing Up
Venturing into the world of resolutions reveals an intricate dance of pixels. While your FHD monitor might not show content in genuine 4K brilliance, it's perfectly equipped to give you a downscaled, yet enhanced version of it. Before splurging on a 4K screen, consider your actual needs, available content, and whether your devices are up to the task.
Most Common Questions
Q. Does downscaling 4K to 1080p lose a lot of detail?
A. Some detail is lost, but the result can still be sharper than native 1080p due to the higher-quality source.
Q. Can I game in 4K on an FHD monitor?
A. You can run games in 4K, but the display will downscale the visuals to 1080p. Ensure your GPU can handle 4K gaming.
Q. Is there a significant difference between 4K and 1080p content?
A. In larger screens or when viewed up close, the difference is more noticeable. On smaller screens, it might be less evident.
Q. Do I need special cables for 4K content?
A. For true 4K, you'll need compatible cables like HDMI 2.0 or DisplayPort that can handle the bandwidth.
Subscribe

to our newsletter

& plug into

the world of technology