Can I Use CPU Power Cable for GPU? Is It Possible?
Ever been in a position where you're short on specific cables and wondered if that extra CPU power cable could be rerouted to your graphics card? It's tempting to think all power cables are created equal, especially when the connectors seem to fit just right.
In short, using a CPU power cable for a GPU is not recommended. To ensure the optimal functioning and longevity of your PC components, understanding the risks are crucial.
In this article, I'll explore the complexities of GPU power connections and whether you can use a CPU power cable to power your GPU.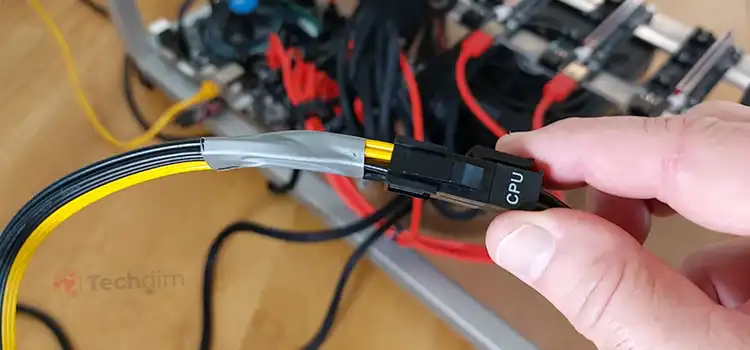 Why Can't You Use CPU Power Cable for GPU?
From the above discussion, it is now clear that you can not use CPU Power Cable for GPU. Here are the reasons why:
Different Connector Designs
The most straightforward reason is that the physical connectors are different. CPU power cables often have a 4-pin or 8-pin (often referred to as EPS) configuration. GPU power cables typically come in 6-pin or 8-pin PCIe configurations. The pins' layout and design in these connectors are distinct, making them incompatible.
CPU power cables are equipped with connectors specifically designed to fit into the CPU power socket on the motherboard. Attempting to use a CPU power cable to connect to a GPU is often physically impossible due to a connector mismatch. GPUs require PCIe power connectors with 6 or 8 pins, which are entirely different from the connectors on CPU power cables.
Varied Power Requirements
CPUs and GPUs have significantly different power requirements. CPUs are relatively power-efficient, typically consuming a fraction of the power drawn by modern GPUs. CPU power cables are designed to meet these lower power needs.
In contrast, GPUs, especially high-performance gaming graphics cards, demand substantially more power to handle complex graphics tasks. Attempting to power a GPU with a CPU power cable can result in an inadequate power supply, causing the GPU to underperform or even fail to function correctly.
Potential for Overloading
Most power supply units (PSUs) are engineered to provide a certain amount of power to the CPU and GPU separately. CPUs generally draw less power compared to high-end GPUs. A CPU cable might not be rated for the high current that a GPU demands, especially during peak operations. Using a CPU cable might overload it, leading to heating, potential fire hazards, and system damage.
Safety Protocols
Overloading the PSU is not just an issue of performance; it's a safety concern. Power supplies and their cables have built-in safety protocols. These protocols are specifically designed based on the component they're powering.
Using a CPU power cable for a GPU can bypass or conflict with these safety measures, posing a risk to your system's integrity and user safety. A PSU operating beyond its capacity can generate excessive heat, potentially causing overheating and other safety hazards.
There's also a risk of electrical damage to the PSU and other components, which may lead to costly repairs or replacements.
System Stability Issues
Even if, by some workaround, you manage to power a GPU using a CPU cable without immediate damage, there's no guarantee of system stability. The GPU may not function as expected, leading to graphical glitches. You might also face frequent crashes or unexpected system reboots. These issues can be frustrating and detrimental to your computing experience.
NOTE: Over time, using the wrong cables can shorten the lifespan of your components and lead to frequent hardware failures.
The Differences between CPU and GPU Power Cables
Before you can determine if you can use a CPU power cable to power your GPU, you need to understand the basics including the differences between these two power cables first.
A CPU power cable, often termed an EPS cable, is specifically designed to deliver power to your motherboard and, subsequently, your CPU. These cables ensure that the CPU receives a steady and sufficient flow of power to operate without interruptions.
On the other hand, a GPU power cable, or PCIe cable, is designed to supply power to your graphics card. As graphics cards often require more power than what the motherboard can provide, these dedicated cables are essential.
Here are the differences between CPU and GPU power cables:
| | | |
| --- | --- | --- |
| Aspect | CPU Power Cable | GPU Power Cable |
| Connector Type | Often a 4-pin or 8-pin EPS connector. | Typically a 6-pin or 8-pin PCIe connector. |
| Purpose | Provides power to the CPU, the brain of the computer. | Supplies power to the GPU, handling graphics processing. |
| Voltage and Amperage | Operates at lower voltage and amperage levels. | Requires higher voltage and amperage for GPU demands. |
| Cable Structure | Usually a single, thick cable. | May consist of multiple cables or thinner wires for higher power handling. |
| Compatibility | Specific to CPU power connectors on the motherboard. | Designed to connect to graphics cards via PCIe slots. |
| Pin Arrangement | Generally, a 4+4-pin (8-pin) or 8-pin configuration. | Typically 6-pin and 8-pin variants with specialized pin arrangements. |
| Adapters and Splitters | Rarely adaptable to GPU use due to differences in power requirements. | Adapters and splitters are commonly available for GPUs, enabling PSU connectivity. |
| Electrical Load Tolerance | Lower electrical load capacity as CPUs draw less power. | Designed to handle higher electrical loads to power GPUs efficiently. |
| Safety Concerns | Mismatched use can risk damaging the CPU or motherboard. | Incompatibility can overload the PSU, potentially causing system instability. |
You can see in the above table that there are a lot of differences between these two power cables. While both cables can look similar, their pin configurations can vary. A CPU power cable typically comes in 4+4 pin or 8-pin setups, whereas GPU cables can be 6-pin, 6+2 pin, or 8-pin.
Again, each of these cables delivers power at different voltage levels. Using them interchangeably can result in incorrect voltage being supplied, potentially harming your components.
And though they might look similar at first glance, subtle differences in shape or keying ensure that these cables fit only into their designated slots.
So, Which Power Cable Is Right for Your GPU?
Choosing the right power cable for your GPU is not just about ensuring physical fit. It's about compatibility, safety, and ensuring you get the best performance out of your graphics card.
The first thing you need to determine is the type of connector your GPU requires. Most modern GPUs use one of the following connectors:
6-Pin PCIe: This connector can deliver up to 75 watts. It's found on some mid-range GPUs.
8-Pin PCIe (or 6+2 Pin): This connector can deliver up to 150 watts and is commonly found on high-performance GPUs. The 6+2 configuration provides flexibility, allowing it to be used as either a 6-pin or 8-pin connector.
The total power requirement of the GPU is an important factor to consider when connecting your GPU to the PSU. This is usually stated in the GPU's technical specifications. Ensure that your power supply unit (PSU) can handle the GPU's demand plus the power requirements of other components in your system first.
Further Queries and Answers
Why do the connectors fit if they shouldn't be used interchangeably?
Just because they fit doesn't mean they're compatible. It's crucial to follow manufacturer guidelines.
Can I buy adapters to convert one cable type to another?
No, using an adapter to convert one cable type to another isn't a good idea. While adapters exist, they can pose the same risks as using the wrong cables.
How can I identify the right cable?
Most power cables are labeled, and you can always refer to your power supply unit's manual.
What if I've already used the wrong cable?
Cease use immediately and check for any damage or irregular performance.
Are all GPU and CPU cables standardized?
Mostly, but always check specifications, especially with older hardware.
Final Thoughts
In the quest for optimal PC performance, it's tempting to find quick fixes. However, when it comes to powering crucial components like your CPU and GPU, there's no room for shortcuts. Using the appropriate cables ensures not only the best performance but also the safety and longevity of your prized components. Always remember, it's better to be safe than sorry. Thanks for reading, and if you have any more questions, drop them in the comments below!
Subscribe

to our newsletter

& plug into

the world of technology