You may have noticed that your printer is behaving strangely and the question may arise in your mind; can the printer also be affected by viruses?
Despite improvements in the world of cybersecurity, new threats are emerging daily. There are various kinds of viruses that can affect your computer from the internet. Since multi-functional printers now have wireless features, there is no guarantee that they will not be affected by viruses.
But don't worry, we will show you how can you fix your affected printer and how can you protect it from further malware attacks. So, let's read this guide by the end.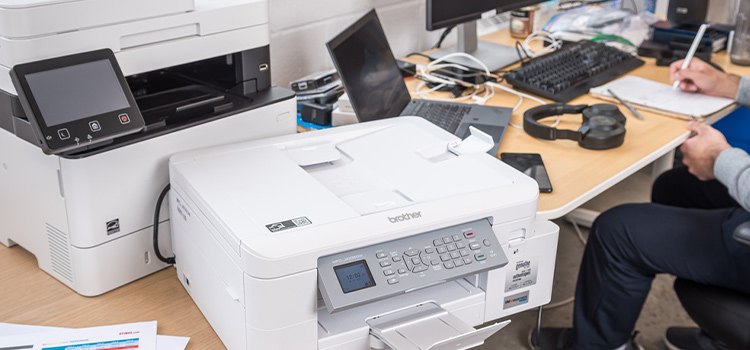 Can a Printer Get a Virus – Signs That Confirm Your Printer Is Affected
The symptoms that your printer is affected by a virus or malware are the same as the symptoms of an infected computer. You will notice some unusual behavior if your printer gets a virus. The symptoms are:
The printer will not respond to your command.
It will refuse to install the security update.
It will send you a message with incorporates malicious code.
How a Printer Can Get a Virus?
Before going any further, you need to know how a printer can get a virus to protect it from further threats.
As modern printers provide a lot of features, the chances of a data breach have significantly increased. Hackers can use the printers to obtain information that is transmitted by them. Here are the ways that a printer can get a virus:
Through the infected documents that are stored on your hard disk.
If the printer lacks sufficient security function, then it can be easily hacked to get confidential scanned documents from it.
If the printer is connected to an unsecured network, then there is a high chance to get affected by the virus.
The printer can get a virus from the web server (HTTP POST) through a cyber-attack.
How to Fix Printers Affected by a Virus
There are various tools and methods to fix a printer that is infected by a virus. You can use any of the methods that are given below.
Method 1: Junkware Removal Tool
Download the "Junkware Removal Tool" and disable your antivirus before installing the tool to avoid any conflicts.
Then, run the "JRT.exe" file as administrator and the tool will start scanning your computer for the virus.
Now, wait for some minutes to complete the scanning process.
Finally, after removing the virus from the printer, re-enable your antivirus.
Method 2: AdwCleaner
Download the AdwCleaner software and install it similarly as mentioned above.
Then run the software as administrator and accept the Terms of Use.
It will load the database, so you need to be patient for a while.
Now, click "Scan" and after completing the scan, click "Clean".
Finally, reboot your computer and your printer will be free from viruses.
Method 3: Sophos Free Virus Removal Tool
Run the software as administrator and click "Next".
Then accept the agreements and click "Next" twice.
Now, click "Install" and launch the program.
After loading the database, click "Start Scanning".
Finally, reboot your computer.
Method 4: Farbar Recovery Scan Tool
Run the tool and on the disclaimer, click "Yes".
Now, click on the "Scan" button.
After completing the scan, reboot your computer and your printer will be free from viruses.
How to Protect Your Printer from Virus?
You may have heard the phrase that "Prevention is better than cure". So, follow the instruction below to prevent your printer from getting infected by any virus:
Limit access and manage the printer by setting network permission on your computer.
You should use the printing process in an encrypted way.
Ensure your printer software is up to date.
Track the printing information by using the feature that shows the username and time to detect who is using the printer.
Keep your driver up to date because it can improve the virus protection feature of your printer.
Keep your firmware up to date.
Frequently Asked Questions
How Do I Know if My Printer Has a Virus?
There are many ways to detect whether your printer has a virus or not. But commonly, if your printer acts unusual or doesn't receive your command, then you should assume that your printer has a virus or is attacked by malware.
However, a printer can act abnormally due to a bug, so before taking any steps to defend against the virus, you should update the printer software and driver.
Can Ransomware Infect Printers?
Yes, printers can be infected by Ransomware to steal intellectual data and confidential information printed on a printer. The ransomware can be destructive to a printer as the printer will be unable to respond to your command and may work automatically which is mainly triggered remotely by the cyber-criminals.
Can I Be Hacked Through My Printer?
It is true that a printer can be hacked through the network that the printer is connected to. If the printer is hacked, the hacker can download or recover the printed documents using that printer.
Also, if your printer is allowed to read or write files on your hard disk, then hackers can easily get confidential information from there.
Can My Wi-Fi Be Hacked Through My Printer?
Can hackers hack your Wi-Fi through your printer? Well, shortly, the answer is Yes. Printers have many vulnerabilities that can be exploited by hackers and through that, your whole network can be hacked.
Can My HP Printer Be Hacked?
HP is a popular brand and HP printers are used widely all over the world. So, it is obvious that hackers are already able to hack the commonly used printers. According to the research, a new vulnerability is revealed that is used by hackers in more than 150 HP printers to steal confidential information.
Conclusion
To conclude, a printer can be hacked or get a virus anytime, anywhere. So, it is best practice to keep your printer secure to prevent attacks. However, if your printer already has a virus, then don't take stress; just apply the solutions above from this article and you can get rid of the problem.
If you have any suggestions or confusion, then don't hesitate to share them with us in the comment section below.