[Explained] Can You Use an Oculus Quest 2 on a Plane?
With plane flights, especially longer ones, being ever so boring, it's only natural that we look for onboard entertainment options before going on a flight. What if you could bring and use your newly acquired Oculus Quest 2 on planes? Is that even allowed?
Yes, it is. You can carry an Oculus Quest 2 on a plane. So, what else do you need to know about using VR headsets on flights? Don't worry, we've got you covered.
Using Oculus Quest 2 on a Plane
If you do decide to use your Oculus 2 to make your mid-flight hours less boring and more entertaining, you can. There are no regulations against it. However, you need to check for a few things beforehand.
Check if your battery's full before leaving your home. An Oculus 2 has a battery life of around 3 hours. A portable power bank might come in handy if you are planning to fly for long hours.
Bring extra AA batteries for your Oculus Quest 2 controllers.
Make a list of your preferred games and/or movies you wish to consume during the flight. Make sure they're going to work with Wi-Fi turned off and airplane mode turned on. Otherwise, you might have to be disappointed later.
If possible, choose a window seat. This way you can make sure you are not interrupting anyone or worse, you are being interrupted by other passengers.
Respect others' personal space. Be mindful of your surroundings.
Is the Oculus Quest 2 TSA Approved
TSA or the Transport Security Administration stated that "For flights within and departing the U.S. virtual reality headsets and wireless keyboards are allowed in checked bags." So, you might need to get your VR headset checked first since TSA requires you to remove any electronics bigger than a regular cell phone from your carry-on bag and get them X-rayed.
Ensure Safety When Carrying Oculus Quest 2 on Planes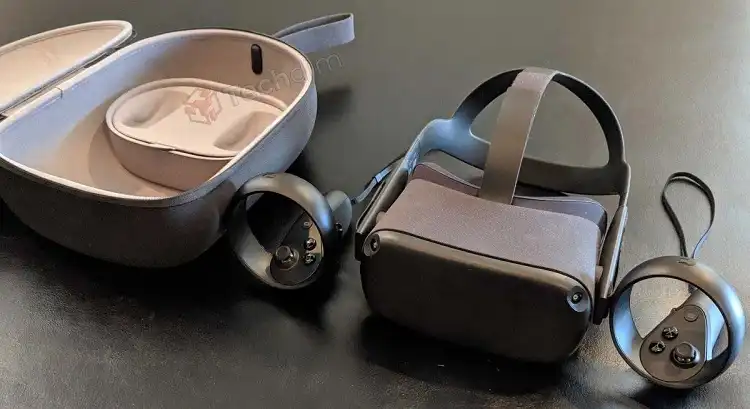 Although you are allowed to bring your Oculus Quest 2 on airplanes, you should check your airlines' guidelines for passengers beforehand to see if your VR meets the size the weight requirements.
If you do plan on carrying your Oculus 2 in carry-on luggage, make sure you take proper safety measures. Investing in a good quality carrying case is always a smart decision.
What About Leaving Oculus Quest 2 in Your Luggage
If you plan to leave your Oculus headset in your luggage, you should know that the FAA (Federal Aviation Administration) advises against it. their guideline states that "devices containing lithium metal or lithium-ion batteries (laptops, smartphones, tablets, etc.) should be carried in carry-on baggage when possible."
If you still want to carry your Oculus 2 in your luggage, make sure it's turned off and safely stored.
A Few Other Things You need to keep in mind
While using your Oculus Quest 2 on a plane, you might run into some glitches. For example, your tracking might be lost, the headset might not be able to detect your position. Re-centering the view generally fixes it.
Custom straps might not work best during flights, we recommend using the default strap that came with your Oculus.
Lenses might fog, especially if you are seated near the plane ventilator. You just have to wipe it occasionally.
Can I Use My VR Headset at the Airport?
Sadly, no. Airports are one of the busiest places on the planet and using VR headsets there cannot only be annoying for others but also dangerous for you. So, using VR is not allowed in most airports.
Conclusion
Bringing your Oculus Quest 2 on airplanes is quick and hassle-free. Most importantly, it's perfectly legal. Just remember to pack extra batteries and please be mindful of your surroundings.
Subscribe

to our newsletter

& plug into

the world of technology