If you are an intermediate photographer and searching for the best printer to print your captured photos, then you may go for the inkjet printers. Inkjet printer is easy to manage, and you can have the best picture at a low-price range.
Among Canon inkjet printers, the Canon Pixma IP8720 and the Canon Pro 100 are the best. Now you may get confused that which one you should choose between then?
Well, leave it to us. We will compare both products and will suggest the best printer between them by the end of this article. So, let's jump into it.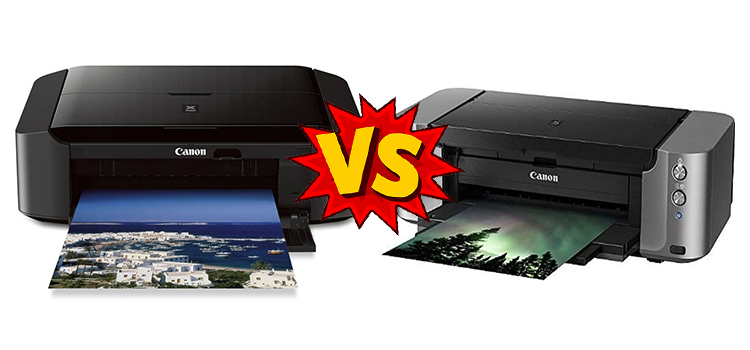 Specification of Canon Pixma IP8720 and Pro 100
First, let's see the chart of specs of both printers to compare them properly.
| | | |
| --- | --- | --- |
| Product Name | PIXMA iP8720 | PIXMA Pro-100 |
| Brand | Canon | Canon |
| Price Range | Around $299.99 | Around $499.99 |
| Dimensions | 15.2 x 27.2 x 8.5 inches | 15.2 x 27.2 x 8.5 inches |
| Weight | 19.59 Kg or 43.2 lb. | 19.59 Kg or 43.2 lb. |
| Type | Inkjet | Inkjet |
| Resolution | 9600 x 2400 dpi | 4800 x 2400 dpi |
| Ink System | 6-color | 8-color |
| Nozzles | 6656 | 6144 |
| Speed | 36 seconds per 4×6-inch | 51 seconds per 8×10 inch |
| Paper Tray Capacity | 20 photo sheets; 150 standard sheets | 20 photo sheets; 150 standard sheets |
| Paper Sizes | 4×6, 5×7, 8×10, 11×17, 13×19, Letter, Legal | 4×6, 5×7, 8×10, 11×17, 13×19, Legal, Letter |
| Wireless LAN | Yes | Yes |
| Ethernet | No | Yes |
| USB | Yes | Yes |
| Pict Bridge | Yes | No |
As we can see from the above chart that both printers are the same in size and weight.
Again, the paper size and capacity are also the same. But the Canon PIXMA iP8720 has more nozzles than the PIXMA Pro-100 printer and also provides relatively high DPI (Dots Per Inch).
However, the Canon PIXMA Pro-100 has more ink-system than the Canon PIXMA iP8720. That means the resolution of the Canon PIXMA Pro-100 is much better than the Canon PIXMA iP8720. That's why the price of the Canon PIXMA Pro-100 is much higher than the other one.
Canon Pixma IP8720 vs Pro 100 – Showing Some Major Factors
As you have seen the difference in specification of both mentioned printers, now let's see some major factors that separate them.
Outer look
The shape of the Pixma Pro-100 is square and cuboid whereas the iP8720 is a little bit curved on the upper and lower part. The buttons of Pixma Pro-100 are high gloss gunmetal matte finished and circular brushed metal in the iP8720 model.
On the other hand, the size and weight of these two printers are exactly the same. In a word, both are stunning in design.
Print Quality
The print quality of both printers is almost the same. However, the Pixma Pro-100 uses eight-color ink and the Pixma iP8720 uses sis-color ink. So, it is obvious that the 8-color ink will be more efficient in the quality of print.
Again, both printer uses the dye-based ChromaLife 100+ ink cartridges inside it which claim that the print will last longer than 100 years. As we don't have that much time to prove that, we can say that the print is durable for a long time.
However, the print of the Pixma Pro-100 is more saturated and darker than the Pixma iP8720 which makes the print clear and explicit.
Pros and Cons of Canon Pixma IP8720 and Pro 100
Product
Pros
Cons
Pixma iP8720
Moderately good quality at the budget price.
Single paper tray with 150-sheet capacity only.
Print up to 13/19 inches.
PictBridge over USB isn't supported
Can print on portable optical disks.
No SD card slots
Has a Wi-Fi feature.
No LCD to navigate.
Has a Wireless PictBridge feature.
Easy to setup
Six-color yields impressive print quality
Pixma Pro-100
Nearly dedicated quality at a moderated price.
Color issues in graphics.
Printed photos are worth displaying in the gallery.
No SD card Supported
The Speed is reasonably fast.
No display
8-color ink system with stunning print quality
Massive build
Can print on optical disks
Frequently Asked Questions
What Printer Replaced the Canon Pixma Pro 100?
If you focus on the quality of printing, then the Canon PIXMA Pro-200 is the replacement for Canon PIXMA Pro-100. It gives stunning printing quality at a reasonable price. If you are a professional photographer, then you must go for this printer. However, if you are finding something similar in quality at a lower cost, then you can go for the Canon PIXMA IP8720 printer.
When Was the Canon PIXMA Pro-100 Released?
The Canon PIXMA Pro-100 was launched in September 2012. Though it is an old model of Canon it still provides nearly-excellent quality in comparison to new models. If you are moderated-serious about printing quality and want something good at a budget price, then you can go for this printer without any doubt.
How Do I Connect the Canon Pro 100 Printer to My Computer?
Follow the steps below to connect the Canon Pro-100 to your computer:
Firstly, turn on the printer.
Then, press and hold the 'Wi-Fi' button on the top of the printer until the white power light flashes.
After releasing the Wi-Fi button, it will start to flash blue light. Now, go to your access point and press the [WPS] button within 2 minutes.
Finally, go to the additional devices on your computer and add the printer here.
Is Canon Pixma IP8720 Use Dye or Pigment?
The Canon PIXMA IP8720 uses dye-based inks. In most printers, dye-based inks slightly provide better saturation and quality than pigment-based inks. The dye-based ChromaLife 100+ ink is used in this printer which is popular for the durability of the ink over a long period. The providers claim that the durability of this ink is over 100 years.
Conclusion
I hope, now you can compare the Canon PIXMA IP8720 and Canon PIXMA Pro 100 after knowing all the factors of each printer from this article. In my opinion, the Canon PIXMA Pro 100 is almost overkill based on the quality and cost. So, if you are searching for a quality product on a low budget, then the Canon PIXMA IP8720 is the best for you. If you have any suggestions, then please tell us in the comment section below. Thanks for reading.