Claude AI: You Are Out of Free Message
When you are using Claude AI for a long time with the long conversations you can suddenly face the limitation issue that is You Are Out of Free messages Until 9 PM (or your exact time). That means your free message limit quota is out on Claude AI. You have to switch to a pro plan or wait till the morning to reset your free message quota.
Claude AI is an artificial intelligence chatbot created by Anthropic. It is designed to have natural conversations and be helpful, harmless, and honest. Claude provides a limited number of free messages to users before prompting them to upgrade to a paid subscription for unlimited access.
Usually, it has no exact number of message limits but can be significantly less depending on the length of your message. Below, I will discuss why there's a limit and what can you do to avoid running out of messages all the time.
What Does "Out of Free Message" Mean?
When you see the "out of free message" notice in Claude, it means you have used up your allotment of free messages for the day or week, depending on your subscription level. Claude offers different tiers of access, including:
Free version – Limited number of messages per day
Paid monthly subscription – More messages per day
Paid yearly subscription – Unlimited messages
Once you reach your limit of free messages, Claude will let you know and prompt you to upgrade if you want to continue chatting without restrictions. This allows Claude to continue operations and development while still providing a useful free version.
What is the Exact Message Limit for Claude AI?
The number of free messages for Claude AI is not explicitly stated on the Claude AI website, but according to the Anthropic Help Center, the exact number of messages that a user can send will vary depending on the length of the messages, the length of any attachments, and the length of the current conversation.
Does Claude.ai have any message limits?

Yes. While using the claude.ai free open beta, there is a daily message limit. The number of messages you can send will vary based on demand, and Claude will notify you when you've reached your daily limit. Every morning, your quota will reset.

https://support.anthropic.com/en/articles/8602283-does-claude-ai-have-any-message-limits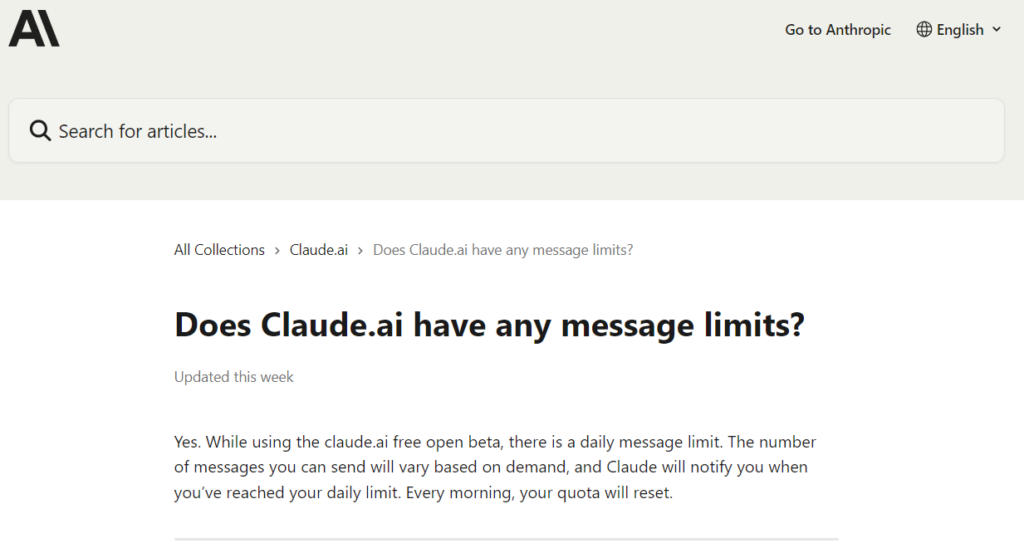 Claude AI also offers a paid subscription service called Claude Pro, which offers at least 5x the usage compared to the free service and it costs $20 a month. The exact number of messages that a Claude Pro user can send will also vary depending on the factors mentioned above, but users can expect to send significantly more messages than free users. However, if you want unlimited messages, they offer that too, only to their yearly subscribers. You'll have to pay $240 upfront for that.
Claude AI Toke System Explained
Claude AI uses a token system to manage its usage. Tokens are units of measurement that represent the number of computational resources required to generate a response. The more tokens a response requires, the more expensive it is.
The number of tokens required for a response depends on a number of factors, including the length of the response, the complexity of the task, and the quality of the output. For example, a simple question-and-answer response will require fewer tokens than a creative writing task.
To conserve tokens, it is important to be specific in your requests and to avoid asking open-ended questions. You can also use the "max_tokens" parameter to limit the number of tokens that Claude AI uses to generate a response.
Tips for Avoiding Running Out of Free Messages
Here are some tips to make the most of your free messages with Claude:
Be concise in your messages to cut down on back and forth.
Avoid repetitive questions or statements.
Stick to productive conversations that you genuinely need Claude's help with.
Opt for the yearly paid subscription if you find yourself running out of messages frequently. The unlimited plan is more cost-effective in the long run.
Refer to Claude's memory and conversation history instead of re-asking questions.
Closeout conversations once your questions or needs are addressed.
Why Does Claude Limit Free Messages?
Providing artificial intelligence capabilities requires substantial computing resources. By limiting its free tier, Claude is able to cover its operating costs while still offering users a chance to try its features for free.
The free version acts as a trial so users can experience Claude's abilities firsthand before subscribing. This allows Claude to be accessible while still being financially sustainable as a company.
What Happens When I'm Out of Free Messages?
When you reach your limit of free messages, Claude will inform you that you are "out of free messages for today" or "out of free messages for this week". It will then prompt you to upgrade to a paid subscription to continue chatting.
You will still be able to view your conversation history but won't be able to send any new messages to Claude until your next free allotment or if you choose to purchase a subscription.
Essentially, you are locked out of conversing further until your free messages reset or you upgrade to a paid account. This allows Claude to conserve resources but still provide a useful free experience.
Is there a way to increase my free messages?
Currently, the only way to get more free messages is to upgrade to a paid subscription. Claude may adjust the free tier limits in the future.
Sum Up
The "out of free messages" notice in Claude AI simply means you have used your allotted free messages for the time period based on your subscription tier. Upgrading to a paid monthly or yearly subscription allows unlimited access so you can have in-depth conversations with Claude without worrying about daily or weekly caps. Using Claude's memory and keeping conversations concise can also help avoid hitting the free message limit.
Subscribe

to our newsletter

& plug into

the world of technology