How To Use ChatGPT GameSight Plugin For Game Discovery (Steps Guideline)
For avid gamers, who want to find those long-lost hidden gems, or simply want to discover new games based on their taste but don't want to try out a lot of things, ChatGPT GameSight can be a great option. It can act as a companion for most of your gaming needs.
In this article, we will explain, how to use the ChatGPT GameSight plugin for game discovery, to get the latest news about games and enhance your overall gaming experience with that wealth of information. However, to take advantage of the ChatGPT GameSight plugin, you must already be a subscriber of the ChatGPT Plus. With that being said, let's see how to install and activate the plugin and start using it to discover your next favorite game.
Install and Activate ChatGPT GameSight Plugin
Here's a step-by-step guide on how to find, install, and activate the GameSight plugin in ChatGPT:
Step 1: Enable Plugin Access for ChatGPT Plus by going to your profile icon, selecting settings, and turning on the "Plugins" option in the Beta Features section.
Step 2: Switch to the GPT-4 with the Plugins model on the chat interface.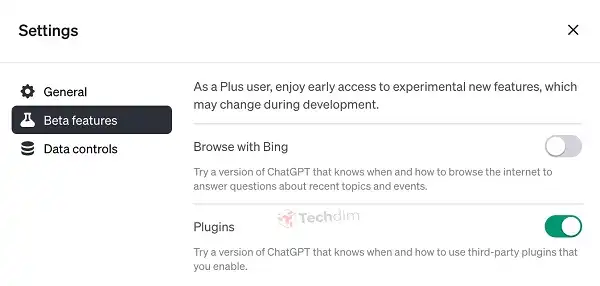 Step 3: Install the "GameSight" Plugin from the Plugin Store by searching for it and clicking "Install."
Step 4: Write your gaming prompt in the chat interface.
Step 5: Wait for the " GameSight " plugin to come up with a game based on your prompt.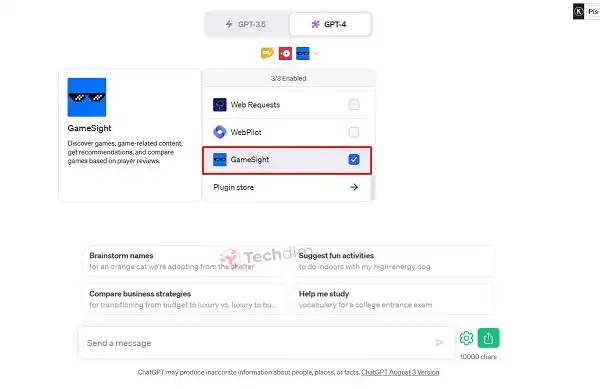 You have now successfully installed and activated the ChatGPT GameSight plugin. You can now start prompting it to help you discover new games.
Discovering New Games on ChatGPT GameSight
For game discoveries, you need to prompt ChatGPT with prompts that best describe your interest. Here are a few examples.
"What FPS games do you suggest for me to try?"
"Could you recommend some indie titles that are similar to the storyline of Max Payne?"
Before you dive into a new game, it's always a good idea to learn about it. GameSight can help you in this regard by providing you with reviews so that you can make an informed choice. For that, use prompts like these:
"What can you tell me about the GTA remake? Is it worth giving a shot?"
"Could you provide information on the latest Red Dead Redemption reviews?"
To stay informed about the gaming world, to learn abut latest game releases and announcements, you can try prompts like these:
"What's the most anticipated game of 2023?"
"Any recent updates on the upcoming GTA 6?
You can even use it to compare different games to learn which one best suits your taste. 
"Can you compare GTA 5 and 'Red Dead Redemption 2' for me?"
"What are the key differences between Dota 2 and League of Legends?"
End Notes
Overall, GameSight is a great plugin to have for gamers. To pick your next favorite game among hundreds of new releases, find out similar games, get new recommendations based on your preferred game genre, and stay up to date with the latest news and rumors in the gaming community, you can do it all with the ChatGPT GameSight. So, give it a try, if you haven't already.
Thanks for reading!
Subscribe

to our newsletter

& plug into

the world of technology