Coax vs Ethernet Cable | How Did I Differentiate?
In today's digitally-driven age, the type of cable you use for data transfer can have a significant impact on your browsing, streaming, and gaming experience. Two major players in this arena are coaxial (coax) and Ethernet cables. But which one reigns supreme?
Ethernet cables generally offer faster, more reliable, and interference-resistant internet connections compared to coaxial cables. However, many homes are pre-equipped with coax due to its history with cable TV, making it a convenient choice for some.
Let's jump into the wired world of coax and Ethernet, and may the best cable win!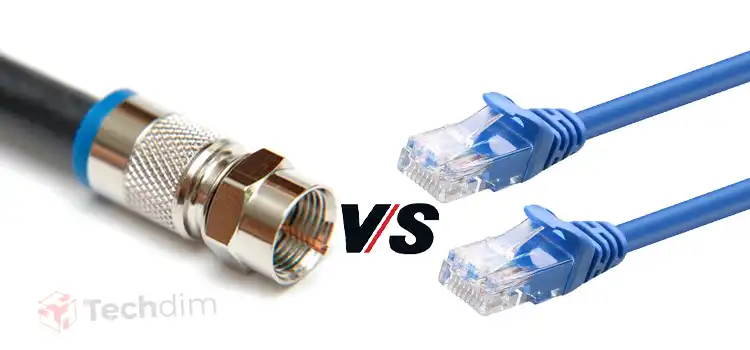 Understanding the Contenders
Coaxial Cable (Coax):
This old-school champ has been around for ages and is commonly associated with cable television and internet services. Coax cables are constructed with a single copper conductor at their center, surrounded by a plastic layer for insulation, and encased in a metal shield, all wrapped up in a plastic cover.
Ethernet Cable:
The modern-day favorite, Ethernet cables, are primarily used for computer networks. They're comprised of multiple pairs of twisted copper wires, with the number of pairs varying based on the specific type of Ethernet cable (like Cat5e, Cat6, etc.).
The  Differences Between Coax and Ethernet
 Let's start with the differences between these two cables:
| | | |
| --- | --- | --- |
| ATTRIBUTE | COAXIAL | ETHERNET |
| Speed & Performance | Supports up to gigabit speeds with latest DOCSIS but often asymmetric | Supports gigabit speeds and beyond with symmetric upload/download rates |
| Reliability & Interference | Susceptible to certain interferences if shielding is compromised | Resistant to most interferences due to its twisted pair design |
| Flexibility & Use Cases | Primarily for TV and broadband internet | Designed for computer networking but now used for various digital devices |
| Installation & Maintenance | Pre-existing in many homes but may need maintenance | Might require new installation but is generally low maintenance once set up |
Now that you've identified the differences between these two cables from the above table. Let's compare them in more detail.
Coax vs Ethernet: The Battle
Round 1: Speed & Performance
Coax
Coax cables, in the context of internet provision, use DOCSIS technology. While the latest versions of DOCSIS can support gigabit speeds, they often provide asymmetric speeds—meaning upload speeds might be significantly slower than download speeds.
Ethernet
Ethernet cables, particularly the newer categories like Cat6, Cat6a, and Cat7, offer gigabit speeds and beyond. They also provide symmetric speeds, ensuring that both upload and download processes are equally fast.
Winner: Ethernet, for its symmetrical high-speed capabilities.
Round 2: Reliability & Interference
Coax
Being older tech, coax can be susceptible to certain interferences, especially if the shielding gets compromised. Radio frequencies and electrical interferences from nearby devices can degrade the signal quality.
Ethernet
Ethernet's twisted pair design inherently combats interference. Plus, some higher-end cables come with added shielding for even greater resistance against interference.
Winner: Ethernet, once again, for its resistance to interference.
Round 3: Flexibility & Use Cases
Coax
While primarily known for TV, coax cables also deliver broadband internet. They're versatile in the sense that they can provide both services simultaneously.
Ethernet
Ethernet is primarily designed for computer networking. However, its use has expanded to connect various devices like gaming consoles, smart TVs, and even some modern smart home devices.
Winner: It's a tie! While Ethernet is versatile in digital devices, coax can handle both TV and internet simultaneously.
Round 4: Installation & Maintenance
Coax
Given its age, many homes are already equipped with coaxial outlets. However, degraded or outdated coax wiring can sometimes require replacement or maintenance.
Ethernet
Ethernet installation might require running new cables, especially if high-speed connections are desired. However, once installed, they tend to be low maintenance, especially if the installation is done correctly.
Winner: Coax, for its widespread pre-existing installation in many homes.
Final Verdict
Both coax and Ethernet have their merits. Coax is a veteran with a widespread presence, especially in homes where cable TV is or was a staple. Ethernet, however, shines brightly in its performance, reliability, and future-ready stance.
For a typical user prioritizing internet speed, reliability, and future-proofing their setup, Ethernet is the way to go. However, for those who have a decent coaxial setup already in place and are satisfied with their current speeds, coax can still do the trick.
FAQs: Coax vs. Ethernet
Q1: Can I use both coax and Ethernet in my home setup?
A: Yes, many modern routers offer both coaxial and Ethernet connections. Depending on your service provider and equipment, you can utilize both types of connections simultaneously in your home.
Q2: Is coaxial cable becoming obsolete?
A: While Ethernet and fiber-optic connections are becoming more prevalent, especially in newer infrastructures, coaxial cables are still widely used, especially for cable TV services. They're not obsolete, but technology is shifting towards faster and more reliable connection methods like Ethernet and fiber-optic.
Q3: Do I need special equipment to convert coaxial to Ethernet or vice-versa?
A: Yes, if you need to convert a coax signal to Ethernet or vice-versa, you'll need a device known as a MoCA (Multimedia over Coax Alliance) adapter.
Q4: What's the maximum distance Ethernet can run without losing signal?
A: Standard Ethernet cables (Cat5e, Cat6) can run up to 100 meters (328 feet) without a significant loss in signal quality. For longer distances, repeaters or switches are needed.
Q5: Are all Ethernet cables the same?
A: No. There are different categories of Ethernet cables, like Cat5e, Cat6, and Cat7. Each category has specifications regarding speed, bandwidth, and maximum distance without signal loss.
Closing Thoughts
In the end, it's not just about the cable but how you use it. Determine your needs, assess your current setup, and make an informed choice. And always remember, in the grand relay race of data, it's the connection that counts, not just the cable. Ready, set, surf! 🌐🔌
Subscribe

to our newsletter

& plug into

the world of technology