Dell Vs Hp Workstations | Which One Is Worth Buying?
In the realm of laptops, both Dell and HP are well-known laptop and computer brands. Users around the world are choosing between these two brands without any choice. Though there are so many competitors in the market, these two brands have held their users very well.
For daily life purposes like gaming, working, studying, etc. people are using laptops. If we talk about the working purpose, people love to choose handy and highly configured laptops, and nowadays users are attracted to some brands such as Lenovo, Apple, etc. for their services and features. Although, Dell and HP also grabbed the workstation market.
Which is better for a workstation—Dell or HP—should now cross your mind. Because both of them are superior, it's like Batman vs. Superman. As we have seen, both superheroes and laptop manufacturers have their shortcomings. There is nothing to worry about, we're to assist you. Let's begin!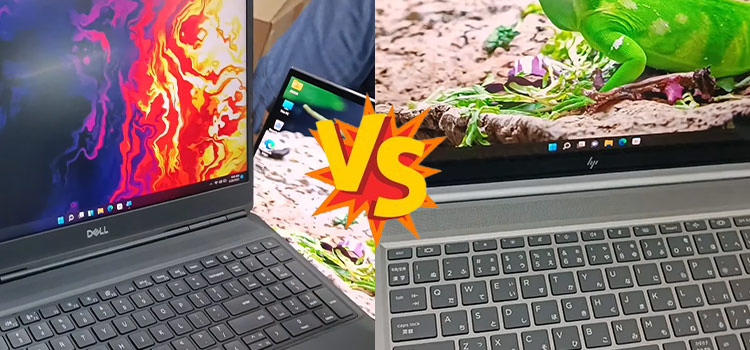 Which One is the Best for a Workstation: Dell or HP?
In order to compete with other manufacturers and offer their customers the finest service, both Dell and HP manufacturers create powerful products. To choose the best among two laptops, the things need to clear out,
Build quality and Hardware of the Laptop.
Performance.
Heating Issue.
Battery life and laptop durability.
For a workstation, a laptop must have solid build quality and hardware inside it for top-notch performance. And also, the backup of both battery and laptop health also needs to check out first.
Let's have a brief discussion on these points.
1. Build Quality and Hardware
Both HP and Dell laptops came with strong build and hardware but if you want some significant differences then here, they are for you.
If you point out the RAM and processor side, nowadays Dell laptops are coming with at least 8 GB ram and have i7 CPUs that are powered by quad-core processors. On the other hand, HP laptops are designed with i5 processors, if you see it in the majority.
HP is just slightly behind Dell in terms of build quality and hardware.
2. Performance
The next one is performance. Dell is best at high-end laptops but when it comes to budget-friendly, HP takes the lead. Budget laptops come with incredible features and workable hardware, both of these things fulfill the user's demands and save money.
But if you are a Batman then Dell's laptop should get your call, as their high-end laptop will serve you in a full.
3. Heating Issue
The heating issue can cause your laptop to slow down and damage the laptop's battery. So, it's better to look before buying a laptop.
As you are looking for a laptop for your workstation, it is a must that you won't allow the heating issue. Between Dell and HP, a Dell laptop is less likely to overheat than an HP laptop. Basically, HP laptops heat up more quickly than Dell laptops.
So, for avoiding the heating issue, Dell is the suitable one.
4. Battery and Laptop Durability
For a better battery backup, users prefer an HP laptop as they can provide backup of up to 10 hours whereas a Dell laptop provides up to 7 hours. Another plus point of HP is, they provide multiple-cell batteries that allow more backup and battery durability than a Dell laptop.
At a workstation, you must need a good backup from your laptop.
According to the users' experience, Dell laptop is more durable than HP laptops. On the other hand, Dell laptops also come with a broad warranty and provide better service. So, in both cases, Dell takes the lead.
DELL PRECISION 5470 VS HP ZBOOK FURY 15 G8
As we have stated earlier, both of the manufacturers are superior but everything does have some shortcomings. For a better comparison, we've picked the best workstation laptops from HP and Dell.
We've selected The DELL PRECISION 5470 and HP ZBOOK FURY 15 G8 for comparison. Let's see a chart of their specification.
| | | |
| --- | --- | --- |
| Specs | DELL PRECISION 5470 | HP ZBOOK FURY 15 G8 |
| Processor | Intel Core i9-12900H | Intel Core i9-11950H |
| RAM | 32 GB | 32 GB |
| Boot Drive Type | SSD | SSD |
| Boot Drive Capacity | 1 TB | 1 TB |
| Screen Size | 14 inches | 15.6 inches |
| Native Display Resolution | 2560 X 1600 | 3840 X 2160 |
| Touch Screen | Yes | No |
| Panel Technology | IPS | IPS |
| Variable Refresh Support | None | None |
| Screen Refresh Rate | 60 Hz | 120 Hz |
| Graphics Processor | Nvidia RTX A1000 | Nvidia RTX A5000 |
| Graphics Memory | 4 GB | 16 GB |
| Wireless Networking | Wi-Fi 6E, Bluetooth 5.2 | 802.11ax (Wi-Fi 6) |
| Dimensions (HWD) | 0.74 inches X 12.2 inches X 8.3 inches | 1.02 inches X 14.2 inches X 9.6 inches |
| Weight | 3.26 lbs | 5.32 lbs |
| Operating System | Windows 11 Pro | Windows 10 Pro |
Our Verdict
If you are looking for a budget-friendly workstation laptop then HP will be the right one for you. As they provide better performance at a lower cost than a Dell laptop, also HP laptops are durable and have good battery backup.
But if the money is not the problem and you are looking for higher performance then Dell is righteous for you.
Frequently Asked Questions (FAQs)
Which is better HP Zbook or Dell Precision?
Both laptops are known as one of the best workstations. If you're looking for portability and user experience then you should go for HP Zbook but if you want performance then Dell Precision will be the right choice for you.
What is the difference between laptops and workstations?
The difference between a laptop and a workstation is, a laptop is manufactured for normal work or less heavy work but a workstation is manufactured for high-end and heavy work.
Conclusion
To sum up the whole thing, both HP and Dell will give you satisfaction in your working purpose. The differences are negligible in most cases. Hope that all of your confusion is cleared by now and you have found the right one.
If you have any further queries or face any difficulties, do comment below and let us know. We'll be there for you with the information. Till then, stay safe, and stay happy. Gracias!
Subscribe

to our newsletter

& plug into

the world of technology