Dynex LCD TVs typically cost a little less than some other reputed brands while still having the same parts.
There are many possible causes behind the Dynex TV volume not working. So, if you may not hear any audio from your TV, then most probably it's because of poor cable connections or faulty speakers, etc.
But, before checking any of the connections, consider checking the audio output mode via the remote controller and make sure that it says either Mono or Stereo.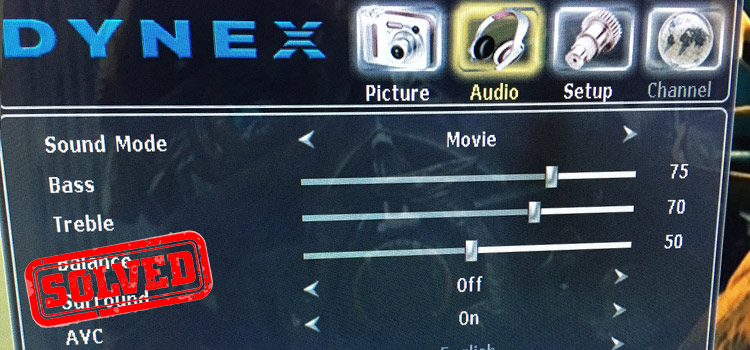 How to Fix the 'Dynex TV Volume Not Working' Issue
Gadgets are not above any fault. It's obvious that sometimes they fail to do their intended tasks. TV isn't an exception. If your Dynex TV fails to produce volume then go for these effective solutions. Try them one by one and surely you may get rid of the problem.
Solution 1: Try Different Channels
You change the channel to see if the problem only applies to the channel you are watching. This will ensure that the problem is with that particular channel and not the TV itself. 
If all the channels are facing this problem, then it must be understood that the main problem is with the TV itself.
Solution 2: Check Audio Cables
Verify the audio cables connecting the external media device to the TV if you can't hear any audio coming from it. The audio cables' connectors should be securely inserted into the corresponding-colored ports on the TV and the media device. 
You won't be capable of listening to any audio if the connections aren't properly inserted in and forming a connection.
Solution 3: Pictures Without Sound
On the remote control, hit the SAP or MTS button.
The TV window's upper left corner will display either Mono or Stereo.
You can hear the secondary audio for a channel if your audio mode is set to SAP, and the channel has supplementary audio. Otherwise, you won't hear anything.
Solution 4: Troubleshoot Audio Section
As other checkings are done, try this simple one.
Test by turning up the TV's volume.
Check your TV's audio settings.
Unplug and switch off your TV.
Examine the TV's ports and cords.
Frequently Asked Questions (FAQs)
Can I fix a blown TV speaker myself?
Obviously, you can. But it'll be very wise to not do it yourself. Fixing your speaker on your own is usually quicker though not guaranteed to be perfect in terms of having vivid quality. As the professionals are more experienced, you may prefer their assistance.
How may I recognize if my speakers are damaged?
An annoying buzzing, scratching, or other grating sound, either by itself or roughly at the frequency of the note the speaker is seeking to reproduce, is the most typical audible sign of a defective or damaged speaker. Or there can be absolutely no sound.
Final Words 
There you have it. That's how you can fix your Dynex TV volume issues. Always make sure that your audio mode is set to mono or stereo and not SAP or MTS. Then check your connections properly. Good luck and thanks for reading.