PS4 includes an HDMI 2.0 cable. The most common HDMI cable length options available include 3 feet, 6 feet, 10 feet, and 25 feet. And if you need longer lengths than these, you will need to combine them with HDMI extension methods.
HDMI 2.0 is a hardware standard designed to meet the increased bandwidth demands of 4K Ultra HD displays. Because 4K displays have a much higher resolution than previous technology, they necessitate the transmission of more audio and video data via the HDMI cable. 
Guide to Know How Long the HDMI Cable That Comes With the PS4 Controler
The length of your HDMI cable does not affect input lag as long as it is less than 50 feet long. According to research, the length of an HDMI cable does not affect its input lag as long as it is no longer than 49 feet (or 15 meters).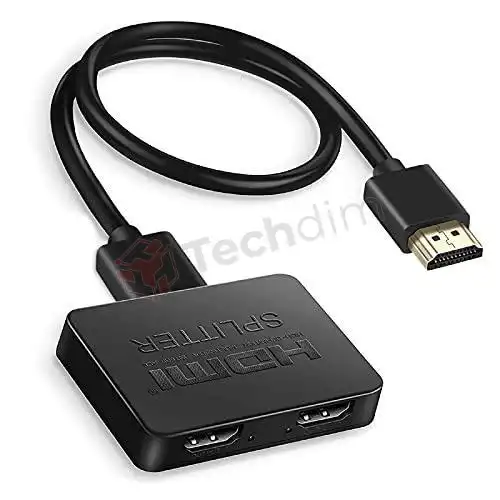 Furthermore, there will be no discernible difference between HDMI cable lengths of less than 50 feet. The standard HDMI lengths are 3′, 6′, 10′, and 25′. When you buy a new Blu-ray player, stereo receiver, or another device that transmits video and/or audio using this technology, the 3′ lengths are usually included.
What HDMI Cable Does PS4 Come With?
PS4/Xbox One/Xbox One S can be connected to an HDMI cable in 1080p 60Hz with HDR, high-speed HDMI or HDMI 1.4 is sufficient. Because the PS4 Pro/Xbox One X was designed with 4K 30Hz or 1080p 60Hz with HDR, a premium HDMI cable or HDMI 2.0 is recommended.
HDMI connectors come in three different sizes: standard, mini, and micro. There are also various types of HDMI cables (see the chart below). Although the logo is not used on all cables, the cable specifications should indicate whether the cable is Standard, High Speed, Premium High Speed, or Ultra High Speed.
What Size Is PS4 HDMI?
The size of PS4 HDMI is mentioned in its specification sheet. The specification of a specific PS4 is given below:
Product name
PlayStation®4
Product code
CUH-2000 series
Main processor
Single-chip custom processor CPU: x86-64 AMD "Jaguar", 8 cores GPU: 1.84 TFLOPS, AMD Radeon™ based graphics engine
Memory
GDDR5 8GB
Storage size
500GB, 1TB
External dimensions
Approx. 265×39×288 mm (width × height × length) 
(excludes the largest projection
Mass
Approx. 2.1 kg
BD/ DVD drive(read-only)
BD × 6 CAV
DVD × 8 CAV
Input/ Output
Super-Speed USB (USB 3.1 Gen1) port × 2 
AUX port × 1
Networking
Ethernet(10BASE-T, 100BASE-TX, 1000BASE-T)×1IEEE 802.11 a/b/g/n/acBluetooth®v4.0
Power
AC 100-240V, 50/60Hz
Power consumption
Max. 165W
Operating Temperature
5 ºC – 35ºC
AV output
HDMI™ out port (HDR output supported)(5 feet)
How Long Is PlayStation HDMI Cable?
PlayStation comes with a 1.5-meter (5-foot) HDMI or ultra-high-speed HDMI cable. Given the short length of the HDMI cable, if your gaming console has located a distance from your TV or monitor, and if you intend to purchase a newer and longer HDMI cable, ensure that it meets the 2.0 specifications.
The PlayStation 4 comes with a black HDMI 2.1 cable measuring 1.5 meters or 59 inches. As a result, the cable can output at a maximum bandwidth of 48 Gbits per second. This is required for 4K gaming at 120 fps (frames per second).
Conclusion
The ultra-high-speed HDMI® Cable is a new cable included in the HDMI 2.1a specification. It is the only cable that meets the stringent specifications required to support all HDMI 2.1a features and your PS4, including uncompressed 8k@60 and 4K@120. The increased bandwidth capability of the cable supports up to 48Gbps.