We need a CPU cooler machine to cool down our PC parts including the graphics card from getting overheated. When it comes to a liquid cooler, many of us think that it might not be that much useful as the air cooler or stock cooler that comes with the CPU.
But nowadays, AIO liquid cooler has gained much popularity among professional PC users. The liquid cooler is also an effective and important one that assists in many terms we even don't know.
Then, mostly the fact arises about how often to replace an AIO liquid cooler. So, in this article, we discuss what is aio, all the issues that when to replace aio cooler CPU fan, and the average time the CPU cooler can last up to, depending on usage type and of course how often should you change liquid cooling pc.
Want to buy the heat sink from Corsair AIO RGB lighting liquid cooling system. It is not traditional 120mm aio rather 350mm. Here is the best cooler for you.
AIO Liquid Cooler or Water Cooling Efficiencies
Before jumping on to the replacement issues, let's have a look at its efficiency. If the question arises that how efficient it is, then the answer is, in some cases, AIO liquid cooler renders better service than an air cooler cooling system.
For the user who builds up their PCs on their own or for the customizing PC, AIO liquid cooler is the best option. Liquid cooler provides the same service as an air cooler does, but the working criteria are different.
Again liquid cooler is most efficient for the PCs that do high-performing overclocking, use high-performance Graphics, etc. this type of CPU gets overheated most of the time. And for that, AIO liquid cooler is the best option. Here, it performs more efficiently than the air cooler.
How Often to Replace AIO Liquid Cooler
Mostly an AIO liquid cooler does not seem to be replaced frequently. There are some major things to keep in mind when buying AIO liquid coolers. Therefore,  you won't need to think of replacing very often. But still, if you wish to replace or refill, it depends on the type of cooler you have.
Nowadays, most of the AIO liquid cooler uses the closing loop system, and these are not able to refill; instead, you need to replace. There may be many reasons behind that you feel the necessity of replacing. So, at first, know the reasons why and when you should replace it.
The most important active parts of the AIO Liquid cooler are-
Cooling fan
Radiator
Pumping machine
The liquid
Thermal Paste
Water blocks
If anyone of these parts gets hampered, be sure of replacing your cooling setup.
Now let's see how you will understand that these parts have been disturbed.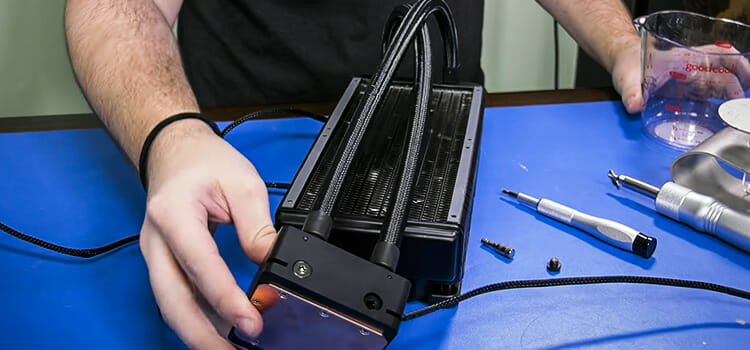 Cooling Fan
It is a liquid cooler, but it does have a single or dual fan to clear out the dirt from its compartments. But sometimes the edges of the fans got stuck for too many specks of dust, and then it gets stopped. For that, you don't need to replace the whole system, rather clear out the dirt with any vacuum cleaner.
Radiator
The work of the radiator is to fly off the temper and spread it to a larger space. It is an essential part of the liquid cooling machine. It assists in cooling by dissipating out the absorbed heat.
It may get inactive because of too much dirt. Every six months, you should check and clean it if it gets too dusty. If properly used, a right radiator lasts for years without any damage. So, for a longer-lasting, you should clean it to remove any dust.
 Pumping Machine
The crucial part of any liquid cooling machine. The pumping system seems to leak, or the pumping mechanism may fail. And then be sure that you need to replace your AIO cooler. Most of the time AIO cooling machine lasts for years and brings no differences at all.
In case, if the pumping machine leaks or fails to pump liquid, then it can create severe damage to your other PC parts. So, be careful before it leaks. Don't ignore if you hear any sounds or buzzy noise from the pump area. Immediately, replace that.
Most of the time, users don't seem to have this replacing issues if the pumping machine is from a good company. But do you need to change aio liquid, This is the most common question in this case.
The Liquid
Do aio coolers need to be refilled? The liquid coolant that the company uses in the liquid cooler is a significant one to keep under observation. Some liquid cooling machines use the technology of evaporation. So, within 3 or 4 years, the coolant may evaporate the liquid, and then you need to replace or refill with liquid coolant if your one turns out refillable.
Besides, while choosing the liquid type for the cooler, you should select the one using exude water, as it evaporates very little and lasts long. Some cooler machines use DIY liquid, and they result in less longevity most of the time.
Again, if any failure in pumping happens then, the colored liquid can damage the other parts of your CPU by increasing the CPU temperature. So, if you think of refilling, later try to refill with exuding, distilled water.
Water Block
Some coolers use water block technology that protects them much from leaking or getting oxidized. So, you need to check the water block parts every 6 months or once a year if roughly used. And if it gets stuck in dust and damaged, then you can replace this part also because in this case the coolant temperature gets very high.
When to Replace
So, the question comes to mind, how long do aio coolers last? Mainly a good branded AIO liquid cooler does not need to replace within 5 years. Within this period, you can use it spontaneously. But if any parts of the mentioned above get hampered, or any failure causes, then you need to replace your cooler.
In some cases, people seem to have no issues and are seen using their liquid cooler for years. The better option we can suggest is to check out them once a year. So, aio cooler maintenance is more than a normal cooler.
We can suggest you this amazingly good-looking liquid cooler from Coller Master. If you think that your aio CPU cooler lifespan is passed, then give it a try. If you are a gamer, then it will add some gorgeous-looking aspects to your computer system having AMD Ryzen or Intel CPU as well as help your system to be safe from heating.
Final Words for You
AIO cooler machine is a little bit expensive but very useful for high performing CPU and GPU.
If you get an AIO cooler from any good company and you maintain proper maintenance, then you may not need to replace it often. There are a lot of people fond of using custom water cooling system with RGB fans too.
Howsoever, in this article, we have discussed the cases on aio lifespan and how often to replace an AIO liquid cooler. Read it and clear all your confusion regarding it. And then you can know how to tell if your aio is going bad, liquid cooler vs air cooler, replacing aio cooler, aio cooler lifespan and so on.