Instagram and Pinterest are social media channels that are based on visual aesthetics and are full of amazing pics (same as useful information and unrepeatable public accounts) that you might think to use for your own purposes.
Who can punish you if you're using an Instagram photo on your own profile in order to illustrate your own thoughts in the caption? How to get an image from social media of the best quality?
You're in the right place if you're looking for answers to these questions. In this article, we're going to observe users' rights to use images from Pinterest and Instagram and the most comfortable ways to download them in the best possible quality. 
Let's begin with the query "how to save Instagram photos" or the same about Pinterest — as it is simple and fast.
How to Download Pics From Instagram and Pinterest
Here are two simple instructions to download Instagram or Pinterest images without any loss in quality. This is important as the quality might be decreased by using the wrong way of saving and the reuse of the content might be impossible if it is so.
Download Images From Your Instagram Account
The Toolzu saver is the best and most efficient way to download Instagram pics. Use 3-step instruction if you need to save any photo from Instagram right now:
Log in to the Toolzu downloader service;
Copy a link to the post or Story photo you'd like to download; 
Paste the link in Toolzu saver and click download;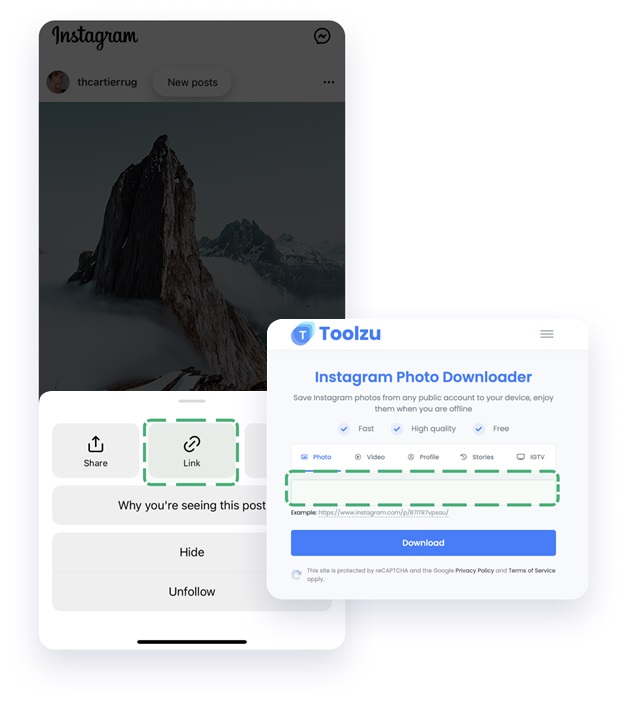 Download Images From Pinterest
The simplest situation is when you need to transfer any image from the content platform to your computer or smartphone for further viewing and reusing. The algorithm is as follows:
Select the pin you like and open it by clicking on it;
Pay attention to the 3 dots located above the pin, click on them;
After clicking the "Download image" button, the photo will move to your photo gallery.
The Easiest Way to Use an Image From Instagram or Pinterest Is by Embedding
Here's a story that confirms that embedding is the best way to use images. No law can punish you for this type of use of images — there is simply no such law in any country, therefore, of all possible ways, this is the safest way to use images. 
This is a real story, you can read more about it here. 
"Once a photographer took a colorful photo of nature. Newsweek magazine became interested in the frame, which contacted the author and tried to get permission to use the photo. The photographer refused, and Newsweek embedded the photo in its article by embedding it.
The photographer appealed to the court, claiming that the publication violated his rights. 
Newsweek disagreed with the photographer. Of course, the photographer has copyrights. But when he posts a photo on Instagram, he grants the owners of the service (Facebook Inc.) a license to "store, use, distribute, modify, launch, copy, publicly perform or display, translate <…> content and create derivative works based on it" — as stated in the user agreement. 
The magazine claimed that since Instagram technically allows embedding photos of users, it thereby gives a sublicense for embedding to all users in relation to all content."
The situation remains suspended, everyone is waiting for a final court decision. Everything was solved by the fact that some users will now be able to protect their publications from the embedding feature. There are very few of them, and you will understand this when you do it. Therefore — this method is the safest.
How to Use Images From Instagram or Pinterest Legally
1. Determine Your Purpose of Using the Image From Instagram and Pinterest
If the embedding is not your type, to use an Instagram or Pinterest image legally, you need to find the copyright holder and get his written permission to use it for your purposes. That is, first you need to decide what exactly you are going to do with the image.
There are three purposes of using images:
Editorial (Editorial Use Only) 
Illustration of articles and other informational materials. You can use images in scientific journals, free educational videos.
Ordinary Commercial (Standard License)
Creation of advertising materials and use them on commercial platforms. You can use images in commercials, banners on the website, design of an online store
Extended Commercial (Extended License)
Creating goods for resale Posters, textiles, home decor
2. Find the Images With the Right License or Get Permission From the Author 
There are several ways to search for images on the right topic: in search engines, on social media like Instagram and Pinterest, on the Creative Commons website, or on photo stocks. You can also use content created by users of social networks by embedding it on the site via embed code.
Always Put the Author's Credentials on the Image You've Taken From Him 
The author's statement is really a good tone. Be on the right path not only with the help of other creations but also with the help of your own hands. 
There are a lot of photos and videos on the Internet without specifying the author, reposts, reposted, re-processed, cropped, and modified — it can be very difficult to find the original source for them. Let the authors feel safe, and always let other users know if you use anybody's image on your resource.