How To Make Blue Switches Quieter | 5 Simple Ways
Mechanical keyboard switches come with unique feels and sounds. To have unique features, people are interested to buy this kind of keyboard and when it comes to loudness, many of them prefer blue switches but there are always exceptions. Some of them look for quitter or less sound provider switches.
Are you one of those who want to make blue switch quitter? If yes then you're at the very right place. There are several ways that can be used to quieter the blue switches. One of the most common ways is using O rings. There are several other ways too.
In today's article, we're here with a proper guideline that will help you to make your blue switches quitter. So, without any ado, let's get started!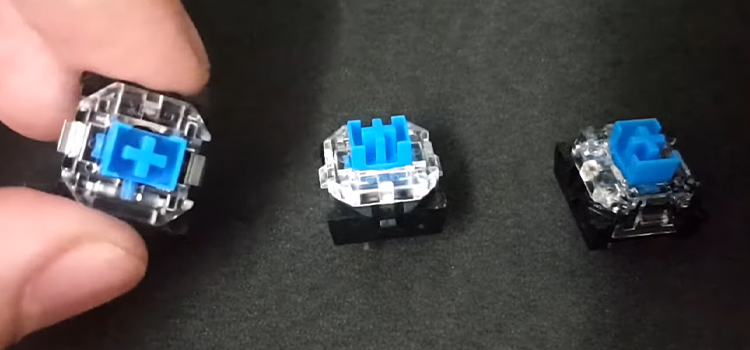 Which Thing of Blue Switch Needs Modification to Make it Quieter
The reason behind the loud sound of the blue switch is the spring-loaded mechanism. The switch and the internal switch components are designed to produce noise. And the spring which is provided inside the switch is designed to be sturdy which allows the switches to create more sound.
You'll need to provide some substance that can act as a buffer between the keycap and the blue switches. When you add the substance, it will help to reduce the sound. You can use O rings, lubricants, sound-dampening mats, etc.
What Are the Different Ways to Make Blue Switch Quieter
There you can have three types of switches, Linear, Tactile, and Clicky. The blue switches are termed as clicky as they produce a loud noise. You can't minimize the full sound but you can do partial minimization. Now let's find the ways that you can follow to make the blue switches quieter.
Way 1: Use O Rings on Your Blue Switches
O rings are widely used when it comes to making quieter keyboard switches. They are inexpensive and you can find them easily. Basically, the O rings act as a buffer as they are provided on the keys. It reduces the contact between the keycap and the switch.
While you're buying O rings, make sure they are the right size for your keycaps. Pull out your keycaps and place the O rings inside them. When you are placing the keycaps, make sure that it is placed perfectly otherwise it won't be quieter. Though the O rings reduced by 20% noise. But that is not that bad. You can give it a try at least.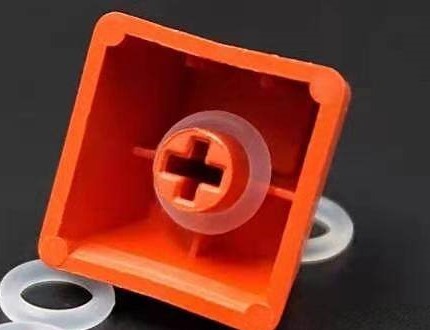 Way 2: Use Lubricants on Your Blue Switches
The blue switches are termed clicky switch and when you lube these switches, it turns into tactile switch. The tactile switch made less noise than the clicky switch. During the lubing process, you need to be concerned because if anything accidentally happens then you may have sound noises. Take out the keycaps, springs, and stems. Now, take a small amount of lubricant and apply it to the metal contacts.
Caution
If you are using Kalih BOX blue switches then it is suggested that to not lube them because they are designed differently and you'll face difficulty when unclipping them. Another thing will happen, while you're lubing the switches there is a higher chance of leaking lube from the switches which will reach the PCB board and it'll damage your PCB board.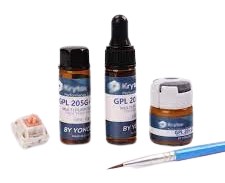 Way 3: Use Sound Dampener Foam on Your Blue Switches
You can also use dampener foam for reducing the sound of the blue switches. It's one of the popular methods. The sound-dampening foam not only reduces the sound but also can help to have a better keyboard experience.
To provide dampening foam on your blue switches, first, cut the foam according to your keycap size. Now, pull out the keycaps and place the foam on top of the switches. If you don't want to resize the foam then you can go for pre-cut pieces of foam. Also, you can cover the underneath of the PCB board with foam to reduce the noise.
You can find different types of dampening foam out there, e.g., Sorbothane, Neoprene, Packing foam, etc. Sorbothane is one of the best dampening foams but they are quite expensive and heavy.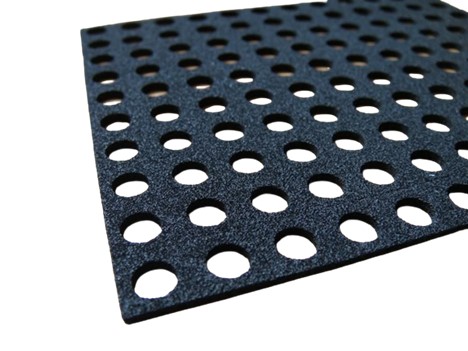 Way 4: Use Quieter Keycaps on Your Blue Switches
If you're not willing to do lube or use foam then this way can help you easily to quiet your blue switches. There you can find some keycaps which are known as quieter keycaps. These keycaps are designed to absorb the vibrations and noise of the switches.
When you're looking for them, take the keycaps that are made of soft material. If you're using ABS keycaps then replacing them with PBT will also help you to reduce the noise of the Blue switches.
Way 5: Use Soft Springs
Another way is using a softer spring. The blue switches come with sturdy springs that made a louder sound. You can replace them with a soft spring and it'll help you to dampen the blue switch sound.
Bonus Tips: You May Also Try
There are other different ways too that can help you to quieter the blue switches but they will slightly reduce the noise. You can adjust the sensitivity of your switches from the dedicated keyboard software, you can use a sound-dampening mat underneath the keyboard, or you can use a keyboard cover.
And if you have a hot-swappable keyboard then you can replace the blue switches with red or brown switches.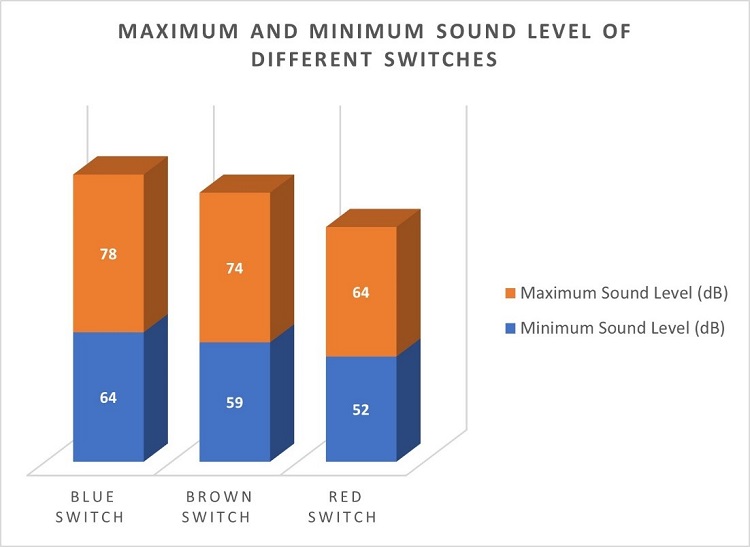 What Are the Benefits of Quieter Blue Switches
As you know that the blue switches create a louder sound, and for this, your surroundings will be disturbed and also can create a distraction while you are working. There are so many positive sides if you make your blue switches quieter.
Suppose, you're working or gaming at late night, then your apartment mate or your family members will be disturbed by the switch sound. That will bring some trouble to your daily life. To get rid of this problem, making the blue switches quieter is a great thing.
Quieting blue switches can improve your typing experience as it makes the keyboard smoother and enhance the responsive rate.
Quieting switches can improve your focus on your work.
Quieting the switches will enhance the life span of the keyboard. It will reduce the wear and tear amount on your switches.
FAQs (Frequently Asked Questions)
Can lube ruin switches?
No, lube won't ruin your switches. But if it somehow leaked and reaches the PCB board then it will damage your keyboard. So, avoid applying too much lube.
What can I use instead of Lubricant?
If you do not have lubricants nearby then you can use Silicone grease as an alternative way. To apply Silicone grease, first find out the compatible viscosity for your switches.
Conclusion
Lastly, there are several ways that you can follow to make your blue switches quieter. If you can swap the switches, it'll be best for you. It will solve the sound issue permanently. If you want to use blue switches with less sound then the most inexpensive option will be O rings. Check out the Way-1 segment to find out how you can do it.
That's all for today. If you have any further queries, let us know in the comment box. Gracias!
Subscribe

to our newsletter

& plug into

the world of technology