How To Use ChatGPT Instacart Plugin For Recipe And Ingredient Recommendations (Simple Guide)
Instacart, the famous grocery delivery service has recently launched their Instacart plugin for ChatGPT that allows the users to order groceries according to the recipe. It can also recommend ingredients according to the recipe as well as your preferred or desired meal plan. So, whether you are planning to cook a meal for your family or a gathering, the ChatGPT Instacart plugin can take care of the planning part for you. it can also order the necessary ingredients for you.
So, if you are curious about how to use the ChatGPT Instacart plugin for recipe and ingredient recommendations, you have come to the right place. read on to find out how to install the Instacart plugin as well as how to prompt it effectively to get the best recipe and ingredient recommendation according to your needs.
How to Install the ChatGPT Instacart Plugin
In order to get the best recommendation for your next family gathering or your kid's birthday party, you first need to start by installing the ChatGPT plugin. To do it, follow the descriptions described below.
Open ChatGPT by going here
Make sure that you are a subscriber of ChatGPT Plus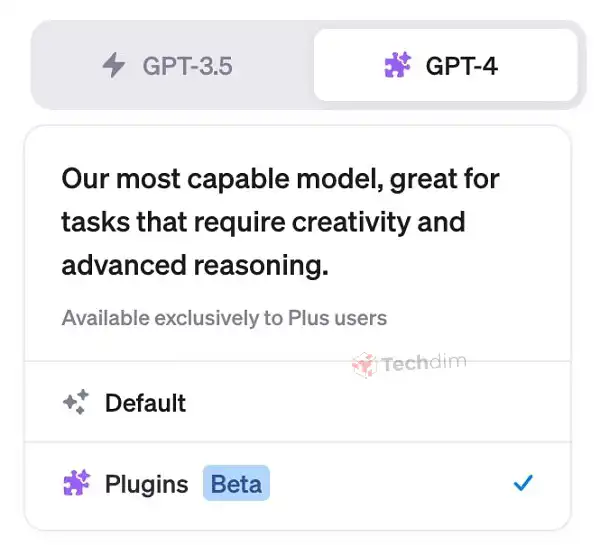 You also need to make sure that you have already enabled the plugins option for your ChatGPT account
Check that you have selected the GPT-4 model, as GPT-3.5 doesn't come with plugin support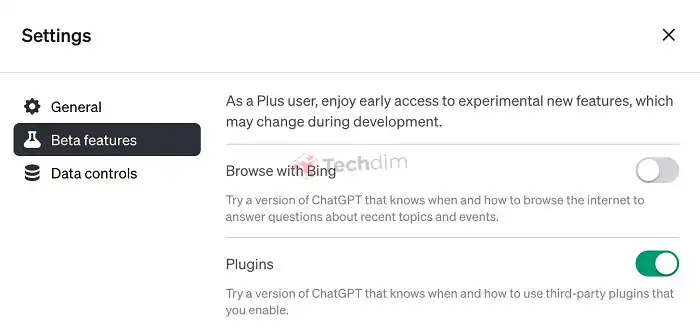 Now open the ChatGPT plugin store and click on Install to install it for your ChatGPT account
When done, select the plugin by ticking on the Instacart from the dropdown menu from where you have selected GPT-4 previously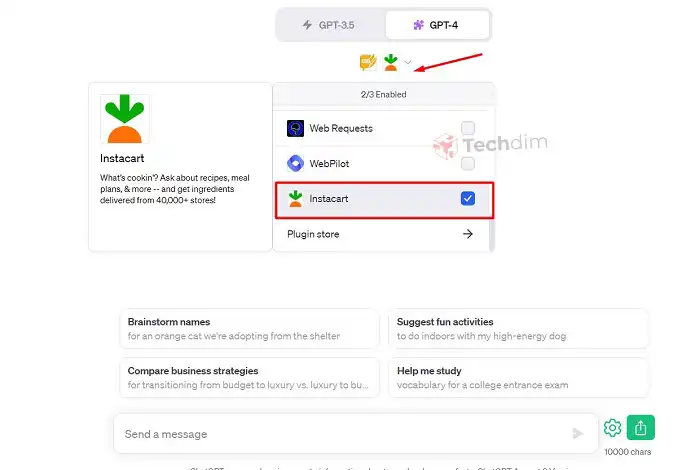 Now you need to learn how to prompt it properly to get the best result. For that, read on.
How to Use ChatGPT Instacart Plugin for Recommendation 
Here are a few examples of how you cant use the ChatGPT Instacart plugin to get the best recommendation:
For recipes, use prompts like: 
Make a recipe for chocolate cake / low-fat, low-sugar chocolate cake recipe
Make a dinner plan for three people
How to make orange chicken / how to cook lasagna 
Recipe of healthy meals for my kids to bring to school
Vegetarian lunch ideas
Meal idea for family outing
Meal / snacks for movie /  date night 
To fine-tune those recommendations, you can use prompts like these:
Make sure to include all recommended and optional ingredients
Make a shopping list of the required ingredients
Mention how much of each ingredient I need
Generate the shopping list and order it from Instacart
You can also ask it to mark the ingredients that you already have in your kitchen with a prompt like this: mark chicken and onion as already have
Don't add already have items to the shopping list
To make it recommend dishes according to the items you already have, use prompts like this:
I have beef and noodles, what can I make with these two items
Recommend a dish using lettuce, tomatoes, chickpeas, bell pepper and onion
What can I make with these things: pasta, cheddar cheese, tomatoes, but no pepper
Wrapping it Up
There are practically tens of millions of ways you can prompt the Instacart ChatGPT plugin to make it give you recommendations for recipes and ingredients. Experiment with different prompts to explore its full potential. However, if you are allergic to anything, make sure to mention it in your prompt when you are asking for recipes. Also, if you are on a diet, it's better to mention that as well when you are asking for meal plans.
Good luck and thanks for reading.
Subscribe

to our newsletter

& plug into

the world of technology