How To Use ChatGPT KAYAK Plugin For Travel Planning (Simple Guide)
For travel lovers, there's no direct way to have an interactive search option that can suggest travel destinations based on taste and mood. However, with the launch of the KAYAK plugin, it's a possibility now. This plugin allows you to add a personal touch when you are looking for a travel destination right into ChatGPT.
This article will cover everything from what can the KAYAK plugin do, to how you can install it in your ChatGPT and start using it to find your next favorite travel destination. So, without further ado, let's begin.
What's the KAYAK Plugin?
KAYAK is a ChatGPT plugin for ChatGPT that allows you to find all things travel-related using nothing but regular language, right in ChatGPT. It can help you with searching for flights and hotels and can find your car rental options, travel suggestions, and options. It can do all of these while remaining within your budget.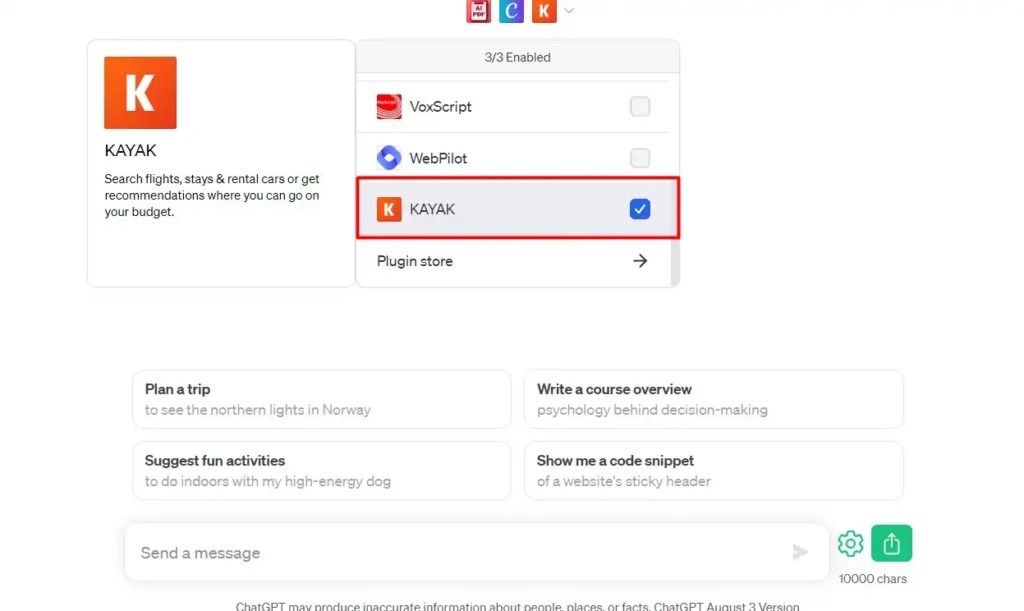 This plugin connects KAYAK, a travel search engine, with ChatGPT, to make travel planning easier and more personalized with AI. It's available to ChatGPT Plus users and was one of the first plugins made for ChatGPT.
What Can it Do for You?
With KAYAK, you can simplify your travel planning by letting you input your preferences like destination, travel dates, and budget. When you do that, KAYAK will provide you with a list of flight options, and recommended accommodations and can also suggest which attractions you should visit in that place. It also offers real-time travel info and can track price changes for better deals.
Its unique features include a forecast of flight prices and Artificial Intelligence-based recommendations that can eliminate the need to search for each thing manually and separately. It offers personalized suggestions for destinations, hotels, and attractions. Therefore, it's a major improvement over traditional travel planning.
How to Use the KAYAK Plugin
Here are a few examples of how to prompt KAYAK using different prompts.
Finding Affordable Flights on KAYAK
        "Can you find me the cheapest flights to France next week?"
        "Find the best flights for my business meeting in California next month."
Securing Comfortable Accommodation on KAYAK
        "Help me find a well-located hotel in Chicago next month."
        "Assist me in finding a family-friendly resort for our Niagara Falls trip."
Organizing Multi-City Trips on KAYAK
        "Help me plan the best route and find flights between European cities for my tour."
        "Find the best flights and itinerary for my trip around Europe."
Arranging Car Rentals on KAYAK
        "Find the best car rental deals for my Atlanta trip."
        "Search for a rental car for my upcoming California visit."
End Notes
In short, KAYAK can take care of everything related to your travels. So, you don't have to worry about coming up with proper plans to make the best use of those hard-earned vacations. Also, with KAYAK, you can make sure to pre-arrange everything while still making sure that you are not overpaying for anything. Just come up with a bunch of different prompts and it will take care of the rest.
Subscribe

to our newsletter

& plug into

the world of technology