[5 Fixes] LG TV Making Buzzing Noise
LG TVs are one of the finest in the market today. This is due to their crisp color output, quality sound, and extensive warranty. Moreover, they are budget-friendly too. 
But if your LG TV is making a buzzing noise, then you should be concerned. The reason behind it can be the screen brightness, faulty audio capacitor, faulty speaker, or lack of ventilation. 
No matter which of these is causing the buzzing noise, we have a fix for them. Here are the solutions to your buzzing LG TV.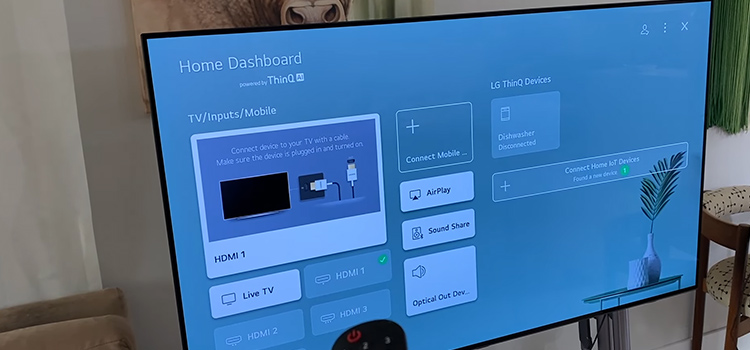 How to Solve the 'LG TV Making Buzzing Noise' Issue
Here is the solution to the reasons why your LG TV is making a buzzing noise. 
1. Backlight Setting Sometimes Causes a Buzz
If your TV's backlight is lower than 100%, sometimes the LG TV starts a buzzing sound. This is the main reason for the buzzing for 80% of the users. 
Simply turn up the backlight to 100 and check if it is still there. If it is still there, you will need to check the next problem. 
2. A Faulty Speaker Can Also Cause a Buzz
Sometimes the speakers are faulty due to overuse. To know if they are really faulty or not, you'll have to play some music with bass. 
If the sound keeps on growing, then you will need to contact the manufacturer or dealer to get it fixed. Do not attempt to fix it yourself during the warranty period.
As the manufacturer will provide full service during that time, fixing it yourself will void it. 
3. Damaged Audio Capacitors
Sometimes audio capacitors get damaged. This is due to overheating or moisture in the air. 
To deal with it, if you have a warranty left on your LG tv, send it back to the manufacturer. Do not attempt to take it to a technician before the warranty period. 
4. TV Box and Volume Getting Caught in a Twist
A lot of people use TV boxes. And these things give out frequencies that disrupt the TV's volume. Hence, the buzzing sound. 
To avoid this, check the connection cables are secure and that the box is at a safe distance. And the buzzing will turn off. 
5. Cooling Fan/Ventilation Issue Causing a Buzz
The latest TV models come with a cooling fan. If there is not enough room behind the TV, the fan will try harder to get air through the device. Hence, a buzzing sound. 
Check if this is the case and install the TV perfectly. A damaged fan might end up returning it. 
Frequently Asked Questions 
Why is my LG TV making weird noises?
If your LG TV is making weird noises, first check if the speakers are causing it. Mute your speakers to be sure. If it doesn't make any noise, chances are that there are other reasons such as loose cable issues or the backlight being set too low. 
How do I fix crackling speakers?
Cracking speakers are most of the time caused by loose or faulty cables. Simply attach them tightly or change them if damaged.
Can I change LG TV speakers myself?
No. If you are not a professional, we suggest you don't do it yourself. You might cause more damage than good. Rather take it to the service center if there is a warranty. And if the warranty is out, any technician can help you with it. 
Conclusion 
LG TV buzzing noise issue is most of the time due to small problems like high volumes or TV box statics. Simply lowering the volume or setting the TV box around would make it go away. More intense issues like an audio capacitor replacement, speaker faults, or damaged fan will require the help of a technician. 
Subscribe

to our newsletter

& plug into

the world of technology