Buying a business for sale is an easy way to get started for entrepreneurs, especially those with some background in digital marketing. Now, you have the chance to snap up any of three profitable ecommerce business under 5K on the Shopify Exchange Marketplace. Don't miss this opportunity!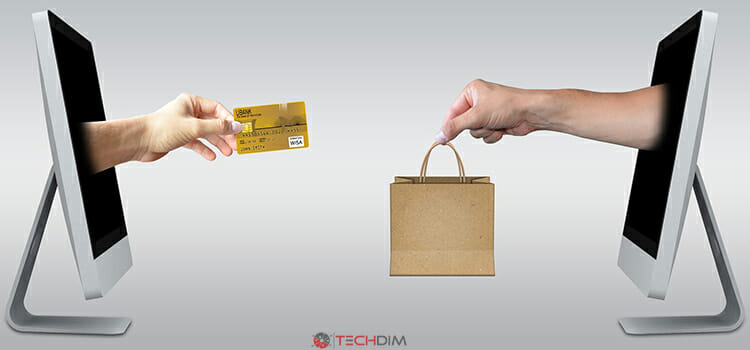 Three Fashion and Apparel Business Under 5K
Visit Shopify's Exchange Marketplace to find exciting opportunities, for the novice or experienced entrepreneurs. You can find online businesses for sale, at every price range, and from every category, from technology, fashion, books, services and consulting, to food and drinks.
Now, you have the chance of a lifetime. Three established profitable fashion and apparel shops are now available for sale, each under $5,000. These are well-oiled machines, with good traffic, an established customer base, and steady revenues.
1. CuteMade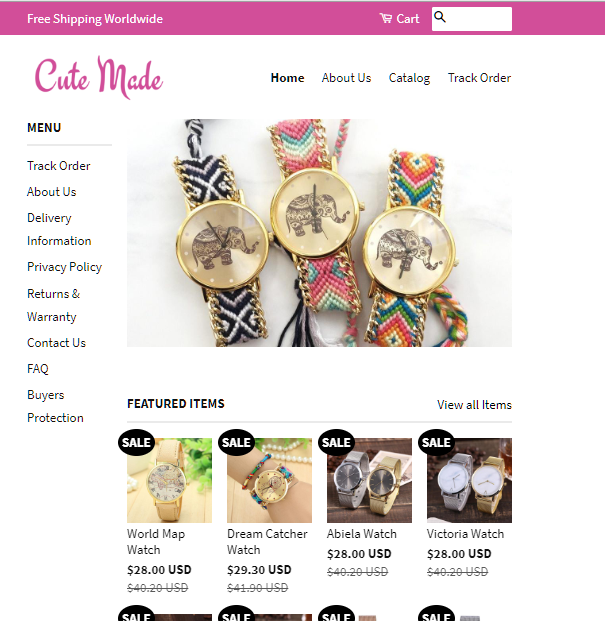 CuteMade sells branded women's watches. Established in August 2015 the business has  generated $150,000 in revenue. This shop has fully automated fulfilment using Oberlo. With an established network of suppliers, over 4,000 costumes on list, a good product selection in place, taking over this business can be a smooth, transparent process.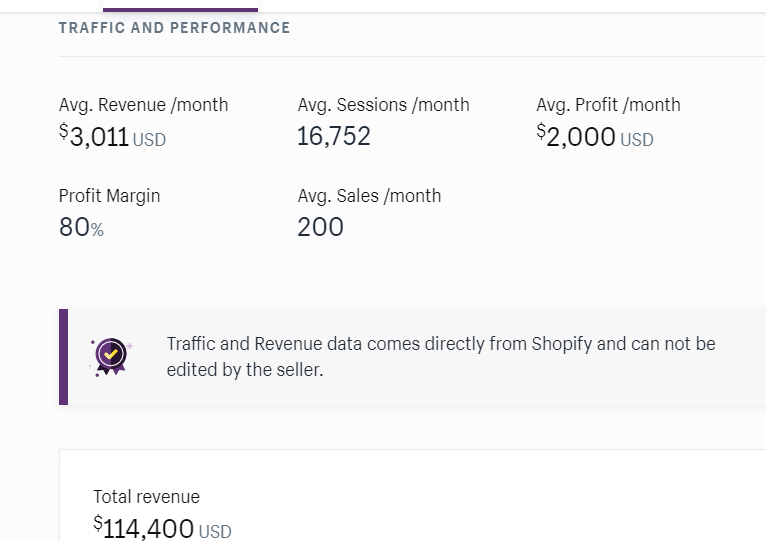 Average Figures Per Month: Sessions 16,752 Revenue $3,011 Profit $2,000
Expenses: Shopify Plan – $29/month Domain – $1/month
Time to Spend: Around 5 hours per week
The reason this business is being sold is lack of time due to other business commitments. However, a lot of time and effort has been invested on this store to bring it to its current level of success. The website has been modified and the site has been optimized to ensure good conversion of visitors to buyers. If you buy the store you will get the supplier list and customer list, Domain Name, Logo and Branding Assets, Product Photos, and Personal Assistance from the seller even after the sale.
The seller suggests that you can use the existing customer list of 4,200 contacts to continue the sales and enjoy the established revenue stream. Or investing in ads to reach out to more customers. The current owner is willing to provide recommendations for expanding the product choices.
2. Motocross Outlet
Motocross Outlet is a Portuguese sports merchandise shop, selling products related to Motocross and other off-road motorcycling activities. In Portugal, competition in the online sphere is still low, and with more customers looking to shop online with all the convenience it provides, this market is set for expansion. The motocross sports merchandise market online has very few players, so this is a good time to leap on board, before the market gets saturated.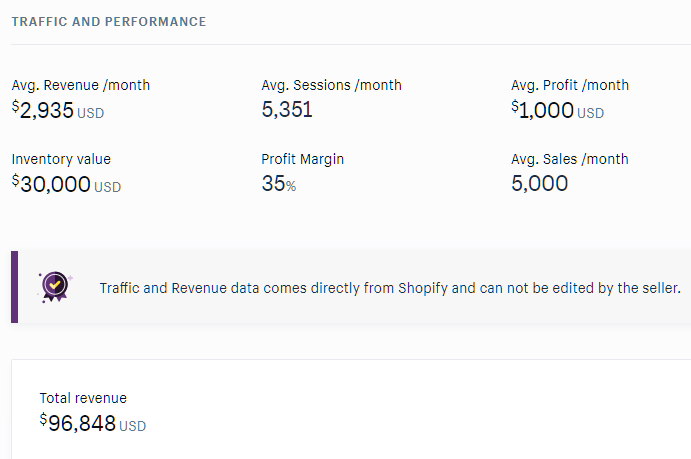 Average Figures Per Month: Sessions 5,351 Revenue $2,395 Profit $1,000
Expenses: Shopify Plan – $79/month Domain – $1.25/month Inventory Warehouse $1/month
Time to Spend: Around 20 hours per week
The reason the shop is being sold is lack of time as the management has other businesses to focus on. This is a good revenue generating website, with an attractive design, featuring product descriptions and photos for over 3,500 products. This website has around 2,000 registered customers, with cookie tracking and automated email system to build a good customer relationship.
The website has a high Google ranking for the main keywords. Besides the website, buyers will get Domain Name, Logo and Branding Assets, Product Photos, Social Media Accounts, and Personal Support from seller. Social media presence with over 7000 followers on Facebook. Buyers can get this business under 5k, and make use of these already established marketing resources to grow the business.
3. BRKLYNS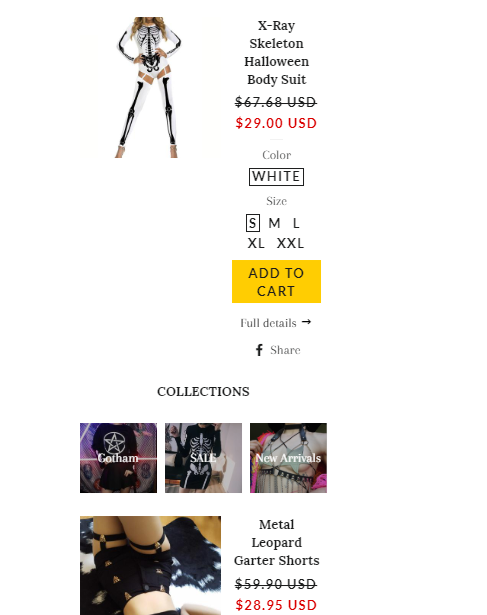 This is a successful business with high growth potential. BRKLYNS has positioned itself as an urban aesthetics clothing and accessories brand, sourcing a range of styles from various independent designers. Offering excellent quality at affordable prices, this business has a 30 to 45% profit margin on its products. The seller bought it from the original owner around a year back and have rebranded and further expanded the business.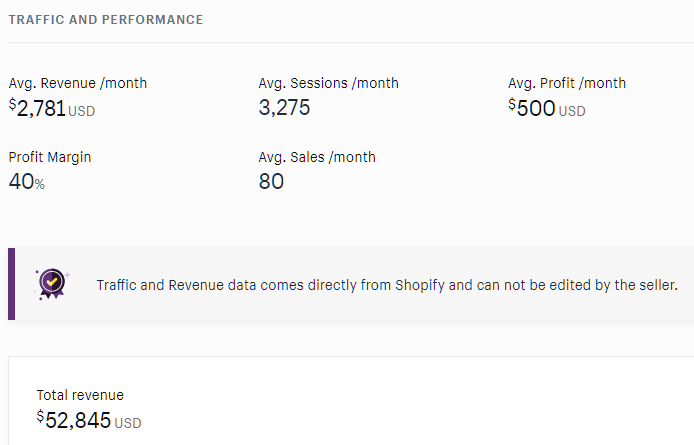 Average Figures Per Month: Sessions 3,275 Revenue $2,781 Profit $500
Expenses: Shopify Plan – $29/month Domain – $5/month
Time to Spend: Around 10 hours per week
The business is being sold because the seller has been offered a partnership in an offline business and will not have enough time left to manage this flourishing webstore. This business has a network of reliable suppliers which will be given to the buyer. The first owner generated sales through Facebook ads. The seller has rebranded the site, changing the name, web design and the Facebook page. An Instagram page has been setup which now generates its own stream of traffic and customers besides the FB page. They also connect with social media influencers to promote their products.
The business uses the service of a VA which can continue after the sale. The VA  handles various tasks like writing product description, taking care of order fulfillment, and providing customer support. Products are sold in different niches, and the outstanding performer among these is the gothic/grunge/punk niche.
The assets you get when you buy the business includes the website, Domain Name, Logo and Branding, Social Media Accounts (with IG Influencers), Product Photos, and Personal Support after sales (3 weeks). The seller suggests using the FB and IG pages and influencers while increasing the ad budget for FB ads to further promote this brand.
Shopify ExchangeMarketplace provides you this unique opportunity to snap up one of these three flourishing business under 5k. Take a look at these businesses and more on ExchangeMarketplace.com!
Conclusion
Although investing in an online business or buying an already established one seems a bit off, it is not in this case. Especially if the business is situated on a platform like Shopify. We already know how hard it is to construct anything from scratch nowadays, but something that is running smoothly can be a worthwhile situation to think about. And definitely won't bring you to the ground.