When you're enjoying Sea of Thieves but your voice chatting or microphone isn't functioning correctly, like you can't even hear fellow members or others also can't communicate with you, then you aren't the only one in this situation. 
The voice chat on Sea of Thieves will not function properly because of an outdated or faulty audio driver. It is also possible that the disabled microphone or chat permission inside this Xbox security setting doesn't allow your voice chat to function properly.
This issue does not appear systematically. Whenever the infected users attempt to use the gaming chat, each other's voice is then not received. In several situations, users are unable to hear other participants.
How To Solve, 'Sea of Thieves Voice Chat Not Working on PC'
Method 1: Perform Some Basic Fixing
Step 1: If that voice chat of Sea of Thieves fails to operate, the first step is to perform a quick check to figure out a connectivity or hardware problem. 
Step 2: To reload the device manager, unplug and replace your headsets. 
Step 3: You should change your headphone adapter. Certain gamers claim that their headphones only operate when inserted into a particular input jack. 
Step 4: To make sure your headset isn't physically damaged, use it on a different computer.
Method 2: Make Your Microphone the Default Driver on Your Computer
After such a new update, the sound options on your computer may have been screwed up, meaning your microphone will be no longer detected or configured also as the default port. If this is the case, you will need to manually change the settings for enabling your device to function properly. 
Step 1: To launch the Run Command prompt, tap the " Windows key +R" altogether on your keypad. Now type in control there & press the OK button.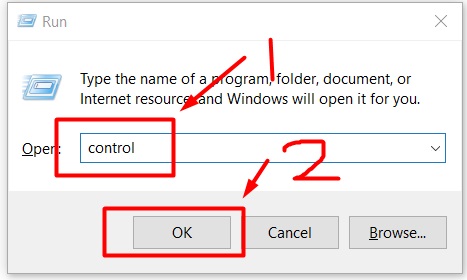 Step 2: Choose Small icons just beside View by. After that, you have to click on the Sound.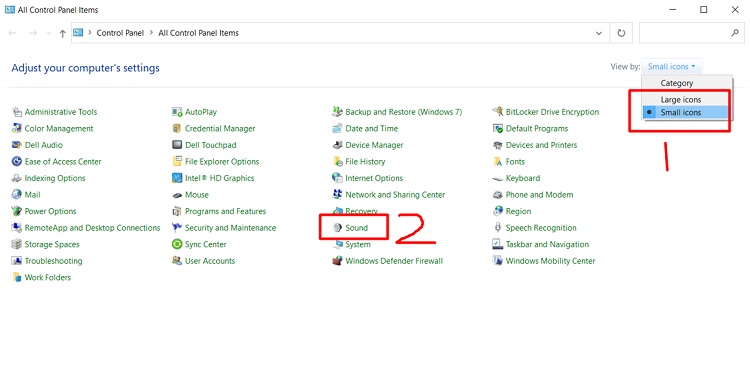 Step 3: Click on the Playback tab at the top, select your primary headset then select Set Default from the drop-down menu.


Step 4: Disable any other headsets that are currently not in use by selecting Disable from the context menu.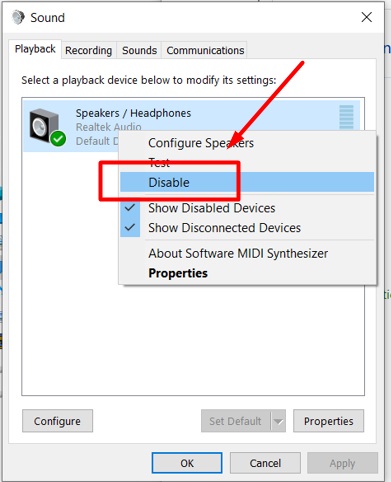 Step 5: Go to the Recording option at the top and turn off any other microphones that aren't currently being used.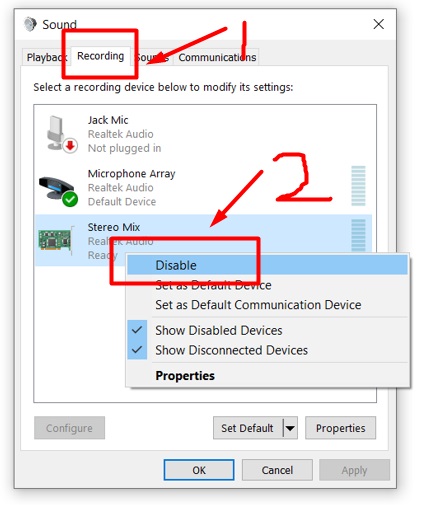 Step 6: Choose your main microphone then click the Set Default button.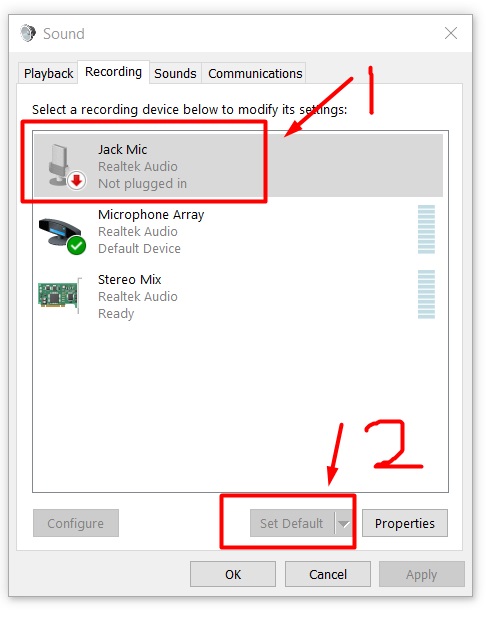 Step 7: Finally, to make the changes take effect, hit OK. 
After you confirm that all is in working order, reboot Sea of Thieves to test when the audio is working properly.

Method 3: Test the audio configurations inside the game. 
Check that your voice chatting is enabled while playing the game. When sound is operating well on other apps, then you have to check the sound settings inside your game. You can use the following steps to double-check: 
Step 1: While playing the game, tap the Esc button on your keyboard to access the My Crew menu.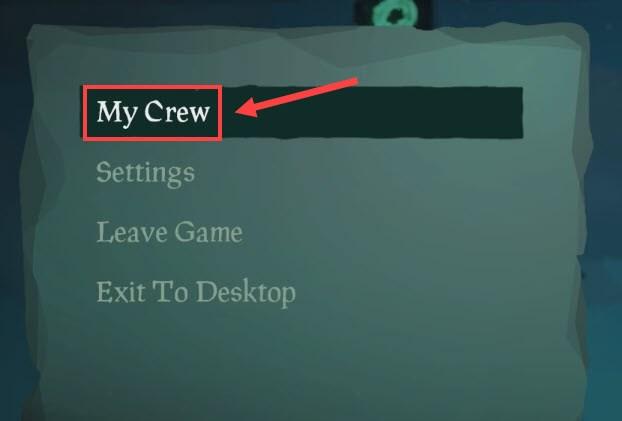 Step 2: Make sure that none of the others crews' audio conversation is muted in the right window.


Step 3: Navigate to the Settings menu after exiting the Window.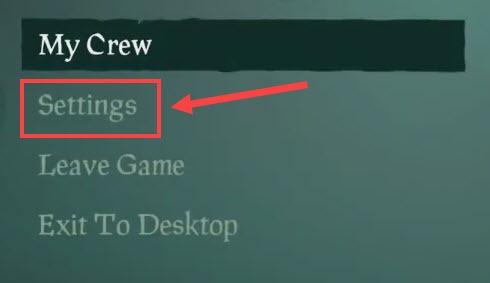 Step 4: First from the left side, choose Audio Settings. After that, set the Crew Chat Output to Headphones and then enable Push To Talk bar.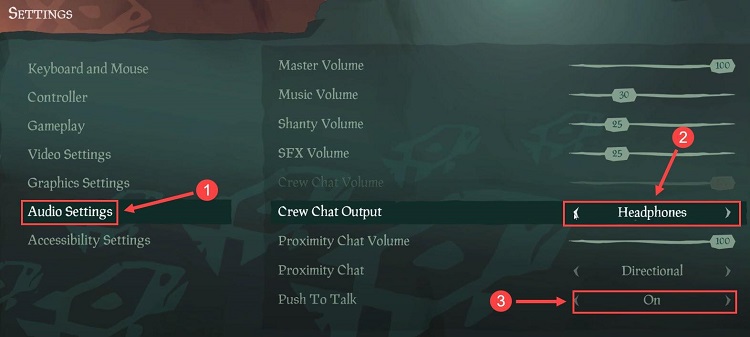 Step 5: Restart Sea of Thieves to put it to the test. If this technique doesn't work, try another one down below.
Method 4: Provide others permission to use your microphone. 
If you do not enable Sea of Thieves to access your microphone, you will be unable to communicate with other participating teams while playing. To determine whether or not you have provided the permission, complete the steps outlined below: 
Step 1: Inside the Windows search engine, enter microphone privacy and then open the Microphone privacy settings by double-clicking on it.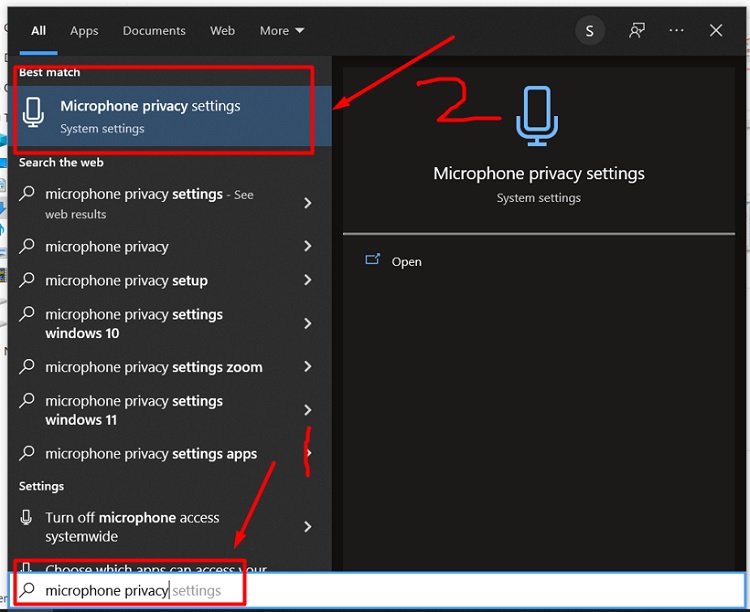 Step 2: To enable microphone access for this device, simply hit on its Change option below and select Microphone access. And after that, in the Allow apps to access your microphone section, turn on the option to give access.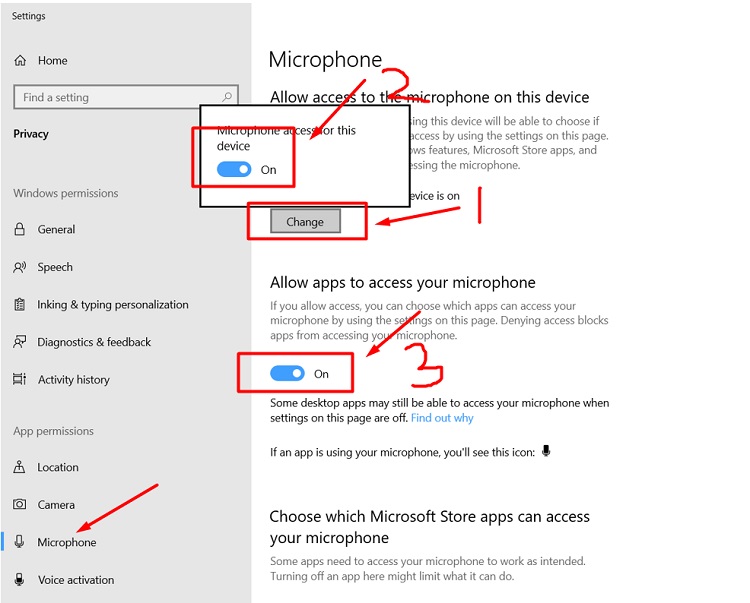 Step 3: Navigate to the bottom of the page and turn on the slider of Sea of Thieves as well as Xbox.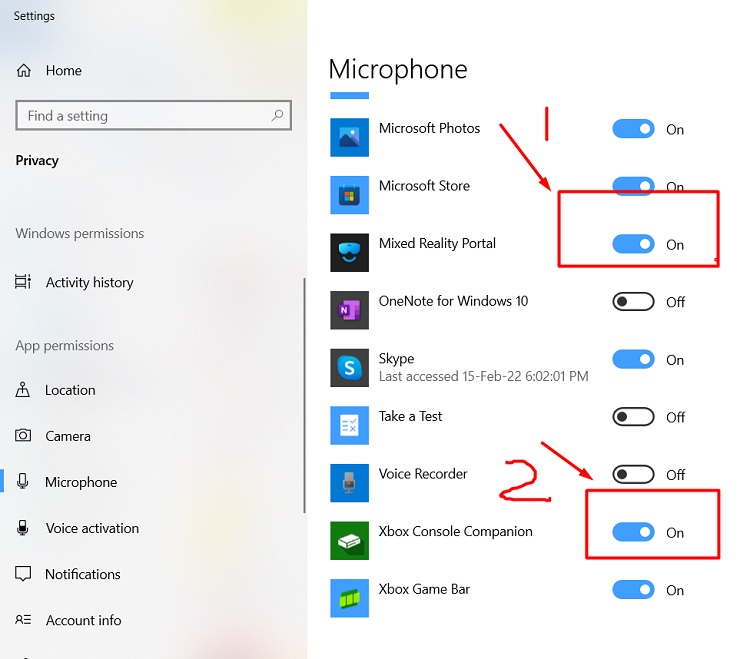 Step 4: Check out the voice chat within Sea of Thieves by launching the game. If it won't function, consider checking the audio driver.
Method 5: Test the Party Chat configurations. 
Similarly, whether you've configured Xbox Party Chat, you'll have to allow chat access inside the Xbox settings as well. You may not be able to use that same voice chat feature in Sea of Thieves even though you do not do so. To accomplish this, complete the steps outlined below. 
Step 1: Navigate to account.xbox.com using your web browser. Next, you'll need to sign in to your account.
Step 2: Choose Xbox settings from the drop-down menu that appears when you type the user name there in the top right corner.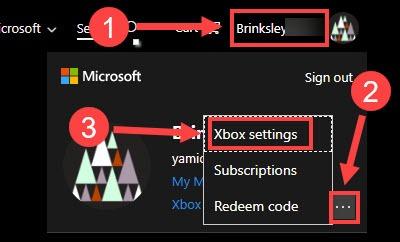 Step 3: Choose the Privacy & online safety section from the drop-down menu.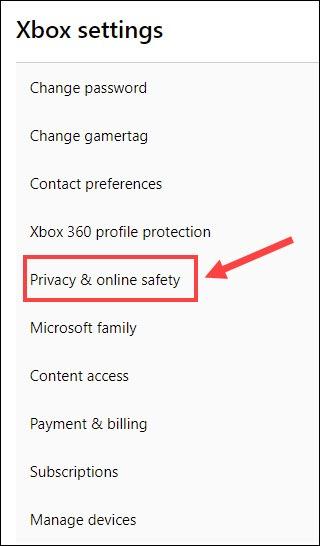 Step 4: Find the You can communicate outside of Xbox Live with voice & text section. Then, mark it as Allow inside the You Can panel.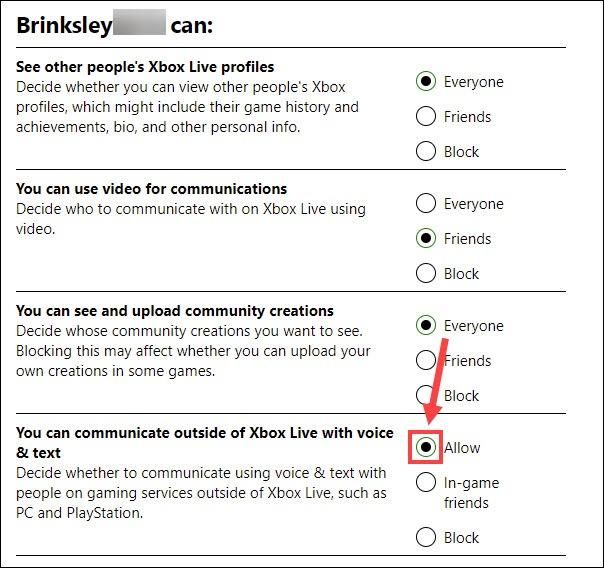 Step 5: Keep scrolling until you reach the section titled "Others can." Everyone should be selected for others can communicate with voice, text, or invites.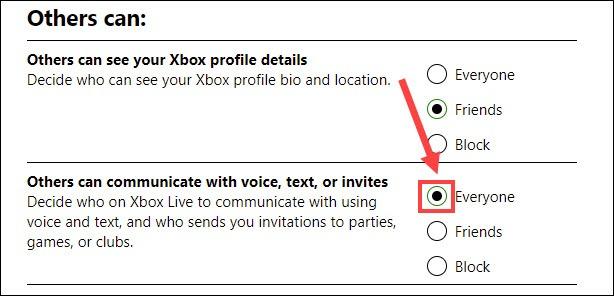 Step 6: Start the Xbox app. In the upper right corner of the window, hit on your avatar and then choose the Settings from the menu that appears.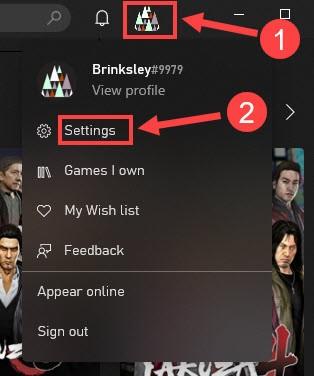 Step 7: Choose Audio from the left-hand navigation pane. Confirm that your gaming headset is set up as both for the input and also for the output device, then Push to Talk is enabled as well.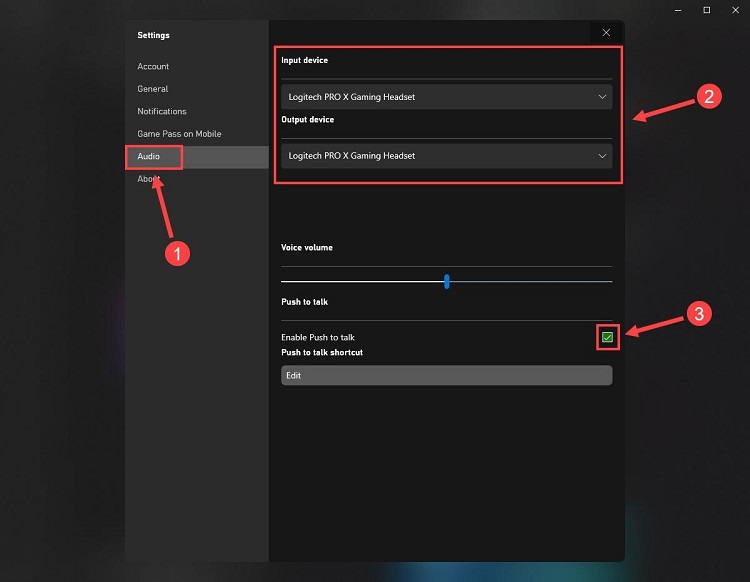 Step 8: Once you've created those adjustments, restart SoT and see if you can communicate with your crews this time. If that doesn't work, try another method.
Method 6: Reboot the Windows audio service if it has stopped working. 
If indeed the Windows audio service still isn't functioning properly, a sound issue will likely occur. It is necessary to reboot the audio service to resolve the issue. The steps are following:
Step 1: To enter the Run Command prompt, tap the " Windows key +R" key from your keypad altogether. And after that, in the command line, type in services.msc then tap the Enter key.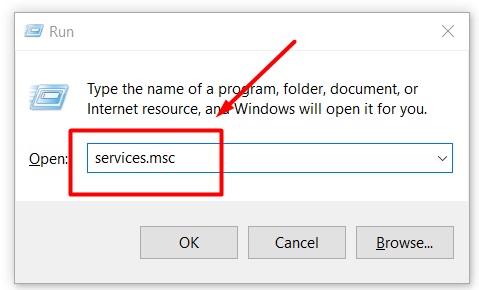 Step 2: Restart Windows Audio by selecting it from the context menu.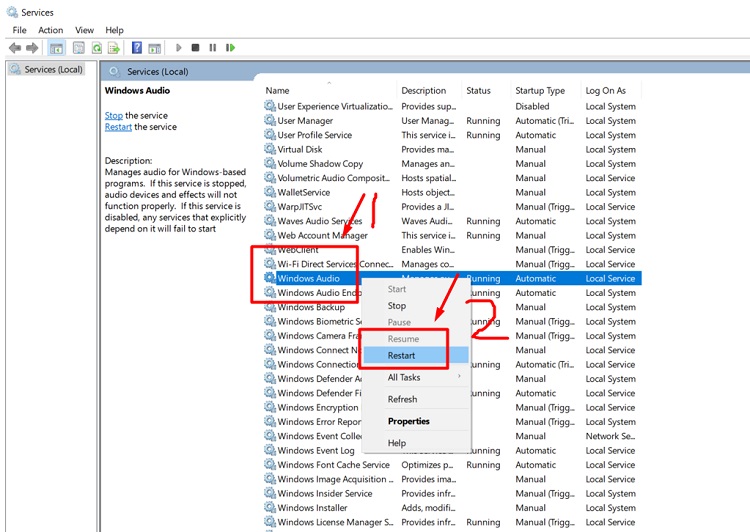 Step 3: It is necessary to restart the computer to save the changes.  
Step 4: Check to see whether voice chat in Sea of Thieves has returned to normal.
Method 7: Make sure your audio driver is up to date.
Device drivers that are faulty and out of date can cause a variety of problems while gaming. Unless you can't recall when you updated your drivers last, you should do so right away because doing so will maintain your gaming audio devices in peak operating condition and perhaps solve the Sea of Thieves voice chat not working problem altogether. You can go for a manual or even an automatic method of updating the audio driver could be used to complete this task.
Manually downloading and installing the driver is recommended. 
If you are knowledgeable and skilled about the hardware of your computer, you will have to go directly to the company's website for your headphone and browse for the most latest edition of the appropriate driver.
Update your audio driver automatically 
The audio driver can be updated automatically whether you may not have enough time, dedication, or computer knowledge to do so manual process. Driver Easy can take care of this for you automatically.
Driver Easy can automatically detect your device and locate the most appropriate drivers for this to use. You will not have to understand what operating system your device is operating, and you will not have to worry about installing the latest the wrong driver and making mistakes during the installation process. 
Driver Easy is available in two versions: the FREE version and the Pro edition. Both versions allow you to automatically update the drivers.
Step 1: Start Driver Easy then hit on the Scan Now option to begin scanning your computer. After that, Driver Easy would scan your system and identify any problem drivers.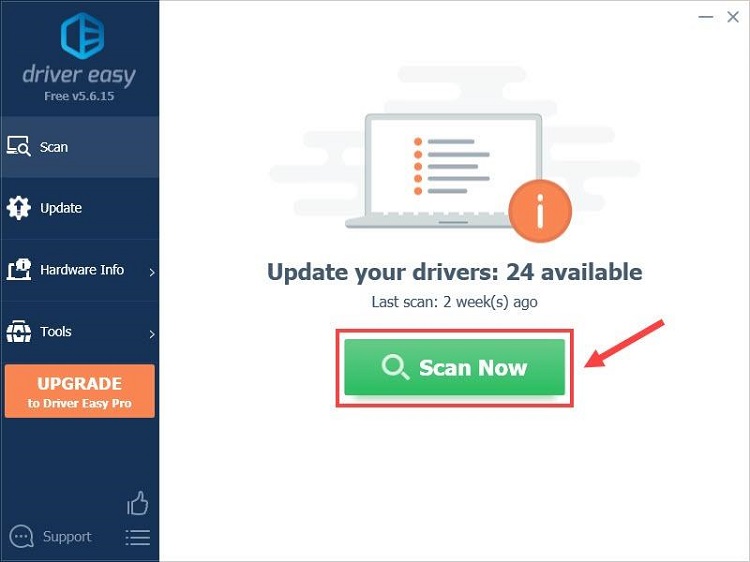 Step 2: Hit on the Update All to have the program automatically download as well as install the proper edition of each driver which are absent even out of date on your computer (this needs the Premium version. Now, you'll be asked to upgrade once you hit Update All). Alternatively, you can select Update to complete the process for free, though it is partially manual.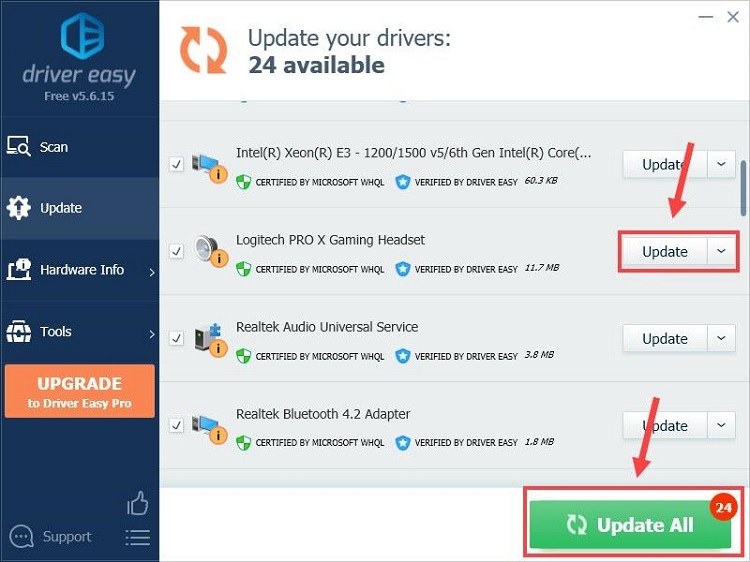 The Pro edition of Driver Easy includes unlimited technical help.
Method 8: Deactivate your antivirus software temporarily
As per some gamers, voice chat throughout Sea of Thieves will not function properly if one"s antivirus software is enabled. Although your anti-virus application is intended to protect the computer from possible threats, this could occasionally prevent you from using certain functionalities of other applications or games. To check if this is the issue, disable your antivirus software and restart your game. Whereas the issue is solved, include SoT to the list of exceptions to continue using both programs without encountering conflicts.
Conclusion
This voice chat not working in Sea of thieves is a very common problem, as many players have reported this. There is a variety of reasons for this error, so there are also several solutions. You can try the methods above to solve the issue. But before applying them, you have to check your operating system.