SCART vs HDMI Connector | Which One Is Better to Use?
Both SCART (Syndicat des Constructeurs d'Appareils Radiorécepteurs et Téléviseurs, English: Radio and Television Receiver Manufacturers) and HDMI are used for transmitting audio and video signals. Basically, SCART is the old player in transmitting signals field, and it was invented in the 70s whereas HDMI was invented in 2002. You can see the differences clearly and it can be said easily which one is better.
Well, comparing them won't be a fair thing but if you are interested then we're here to satisfy your curiosity. There are a lot of differences between SCART and HDMI such as differences in supported resolution, bandwidth, and so on.
In today's article, we have compared SCART and HDMI where we have put the key differences between these two connection types. So, be with us till the end and find out the differences you are looking for! Let's begin then.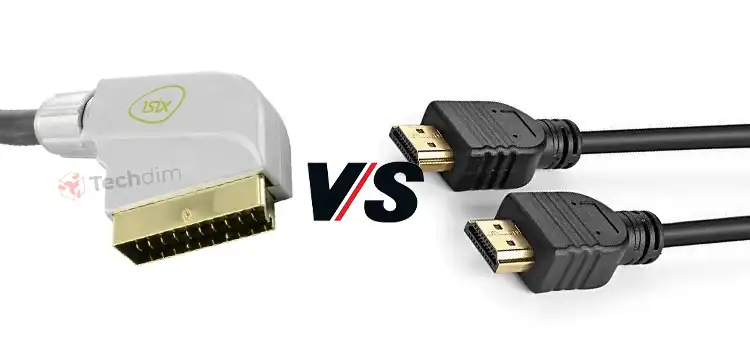 What are the Differences Between SCART and HDMI?
Comparing SCART and HDMI means comparing a feature phone with a smartphone. Basically, they have a large technology gap and that's why HDMI has become superior to SCART. As aforementioned, they have a lot of differences in video quality, sound quality, signal transmission, and so on.
Here we've provided a difference table between these two connection cables.
| | | |
| --- | --- | --- |
| Parameters | SCART | HDMI |
| Supported video and audio signal | Analog | Digital |
| maximum resolution | 576p but can achieve more | Up to 8k |
| bandwidth | Lower | Higher |
| Signal transmission | Analog | Digital |
| Interference | Prone to interference | Less prone to interference |
The actual and important difference between SCART and HDMI is, HDMI is capable of transmitting digital signals whereas SCART can only do analog signals for both audio and video signals. Another difference is the bandwidth of these two. HDMI has higher bandwidth compared to SCART. 
Due to this SCART is capable of displaying 560p resolution but it can be increased with the help of upscaling technology. On the other hand, HDMI is capable of displaying up to 8k resolution.
With an HDMI connector, the picture can be upscaled by the connected device instead of the TV whereas while using a SCART connection, the TV need to upscale the pictures. And that's why HDMI can provide better picture output than SCART. 
If you look at the audio signals, SCART can carry Bi-directional Stereo (stereo or Mono) whereas HDMI can carry LPCM (Linear Pulse Code Modulation), Dolby Digital, DTS, Dolby TrueHD, and various surround audio standards which can provide you with an eargasmic sound experience where SCART failed to do so.
There are also different types of HDMI cables available that helps to get different resolution at different refresh rate.
Hence, by now, it can be said that HDMI is way better than SCART.
Bonus Tips
If you have a SCART connection or are willing to check how SCART works then you can use converters to do so. On Amazon, you will get HDMI to SCART or SCART to HDMI converters. Buy whichever you need, connect that with your cable, and then connect to your TV. Then you will be able to use an HDMI connection on your SCART-supported TV or SCART connection on your HDMI-supported device.
(FAQs) Frequently Asked Questions and Answers
Is SCART the same as HDMI?
Though they do the same work but SCART isn't the same as HDMI. They have a lot of differences and their working procedure is different as well. So, if you are talking about their work then it can be said that they are the same.
Does SCART support 1080p?
Usually, SCART support 576p resolution but using upscaling technology with it, the resolution can go up to 1080p. So, there is a chance of achieving 720p, 1080i, and 1080p with SCART.
Conclusion
Lastly, without a second thought, it can be said that HDMI is way better than SCART. And the technology of HDMI is upgrading day by day and different versions are being introduced to the users. In easy words, you can say that HDMI is the successor of SCART which has outperformed SCART since it was invented. Hope the confusion you had is clear by now. If you have any further queries, let us know in the comment box!
Subscribe

to our newsletter

& plug into

the world of technology