What Is GtG Response Time? Ultimate Explanantion
While buying a monitor, especially, when you are going for a gaming monitor, you will have to check with different features in it. Basically, GtG refers to gray-to-gray response time, which is a measure of how quickly a pixel on a display can change from one shade of gray to another.
The GtG response time is one of the vital things of a monitor as the monitor's performance vastly depends on the number of the GtG response time. Seems confusing, eh? Well, there is nothing to worry about as we are going to discuss everything about this GtG response time
So, stay with us till the end and find out what GtG response time actually means! Let's find out then whether it stands for get-together or gray-to-gray response time.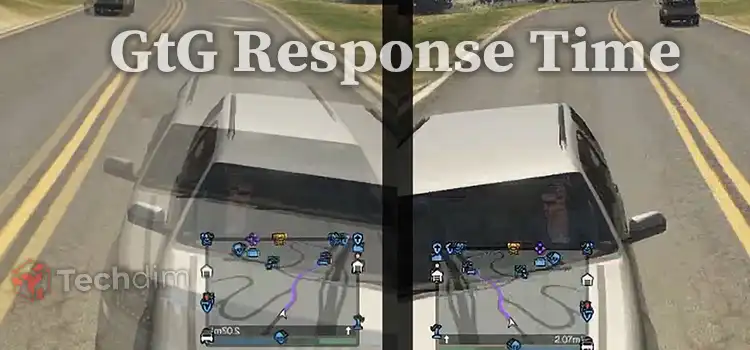 What Does GtG Response Time Mean?
GTG (Gray to Gray) response time is the speed at which a pixel on a display can shift from one grey shade to another. Often used as a key metric when comparing gaming monitors, it has a direct impact on motion blur and ghosting — the lower you go, the smoother things appear.
GTG response time is expressed in milliseconds aka ms. To make it more understandable, let's take a monitor that has a GTG response time of 1 ms, and compare it with a monitor with a 5 ms GtG response time.
Here, the 1 ms monitor can transition pixel colors from one hue to another 1000 times faster than a monitor with a GTG response time of even just 5 ms.
It is worth noting that GTG response time does not paint the full picture concerning a monitor's performance. Other considerations, such as refresh rate and input lag, are also important to a monitor's gaming or overall performance.
Yet, GTG response time is still an effective metric to keep in mind while selecting a gaming monitor. If you're after the slickest and most immersive gaming experience possible, a monitor with a GTG response time of 1 ms or below should be on your radar.
How GtG Response Time is Measured?
The response time of a GtG pixel is calculated by shifting a grey pixel to another shade value and measuring the transitioning time. This is usually done by using a test pattern that alternates between two shades of gray, typically black and white.
There are several ways to measure GtG response time. It can be measured by 
Using a test pattern fluctuating between 50% gray and 100% gray. The duration of time that it takes the pixel to transform from 50%ish grayness through full white brightness and back down again to mid-level, is then taken as the GtG response lineage.
employing a transition from a black-to-white test pattern and vice versa. The difference in time to change the pixel from black to white is then measured and quoted as a GtG response time.
Is Lower GtG Response Time Matters?
Having a monitor with a lower GtG response time matters. Especially, it's one of the important things of a monitor that is used by a gamer or fast-paced application users. Here are the things you will have when using a monitor with a lower GtG response time.
1. Reducing Blurry Images 
In fast-action scenes, like in video games or action-packed videos, a slow GTG response time can lead to blurry images. It happens when pixels can't change colors quickly to keep up with the rapid movement on the screen. A faster GtG response time makes the images clearer and smoother.
2. Better Gaming Experience
Gamers benefit from monitors with low GtG response times. It helps to reduce a problem called ghosting, where previous images leave faint traces on the screen. This makes it easier to follow fast-moving objects, which is crucial in competitive games.
3. Enhanced Video Quality
For tasks like video editing and multimedia work, where color accuracy is essential, a monitor with a faster GtG response time is crucial. It ensures that you see color changes accurately without any smudging, especially in tasks like adjusting colors in videos.
4. Quick Response
A low GtG response time not only improves visuals but also reduces input lag. Input lag is the delay between your actions and the screen response. Gamers, especially in competitive play, benefit greatly from this responsiveness.
Understanding Different GtG Response Time
Different monitors can have different GtG response times, depending on the type of panel used and the manufacturer's technology. 
1. 1ms GtG
This is the fastest possible GtG response time, and it is typically found on high-end gaming monitors. A 1ms GtG response time will provide the smoothest and most immersive gaming experience, with minimal motion blur and ghosting.
2. 2 to 4ms GtG
This is a good GtG response time for most gamers. They are more affordable than a 1ms monitor and it helps to reduce the chances of motion blur and ghosting issues. 
3. 5 to 8ms GtG
This type of monitor is suitable for casual gamers rather than those who are serious about gaming. It will provide a playable gaming experience, but there may be some noticeable motion blur and ghosting.
4. 10ms GtG or Higher 
This is not a good GtG response time for gaming. There will be noticeable motion blur and ghosting, which can make it difficult to see what is happening in the game.
Final Words
Well, well, well! Now, it's clear that GtG doesn't stand for get together! Jokes apart, understanding what GtG response time is helps you choose the right screen. Whether you care more about playing games smoothly or seeing colors accurately in your work, getting the right GtG response time will make your screen experience much better.
Subscribe

to our newsletter

& plug into

the world of technology