Tumblr often has an overwhelming amount of content on each page, taking longer to load than expected on Chrome. Plus, it has heavy customizability up its sleeve, which can backfire and increase the response time. Furthermore, Tumblr is infamous for being poorly managed despite having a large user base.
With that said, your browsing preferences might also be why Tumblr is so slow on Chrome. For example, if you have several Chrome extensions enabled, Tumblr will load slowly. You can, however, try disabling GIFs while shortlisting the most needed browser extensions and keep those only.
Why Is Tumblr So Slow on Chrome?
With around 500 employees only, Tumblr is clearly not the most optimized site out there. If you have ever gone through their reporting process, you will know that the responses are far from being quick. Likewise, the codes are not so well-optimized to keep pace with updated versions of Chrome.
Why Is Tumblr Not Loading Properly?
As you can probably tell, Tumblr dashboards contain tons of images, GIFs, text posts, and more getting added as you scroll. Although such a functionality helps make the experience spontaneous, it's a tough job for browsers.
On top of that, the posts you've already scrolled over don't get deleted from the cache. And as more posts pile on them, Chrome ends up with lots of codes to work with. That, in turn, makes Chrome slower, which is evident from frequent lags while scrolling.
Aside from unoptimized code, Tumblr offers unnecessarily heavy customization. It can often overwhelm Chrome as it tries to load the contents according to user preferences.
Although Chrome extensions for Tumblr have their perks, installing too many of them can, in fact, slow down the average load time. Most interestingly, you won't notice the delay in browsing through webpages already in the cache. But the impact is quite noticeable each time the computer reboots.
Last but not least, computers with limited hardware capabilities can have a hard time loading Tumblr. And the fact that Chrome is quite a resource-hungry browser adds to delivering a poorer experience on slow devices.
How Do You Get Tumblr to Load Faster?
Try out these tweaks to have a swift session with Tumblr and your favorite browser.
Disable GIFs
Chances are your Tumblr dashboard consists of way too many GIFs. Even though you can hide posts containing GIFs individually, that is not an optimal solution. Unfortunately, Tumblr has no built-in option to disable GIFs.
So, you can use a Chrome extension that stops Tumblr GIFs from playing automatically. They will only play if you click on them. You will find a handful of such extensions on the Chrome Web Store, namely Disable GIFs for XKit, and Safe Dash.
Disable Endless Scrolling
Endless scrolling is a Tumblr feature that keeps loading all the contents on a single page instead of categorizing them. This option can come in handy at times but hurts load time.
Luckily, you can turn it off from the Dashboard option inside the settings menu.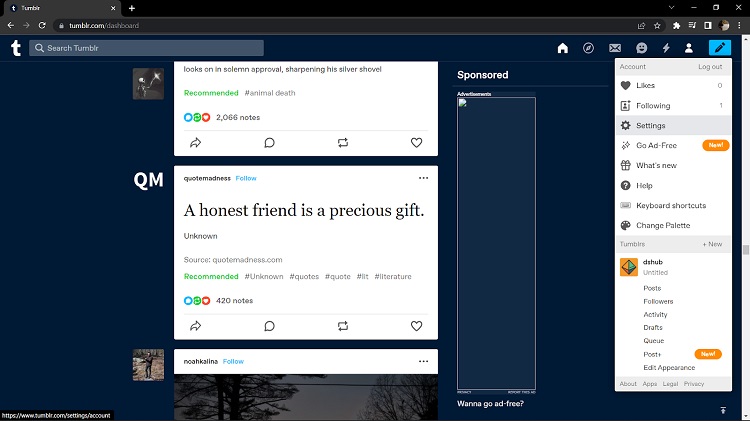 Head over to the Dashboard and disable the Enable endless scrolling option.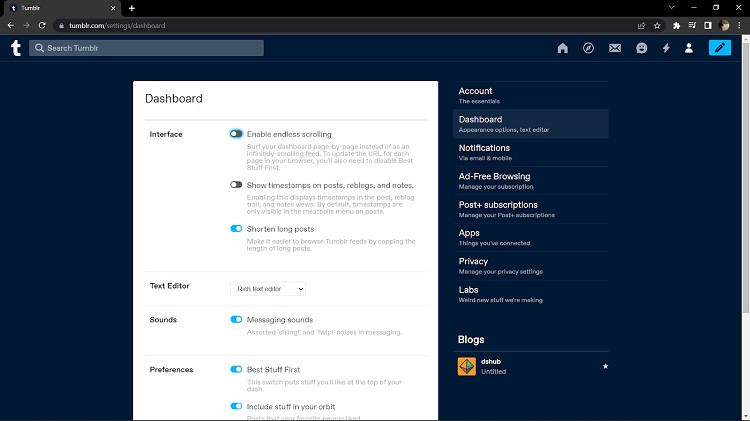 Use Built-in Dashboard Themes
As said before, Tumblr lets you customize your dashboard, a part of which is by changing themes. Besides, you can import animated third-party ones to make your dashboard look personalized. But all that comes at a cost, in this case, slow loading. 
So, try switching back to the default Tumblr theme for a less customized yet speedy experience. Best of all, Tumble now even lets you choose from 12 built-in color palettes.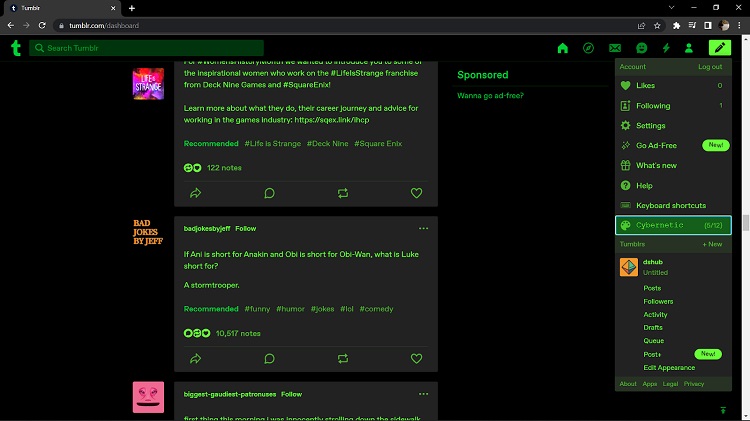 Remove Unnecessary Extensions
The Chrome web store has some useful extensions for Tumblr that lets you tweak nitty-gritty details of how you use the site. For instance, extensions like XKit and Missing e are feature-packed. They will even dim the posts that you have interacted with already.
Having several Tumblr utilities enabled will have its toll on loading time. Each time you try to load Tumblr, Chrome will try to implement all the extensions together. Hence, the best practice is to get rid of extensions you barely need or disable some of their features if you want Tumblr to load faster.
Verdict
For the most part, Tumblr extensions and user-applied themes are responsible for Tumblr being so slow on Chrome. Thus, not using either of them can prove beneficial for reducing load time. However, some extensions like Tumblr Optimiser can help Chrome load Tumblr faster by reducing lags.