Difference Between RGB and ARGB lighting (Comparison Between them)
Within the realm of PC hardware and peripherals, RGB and ARGB have become synonymous with lighting and aesthetics. These two acronyms represent two different lighting technologies, typically found in gaming peripherals and PC components. 
For a PC enthusiast or gamer, knowing the differences between RGB and ARGB is crucial if you plan on personalizing your setup and making captivating ambiances. The actual difference you will get between these two is RGB and ARGB: It's not just about the colors, it's about the control.
In this post, we'll be looking at the main differences between RGB and ARGB lighting technologies.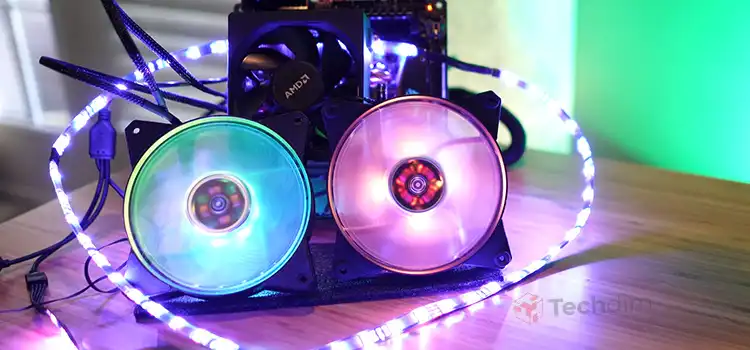 What are the Differences between RGB and ARGB
At first glance, anyone can think that RGB and ARGB are the same thing, though it's totally normal as both of them share the common goal. But they have a few notable differences between them. Here we have provided a table with the differences between these two lighting systems. 
| | | |
| --- | --- | --- |
| Aspect | RGB Lighting | ARGB Lighting |
| Control | Limited control over all LEDs | Individual control per LED |
| Lighting Effects | Comes with preset looks (Static) | Can create many unique effects (Dynamic) |
| Motherboard Connectivity | 4 pins | 3 pins |
| Synchronization | Compatibility may vary | Better synchronization options |
| Customization Options | Limited customization possibilities | Extensive customization options |
| Complexity | Simpler and easier to set up | More complex but versatile |
| Popularity | Widely adopted in gaming setups | Increasing popularity in enthusiast builds |
Now, let's interpret the two important parameters, the control and the lighting effect as they are the main concerns in such kind of lighting system.
A. Color Control
RGB lighting is usually managed by a single controller, that lets you switch the whole color of all LEDs with one button. This implies that it is not possible to show different colors on different LEDs concurrently.
Whereas, ARGB lighting is controlled by a higher-end controller that lets you control each LED individually. This offers way more control over the lighting, and you could theoretically have different colors on each LED at once.
b. Lighting Effects
RGB is like a lightbulb, and ARGB is more akin to an LCD TV. You have control of every pixel, allowing you to show any color or combination simultaneously. 
This allows for more advanced lighting effects to be created, like rainbows, waves, and music sync. On the contrary, RGB lighting is confined to simpler effects like static, fader, and flash.
Which One to Choose between RGB and ARGB
If you want a cost-effective way for adding light then go with RGB. But if you plan to apply more control over your lighting effects or use multiple lighting components then it is better to go with ARGB.
ARGB is equally good should you wish to get more fancy and sophisticated lighting effects. You can use ARGB to make a reverse rainbow or tie your effects to music/games.
If you're not sure what type of lighting to go with, I'd suggest doing your own research and seeing what people are saying about different options. You could even check out reviews and videos to compare the various lighting effects.
Additional Questions You May Have
Q: Can I use RGB and ARGB components together?
No, you cannot use RGB and ARGB components together. RGB and ARGB components use different connectors, and the voltages are different.
Q: Can I control RGB and ARGB lighting using my motherboard software?
A: Yes, you can. A companion software that also lets you manage your RGB/ARGB lighting is available from most motherboard manufacturers. This software offers you the chance to alter the color, brightness, and lighting impact of your RGB and ARGB devices. 
Wrapping Up
While choosing between RGB and ARGB, always remember – it's not just about the colors, it's about the control. So, choose the best fit for you and decorate your system. As once Batman said – The light is not always the answer, you will need to check out what you will get and which one offers you more flexibility!
Subscribe

to our newsletter

& plug into

the world of technology