Video RAM vs RAM | Key Differences Between them
You may have heard about VRAM also known as Video RAM and RAM. Don't they sound similar? Are they the same thing with different names?
These questions may come to your mind like many other people worldwide. Yes, both VRAM and RAM are types of "Random Access Memory" but they are used in completely different ways in a computer.
RAM is the workhouse for general tasks on a computer while video RAM is a special type of RAM that optimizes the graphics card's performance.
There are also a lot more differences between Video RAM and RAM. To know more about them, let's read till the end of this article.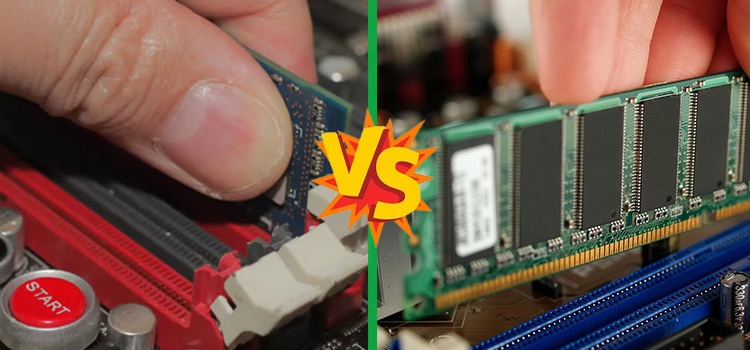 What Is RAM?
The full form of RAM is Random Access Memory. It is a dynamic memory that is used by the CPU (Central Processing Unit) of the computer to process and temporarily store data.
RAM is a fully integrated component to process many functions of a PC. It holds the application in memory so that the CPU and other components can easily access the data of that application.
Besides applications, RAM is responsible for holding large files of productivity software.
What Is Video RAM?
Video RAM, in short, VRAM is also known as Video Random Access Memory. It maintains visual data between frames on a video graphics board. Video RAM works as the primary storage of information that is related to the graphics.
In a word, Video RAM is a specialized version of RAM that is used for storing elements such as pixels, lines, etc. of video data.
As the central processing unit (CPU) or graphics processing unit (GPU) can't access video data, Video RAM buffers and converts graphics data structure so that they can be easily accessed by the CPU or GPU.
The total amount of Video RAM is measured in Mbps (megabytes per second) which refers to the number of images that can be drawn to the screen in one second by the processor.
Differentiating: Video RAM vs. RAM
Though Video RAM and RAM work as the temporary memory of the computer, there are some key differences in form, function, and location between them. Here are the differences between Video RAM and RAM:
RAM comes in the form of a card that is connected to the computer via DIMM or SO-DIMM slots whereas Video RAM is soldered to the graphics card.
RAM can be found as a particular part of a PC but Video RAM doesn't have any shape as it is a part of the graphics card.
RAM can be increased or replaced but video RAM cannot be modified or replaced.
RAM is single-ported, but Video RAM is dual-ported.
Video RAM has the ability to read and write functions simultaneously whereas RAM doesn't have this ability. This makes Video RAM faster than RAM.
RAM temporarily stores the system files of a computer whereas Video RAM stores image data that is displayed on the computer.
The Double Data Rate 4 (DDR4) technology of RAM has a 3000 to 3600 MHz frequency. On the other hand, the Graphics Double Data Rate 6 (GDDR6) technology has a 14000 MHz to 16000 MHz frequency which is a lot faster than RAM.
Let's see the comparison between RAM and Video RAM at a glance below.
Video RAM vs RAM: A Side-by-Side Comparison
| | | |
| --- | --- | --- |
|   | RAM | Video RAM |
| Work as | Memory chip | Memory chip |
| Primary Use | Storage of temporary system files | Storage of image data |
| Initial Release | 1940s | 1980s |
| Influential Developers | Freddie Williams and Tom Kilburn | IBM Research |
| Technologies Influenced | DRAM, SRAM, RDRAM, DDR SDRAM, VRAM | GDDR5, GDDR5X, HBM |
Can RAM Be Replaced With Video RAM?
Many PC and laptop users around the world have been asked a similar question that is – if they can replace RAM with Video RAM or not.
The straightforward answer to this question is – No. As RAM and Video RAM work differently, they can't be replaced by each other.
It is possible to play 4K games with 32GB of RAM without a graphics card and Video RAM. The RAM will multitask in this case. But the graphics can't be rendered perfectly without Video RAM.
On the other hand, Video RAM doesn't store system data like RAM. So, if someone uses Video RAM instead of RAM, then the system file can't be stored and as a result, the system will crash.
So, it is completely a bad idea to replace RAM and Video RAM with each other.
Frequently Asked Questions (FAQs)
Is VRAM Better Than RAM?
VRAM is much faster than system RAM. But it doesn't mean that Video RAM or VRAM is better than RAM as they cannot replace each other. Video RAM does tasks with the graphics card while RAM does tasks with the system files and CPU. So, both are important components of a computer.
Can I Use VRAM as RAM?
No, you cannot use VRAM as RAM. VRAM and RAM both are separate things and different types of memory chips. VRAM is soldered to your video card that processes video data whereas RAM is attached to your computer through PCIe slots that processes system data. As VRAM is unable to process system data, you can't use VRAM as RAM.
Does More RAM Increase Graphics?
No, more RAM doesn't increase graphics. If you want to increase graphics then you need to attach a graphics card to your computer. By improving your graphics card, you can get more graphics memory aka Video RAM which will significantly increase graphics.
Why Do Games Use RAM and VRAM?
RAM stores data of an application or game so that the CPU can easily get access to the data of the game. On the other hand, VRAM stores textures during the rendering process of a game. As both are important to run a game properly, you can notice that both the RAM and VRAM are being used while playing a game on your computer.
Is 2GB VRAM Enough For Gaming?
If you want to play games that require 1080p resolution, then 2GB VRAM is enough for your computer. But if the minimum requirement for the game is 1440p or 4K, then you'll need a minimum of 8GB VRAM. To get the maximum output, 12GB or 16GB VRAM is always the best.
Conclusion
Both Video RAM and RAM are the essential memory components to increase the speed of a computer. Though both are memory components, there are a lot of differences between them. One cannot be replaced by another. A brief comparison between Video RAM and RAM is provided in this article and hopefully, you are now aware of the differences between them after reading this article. For any further information regarding this topic, you can leave your question in the comment section below and we'll reach you as soon as possible.
Subscribe

to our newsletter

& plug into

the world of technology