Generally, CPUs, whether from Intel or AMD, don't come with thermal paste included in the packaging. Even if some units feature it, you will typically find it pre-applied to the bundled stock cooler.
In rare cases, the paste may come in a small container labeled as a single-use sample. But then again, that's too small of a niche to talk about. Plus, the pre-applied thermal paste sometimes makes future upgrades harder. Hence, you will be better off purchasing thermal paste separately for your new Intel CPU.
Do CPUs Need Thermal Paste for Temperature Control and Proper Conductivity?
The thermal paste may not seem significant at first sight. But it is necessary for keeping your CPU cool. 
The CPU performs all the operations and calculations. While CPUs are functioning, they can generate heat up to 100 degrees Celsius. In this regard, a CPU cooler is a must to run at a safe temperature. This cooler can improve its performance as well as sustainability. 
For High Temperature
When the CPU fails to control the temperature, it can cause the processor to throttle, which in turn causes the PC to shutter, freeze, or even shut down. And, if it carries out for too long, a catastrophic failure may happen. 
Furthermore, most CPUs do not have a smooth lid. So, there will always be some tiny hole between these two surfaces. These gaps are responsible for causing the temperature to skyrocket as they impede heat conductivity.
When And How You Apply Thermal Paste
But, when you apply thermal paste, it confines these holes and provides excellent conductivity, which is necessary for a CPU and a cooler setup.
There are several thermal pastes in the market. And the good news is you don't have to be choosy to find the best thermal paste to keep your CPU at a safe temperature, as the difference between them is very subtle.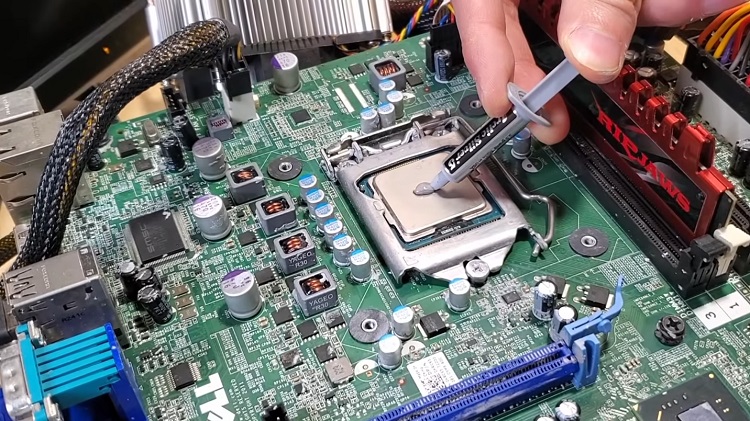 Do CPUs Come with Thermal Paste?
Though most CPUs do not come with thermal paste on them, their stock cooler might. So, you should not need to apply thermal paste on those CPUs that come bundled with a stock cooler.
Generally, stock coolers have a pre-applied layer of thermal paste on their baseplates, which helps them to conduct heat between the CPU and cooler.
Does Intel CPU Come with Thermal Paste – Is It Necessary for Intel CPU?
Like any other CPU, Intel CPU requires thermal paste to keep the system operating at a safe temperature. If Intel CPUs do not have thermal paste on them, heat cannot transfer between the CPU and heatsink. In this circumstance, the CPU gets overheated and shut down in an undesirable manner, which causes damage to your CPU.
Yet, Intel CPUs do not always bring along thermal paste. Whether or not they have these features depends on the inclusion of a cooler.
Most intel processors ship with a stock cooler with pre-applied paste on it. Yet, Intel X and Intel K series CPUs do not include thermal paste.
Moreover, Intel's current "Alder Lake" CPUs are at the top of the list of gamers. But they do not come with a stock cooler, which indicates they do not ship with thermal paste either.
On the contrary, Intel's more recent 65w CPUs ship with the in-house "Laminar" cooler. These coolers have thermal paste applied to their base plates beforehand.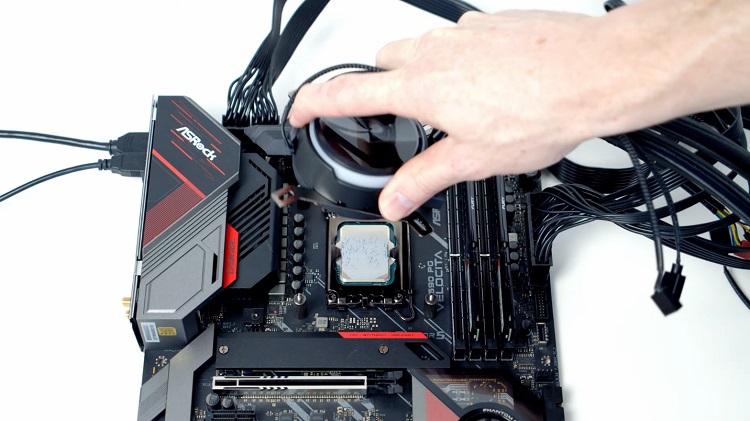 Does the i9 10900k Come with Thermal Paste?
Since the i9 10900k does not feature a cooler in the box, you must choose a suitable cooler for your CPU. The best option for cooling i9 10900k is an AIO cooler, as it comes with pre-applied thermal paste.
In contrast, the Corsair Hydro H150i Pro 360mm cooler does not bring a thermal paste facility. So, you will have to spread a dab of thermal paste. Nevertheless, you can leave it in the center of the CPU and let the heat sink spread it for you.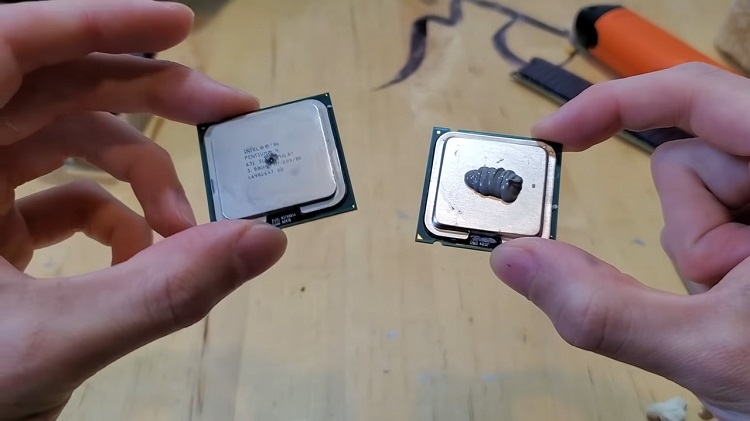 Frequently Asked Questions
Can you run a CPU without thermal paste?
You cannot run a CPU without a thermal paste. Thermal paste allows for proper thermal connection between the CPU and the heatsink. When you operate a CPU without thermal paste, you will probably end up with one that gets hot and fails frequently. 
Do you need to apply thermal paste to a new CPU when the cooler has pre-applied thermal paste?
The pre-applied thermal paste on the cooler will be more than enough for a smooth installation. So, there's no need to apply more paste over the existing amount unless you want the excess to get squeezed out when installing the cooler. Also, mixed pastes don't work as flawlessly as they would when used separately.
Conclusion
Intel CPUs don't usually come with thermal paste unless they ship with a stock cooler. Yet, it should not be a deal breaker since pre-applied thermal paste spreads uniformly on the cold plate. So, when installing the cooler, the substance can spill over on the socket, making it difficult to remove the cooler afterward.