Garmin is one of the well-known technology manufacturers. Basically, they are famous for their smartwatches but also, but they are well-known for their GPS device which is termed Garmin Nuvi. They have manufactured a lot of GPS devices and there are so many models of them. Garmin Nuvi 1300 is one of them.
Garmin Nuvi GPS devices are great but sometimes the devices are failed to work. All of the versions have faced the not turning on the device. Due to software or other physical issues, this not turning on issue occurs. Is your Garmin Nuvi 1300 not turning on?
Then there is nothing to worry about as we're here to drag you up from this not turning on issue. We've provided some easy fixes, follow these fixes and turn on your Garmin Nuvi 1300. Let's begin then.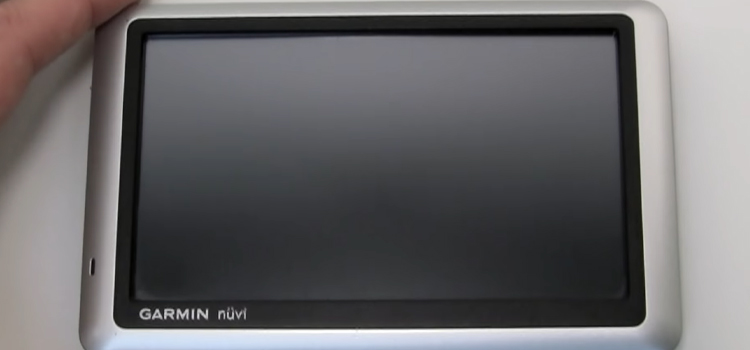 Reasons Behind Why Garmin Nuvi 1300 Won't Turn On
Before you can discover a solution to a problem, you must first determine who is to blame. It will assist you in locating the correct one, and you will then be able to solve it in a matter of minutes. There are various reasons why the German Nuvi 1300 won't switch on. Here we've provided some common reasons that can cause this issue.
The device is not getting power.
Using a USB cable.
Software issue.
Higher temperature.
Charging issue.
Physically damaged.
These are the common reasons that cause the not turning on issue. In the next segment, we've provided the fixes for this issue. Be with us till the end and find out the right one for you.
How to Fix the Won't Turn On Issue of Garmin Nuvi
Follow the fixes below to turn on your Garmin Nuvi 1300.
Fix 1: Use the Original Garmin Vehicle Cable
Check with the cable that you're using for providing power to your GPS device. Sometimes users use the USB cable for charging it. If you're one of them then don't do it. Use the dedicated cable Original Garmin Vehicle Power Cable which was provided with the device.
Fix 2: Check Whether Garmin Nuvi 1300 is Getting Power or Not
Without a proper power supply, the Garmin Nuvi 1300 won't turn on. That's why the initial thing you need to check is whether it's getting power or not. Follow the steps below.
Step 1: Connect your Garmin Nuvi 1300 to the power outlet of your vehicle. Do a clean connection, and don't use any splitter or other charging pieces of equipment.
Step 2: Start the vehicle and check whether the cable of the vehicle end is lightened up.
Step 3: Next drive your vehicle for 10 minutes and make sure the device is connected to the charging port.
If Garmin Nuvi 1300 is not getting power from the vehicle power source, then check it with another vehicle. If still it fails to start then check with another cable or replace the fuse of the vehicle cable. If all of them failed then contact dedicated customer service nearby you.
Fix 3: Remove the SD Card
Remove the memory card from your Garmin Nuvi 1300 device or use another memory card. Now check whether it's turning on or not. Also, you can format the memory card and use it to solve the issue.
Fix 4: Reset Your Garmin Nuvi 1300
Perform a soft reset on your device and check whether it's turning on or not. Follow the steps below to perform a soft reset.
Step 1: Connect the Garmin Nuvi 1300 to the power source.
Step 2: Next, press and hold the power button for 30 seconds at least.
Now, check with your device.
Fix 4: Check with The Temperature
The charging range of a Nuvi is between 32° F (0°C) to 113° F (45° C). If the temperature is more than 113 degrees F then it won't charge. And while charging it, make sure the surrounding weather is not hot, and don't charge it in the sunlight. Check these things out and charge the device for 4 hours at least.
Then try to turn it on and check.
Fix 5: Software Issue
If all the fixes failed then either the Garmin Nuvi 1300 has physical damage or the software is corrupt. You can contact the manufacturer and let them know about this problem. If there is a software issue then they will update the software or fix the internal issues.
Frequently Asked Questions (FAQs)
Why is my Garmin Nuvi not working?
There can be several reasons behind it. Maybe the battery of the device is drained out, the battery is displaced from its position, or the display is damaged.
The reset button doesn't come with every model of Garmin Nuvi. Some of them have a reset button. For the other models, you'll need to use the power button to do a soft reset.
How do I fix a frozen Garmin GPS?
If your Garmin Nuvi display is freezing and stopped working then your device needs a reset. Press the power on button for 1 minute and in the meantime connect the device to the power source. After resetting it, check whether the problem is solved or not.
Conclusion
This Garmin Nuvi is a very helpful device because it can help you to find the routes for you. Until your Garmin Nuvi is not physically damaged or the software is corrupted you can fix it by yourself easily. Follow the fixes that we've provided in this article and apply them. This Garmin Nuvi is a very helpful device because it can help you to find the routes for you.
Fix it, use the device, and let the device find out the best route for you. If you have any further queries, let us know in the comment box. That's all for today, Gracias!