If you are a serious gamer or a professional graphics designer, then one video card can't handle the load of your PC. In this case, you need to use multiple video cards or graphics cards on your computer.
But does Windows 10 support multiple video cards? This question has been asked by many PC users and we are here to fetch the answer at your door.
Let's see if Windows 10 supports multiple video cards and if the answer is yes, then let's learn how to do it in the following section.
How Many Video Cards Can Windows 10 Support?
How many video cards will Windows 10 allow? The simplest answer to this question is – you can use as many video cards as your motherboard supports.
Basically, Windows 10 is just an operating system that counts how many GPUs you have installed on your motherboard. So, if you install multiple video cards, it will support all of them.
However, the question may come to your mind– can all the video cards remain active, or can Windows 10 take a load of all video cards that are installed on your motherboard? Let's learn.
Can Windows 10 Activate All Video Cards at a Time?
How many graphics cards or video cards you can install on your PC completely depends on the capacity of your motherboard.
When you will connect the video cards to your motherboard, then all of them will automatically install on your operating system while booting. If you install 4 video cards, then Windows 10 will show all 4 video cards on the device manager.
But all of them will remain unused while working on a light load on your PC. When you run a heavy program or a game that required heavy graphics, then all the installed video cards will activate automatically.
However, if you install the video card independently without a bridge, then it may work at a time.
How to Use Multiple Video Cards?
How many video cards you can use on your motherboard depends entirely on the remaining PCIe slots. However, you can add more video cards using the bridge or other methods. Let's see how you can add multiple video cards to your motherboard.
1. Scalable Link Interface (SLI)
If your operating system supports SLI (Scalable Link Interface) then you can use two video cards simultaneously at a time (Windows 10 and Windows 7 support SLI). As you are using Windows 10, you can mount the video card by connecting it to the bridge and installing the driver software on your computer.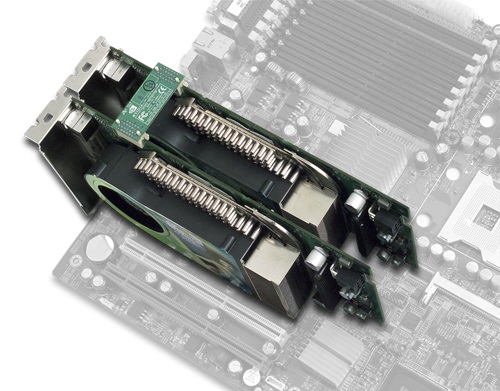 You can enable this from the Nvidia control panel. However, there are some restrictions on using SLI that is:
It only works if the previously installed GPU is the same as the recently installed GPU.
The amount of VRAM needs to be the same in both video cards.
If you want to use the SLI, then you need to ensure the followings:
Windows 10 or Windows 7 operating system.
The motherboard is SLI-certified and has at least two X16 PCIe slots.
An SLI bridge.
A power supply that has the capacity to handle the load of two or more video cards.
Efficient cooling mechanism to reduce excessive temperature generated by the video cards.
2. Crossfire
You can run 2 to 4 video cards simultaneously using AMD's Crossfire. You can get a massive performance using it but it may also produce heat. Fortunately, you can connect video cards with any GPU, clock speed, and VRAM capacity as long as it fits into the slots of your motherboard.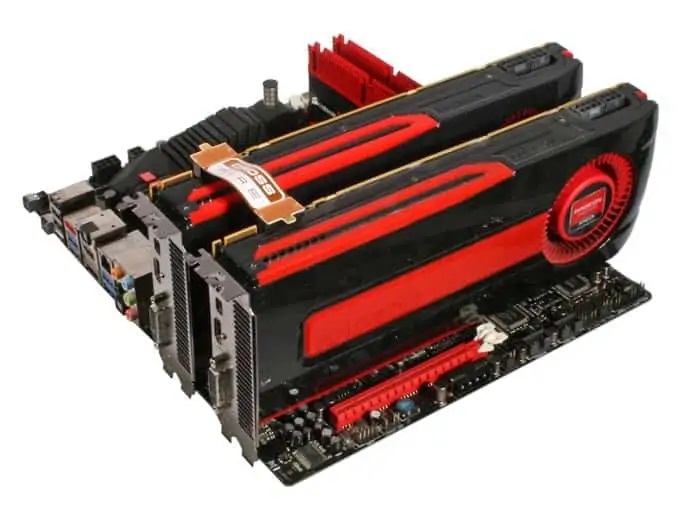 It will give you more flexibility as it is cheaper than SLI and also you don't need any extra accessories or connectors to install on your PC. If your motherboard is compatible with the SLI, you still can use Crossfire if the board has at least PLI 8X slots.
3. NVLink
The NVLink is the upgraded version of SLI. However, NVLink is immensely faster than SLI which uses professional-grade GPU. You can get up to 2 Gbps speed using it.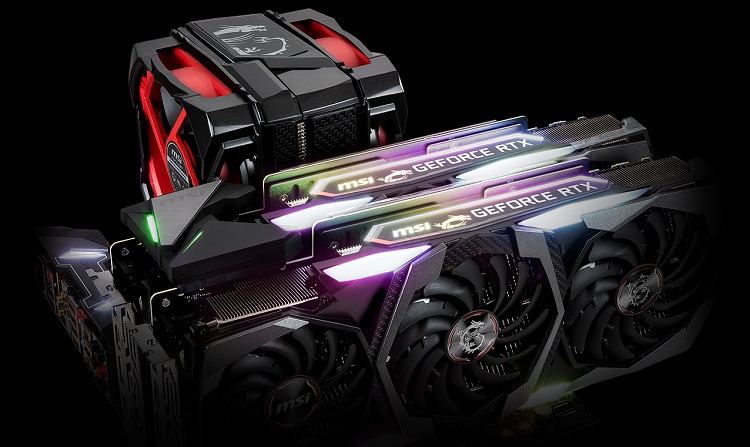 Also, it has extra pins that transfer 150 times more data than other video cards. You can use this with your video card simultaneously without any interruption on your Windows 10.
4. Independent Cards
The above solutions will allow you to use all the video cards at a time. But if you don't want to pool all of your video card's capacity, then you can use multiple independent cards.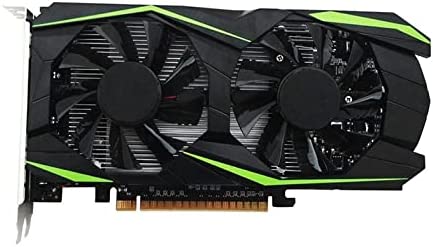 The independent video cards will work individually. That means you can use the video card as a shared GPU on your computer. If you want to turn your virtual machine into multiple virtual machines, then independent video cards are the best option for you.
For example, you can use the powerful video card for playing games or watching 4K videos while using the less powerful one for other tasks using the independent cards.
What Are the Advantages of Using Multiple Video Cards?
It will increase your performance even if you are using a higher resolution.
The frame rate won't reduce anymore and you can enjoy smooth gameplay.
It will increase the ability for quick calculations and simulations.
What Are the Disadvantages of Using Multiple Video Cards?
It will consume more electricity. So, you have to bear the electricity bill along with the purchase costs of all your video cards.
You may face micro-stuttering or frame time variance while setting up multiple video cards on your computer. This means, your FPS may drop for a split of seconds.
Multiple video cards won't work unless the game you're playing supports the technology.
Frequently Asked Questions
How Many Video Cards Can Windows 10 Support?
Windows 10 supports up to 12 GPUs of the same configuration. However, how many GPUs you can use on your computer completely depends on the PCIe slots of your motherboard. But if you can install 12 GPUs on your motherboard, then Windows 10 will surely support them all.
How Do I Enable Multi Video Cards in Windows 10?
Windows 10 supports multiple video cards and all video cards install automatically while booting Windows 10. But enabling all of them in this operating system is a different process. Here is the process of enabling multiple GPUs on Windows 10:
Open the Nvidia control panel and navigate to Manage 3D settings > Global Settings > Set Multi-GPU > maximize 3D performance.
Click Apply to enable multiple GPUs.
Conclusion
To conclude, Windows 10 supports multiple video cards and the total number of supported GPUs in Windows 10 is up to 12. It will surely increase the performance of your computer but it will consume more electricity and due to heavy load, it will generate more heat. Using one powerful GPU has proven more effective than using multiple low-powered GPUs while playing games. For any further assistance, please leave a comment. Thanks for reading.