How to Delete Categories in Steam (2 Effective Methods)
You may have organized your games into categories to make your Steam library easy to navigate. At first, you may have categorized them according to the game type or the publisher but now, you may want to delete the categories and make a new one according to your own personal preferences.
If this is the case and you can't find any way how to delete the categories in your Steam library, then don't worry, we are here to help you. You can easily delete the categories in your Steam by right-clicking on them.
Let's check the detailed process of deleting categories in Steam below.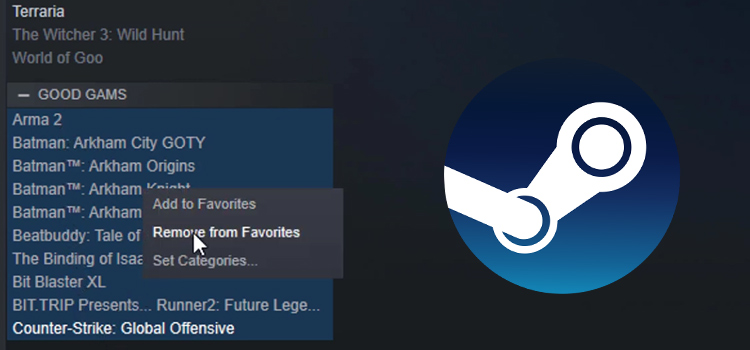 Can Categories Be Deleted in the Steam Library?
Yes, you can apply the CRUD operation on the category in your Steam library. This means you can create, edit or update, and delete the categories.
The Steam library is getting too hard to manage due to lots of content and games. But if they are organized into categories then you can easily find your desired game from your Steam library. You already know that you can add categories to your Steam library and as it can be added, it can be removed also. Let's see how.
How Do I Delete Categories in Steam Library?
You can delete categories from the Steam library in two ways. Both are described below:
Method 1: Delete the Whole Category
Follow the steps below to delete categories on Steam:
Step 1: Open the Steam app and log in.
Step 2: Select Library from the top menu.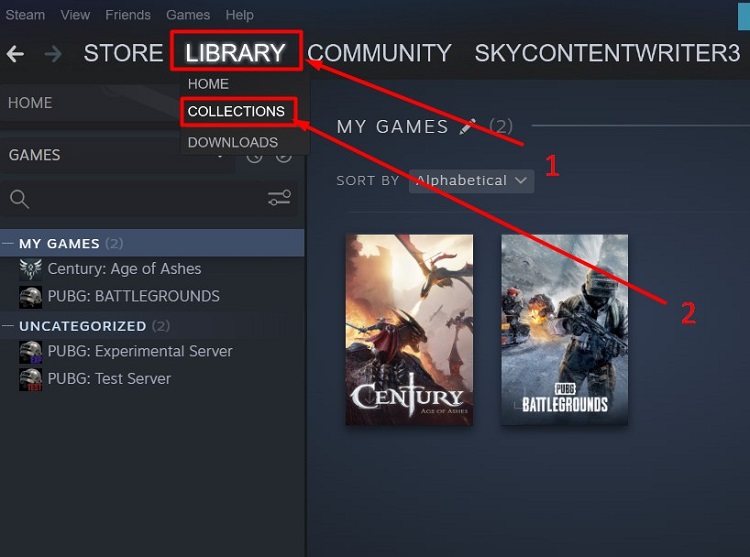 Step 3: Right-click a collection name from the left panel on the left and select Remove collection.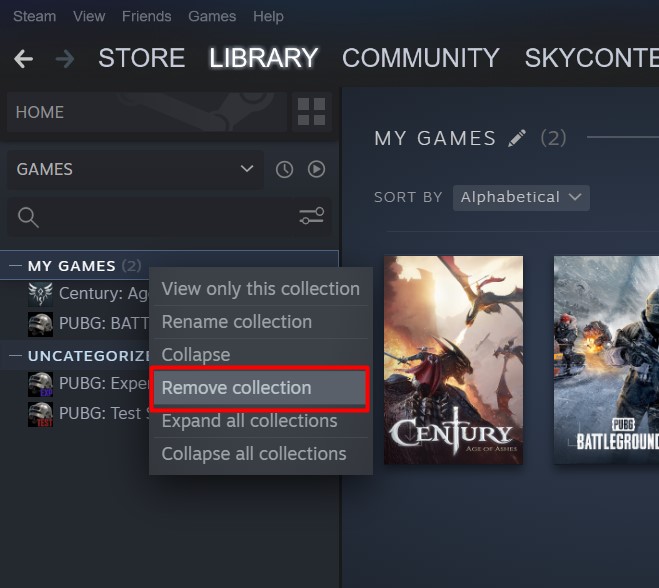 Step 4: Confirm the collection removal by clicking the 'Remove' button.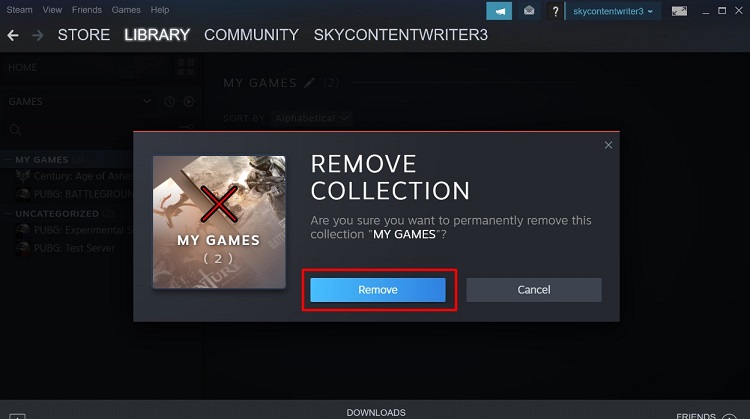 Note: Once you delete the category, the games of that category will return to the uncategorized section and the games won't delete from your Steam account. If the game has been added to more than one collection, you can still find them in those collections.
Method 2: Remove All Games from the Category
If the above method fails to delete the category in the Steam library, then you can follow the below steps to remove the category.
Step 1: Open Steam, go to Library, and expand the Category list.
Step 2: Press and hold the 'Shift key' and click the first game and the last game inside the category.
Step 3: Now right-click any of the games and select "Remove selected from" > "Name of Your Category".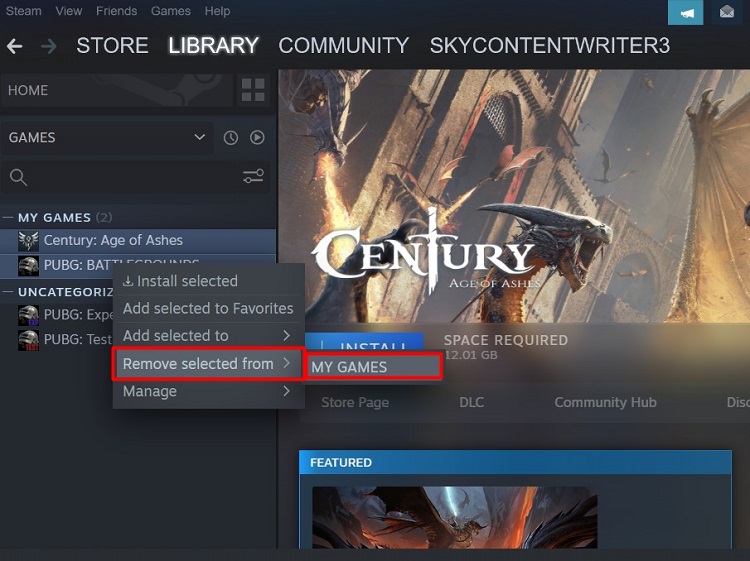 After this, then games under that specific category will be uncategorized and that category will be deleted automatically from your Steam library.
Frequently Asked Questions (FAQs)
How Do I Hide a Game from Categories on Steam?
To hide a game from a category on Steam, navigate to your Steam library, right-click on a game, select Manage, and click "Hide this game".
How Do I Permanently Delete Items from Steam?
To permanently delete items from Steam, go to the library tab, right-click on the game that you want to delete permanently, and select "Remove from account". Finally, click 'Uninstall' to remove it permanently.
How Do You Change Categories on Steam?
If you want to change the category, then either you need to re-organize all the games under that category, or you can just rename the category. To rename it, just go to library > Collection > right-click on the category and select Rename collection.
How Do I Remove Folders from My Steam Library?
If you have a custom library folder on your Steam, then just right-click it and select Remove Library Folder to remove the folder from your Steam account.
Where Are Steam Categories Stored?
The direction to your Steam category file is –
$STEAM/userdata/$UID/7/remote/sharedconfig.vdf.
Here, $STEAM is your Steam install directory and $UID (unique identifier) is your numeric Steam user ID. So, just change values for these two data and you'll find your Steam category file. However, if you're the only one who is using that install, then the directory for the category file is user data.
Conclusion
All the possible ways to remove or delete categories in steam are described above in this article and we hope, you've found this guide helpful on deleting categories from your Steam account. You can also delete the category easily from the library > collection. Just go to this navigation, right-click on the category that you want to delete, and select "Remove collection". If you still having any issues deleting categories, don't hesitate to contact us in the comment section below. Thanks for reading.
Subscribe

to our newsletter

& plug into

the world of technology