How To Install Motherboard Drivers Without CD | 5 Methods for You
A few years ago, a computer or laptop couldn't be updated without a CD. If you are going to watch movies, listen to songs, install windows, software, install motherboard drivers, etc. for each of the mentioned cases you must need CDs.
If you were looking for ways to install the motherboard drivers, then you would have only one way: to use a CD. But, technology evolving, providing high-speed internet, and many other things. Therefore, now, you can install motherboard drivers without a CD very easily.
The information in this post will properly walk you through the process of installing a motherboard drive without the need of a CD. What are you waiting for then? Let's begin.
Methods of How to Install Motherboard Drivers without a CD
There are several ways to install motherboard drives without a CD. Some methods do need an internet connection for installing the drivers. At the initial stage, there may not available a connection driver, in this case, you can use a USB flash drive to carry a network drive and install it on your PC.
Method 1: Use Windows Update Feature
By using the windows update feature, you can easily install or update the motherboard drivers. Also, you'll get to know which drivers are out of date and when you have updated them.
Step 1: Press Windows + I to navigate into Settings.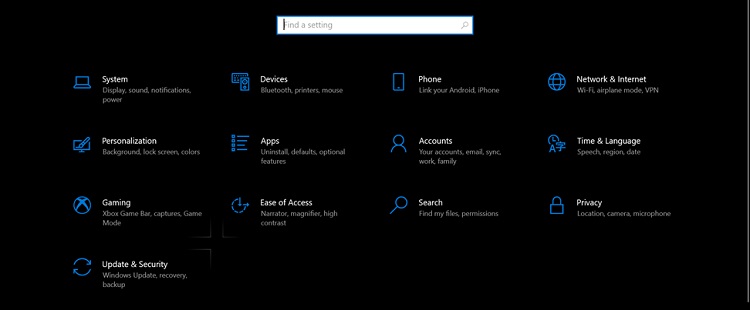 Step 2: Next, click on Updates and Security and navigate to Windows Update.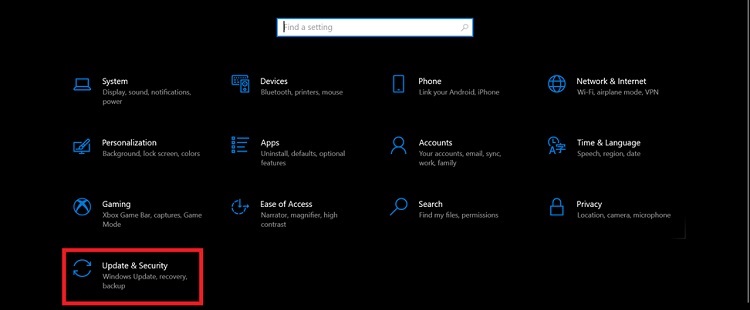 Step 3: Now, click on check for updates and the windows will start finding the missing driver and outdated drivers.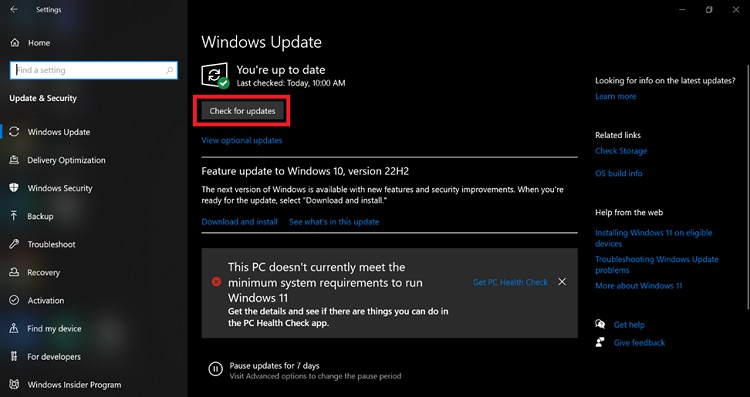 After completing the process, the system will show you the list of missing and outdated drivers. Install from there and your PC will be up to date.
Method 2: Download from the Manufacturer's Website
Another way is, to navigate to your motherboard manufacturer's website and download all the essential motherboard software and install them. This process is time-consuming but you will get each and every updated software by following this method.
Method 3: Use Portable Hard Disk
If you don't have an internet connection then you can use a portable hard disk as a medium for transferring files. First, collect the drivers from another source and connect the hard drive to your PC. Transfer the files to your hard drive and install them.
Method 4: Install Motherboard Drivers from a Second PC (Connect the Internal Hard Disk to another PC)
If your PC's USB port and the internet are not available then you can connect your hard drive to another PC's hard drive for sharing the driver files.
Take out the hard drive from the primary PC and open up the secondary PC.
Now, plug the primary hard disk into the SATA slot of the secondary PC.
Next, reboot the secondary PC. Now, navigate into the browser and download all of the motherboard drivers that you need.
Transfer the drivers to the primary Hard disk. Shut down the secondary PC, disconnect the primary hard disk and connect it to the primary PC.
Start the computer and install the drivers.
Method 5: Use Third-party Software
There is much well-known third-party software available on the internet. You can use any of them for downloading the motherboard drivers. Just go through the internet and search for third-party software namely, Driver Easy, DriverMax, etc. Download and install them.
Open the software and follow the on-screen instructions. The software will do the rest work by itself.
Reasons for Obsolescence of CD
Nowadays, it's hard to find out a user who uses a CD for their daily work on their PC. The CD is close to replacing the floppy disk in the digital museum. Almost every desktop and laptop are coming without a CD drive. There are several reasons behind the obsolescence of CCDs (Charge-coupled devices)
The main reason behind CD obsolescence is high-speed internet. In 2022, each and everyone has a high-speed internet connection. It's so easy to find drivers or stream movies online.
Using a USB flash drive as an alternative to a CD.
Portable hard drive, etc.
Additionally, CD drives are removed from laptops and they are made thinner. It is lighter than a laptop with a CD drive and is portable.
Frequently Asked Questions
Do I need the CD that comes with the motherboard?
If you have a CD drive on your computer or laptop then you can use the CD that comes with the motherboard. You can install the motherboard drivers very easily from the CD. It's not a mandatory thing that you must keep yourself, there are several options too.
Do I need to install motherboard drivers manually?
You can install motherboard drivers automatically and manually. If you want to download the drivers from the manufacturer's website then you'll have to install the drivers manually. For auto installation, you can use the Windows updater or third-party software.
Conclusion
To sum up the whole thing, the CD that comes with the motherboard is not a mandatory thing anymore. You can now install the motherboard driver easily by using the different methods we have mentioned above.
If you want to do the update without any hassle then you can use the updater feature and third-party software, if you do not have an internet connection then use a USB flash drive or a portable hard disk. We hope that you have the answers by now, if you have any questions, let us know in the comment section. Gracias!
Subscribe

to our newsletter

& plug into

the world of technology