According to many users, Logitech is the best among the top gadget manufacturers and, the Logitech G502 series is one of the best in terms of providing high-quality mice. Moreover, the Logitech mouse sensor is considered the best mouse sensor by the industry standard.
However, the Logitech G502 Hero is well-known to the community and is reputed to be the best Logitech mouse available. The G502 Proteus Spectrum, simply known as G502, is the predecessor model of the G502 HERO and has had a mediocre level of success.
If you're about to buy or choose any of them, this article may help you to decide. Keep reading till the end and figure out which one is compatible for you.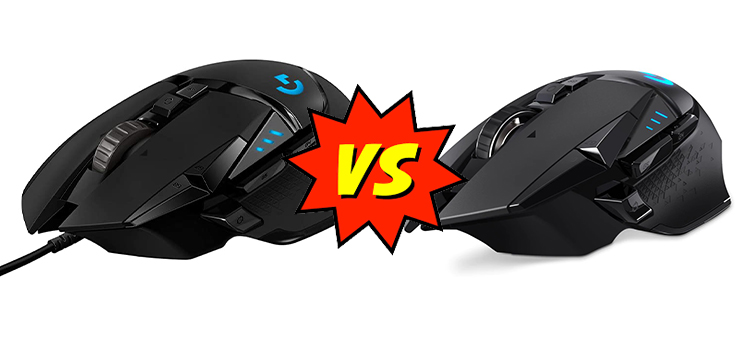 Difference In Specifications for Logitech G502 and G502 Hero
Basically, there are only a few minor differences between the G502 and the G502 Hero. 
The notable change is the Hero Sensor which has stronger switches at a greater price.
Let's have a look at the specification varieties of these mice –
| | | |
| --- | --- | --- |
| Specification | G502 | G502 HERO |
| Height | 132 mm | 132 mm |
| Width | 75 mm | 75 mm |
| Depth | 40 mm | 40 mm |
| Weight | 121 g | 121 g |
| Resolution | 200-12000 DPI | 100-16000 DPI |
| Durability | 20 million clicks | 50 million clicks |
| Onboard | 3 profiles | 5 profiles |
| Sensor | PMW3366 | HERO |
| Maximum Acceleration | 40 G | 40 G |
| Maximum Speed | 400 IPS | 400 IPS |
| PTFE Feet | ~250 Km | >250 Km |
| Warranty | 3 years | 2 years |
| Cost | $47.98 USD | $79.99 USD |
Logitech G502 vs G502 Hero – Differentiating
The main differences consist of the warranty, durability, sensor, and resolution. The G502 has a one-year extra warranty, better sensor, and resolution, and also lasts 30 million more clicks. 
Now, it's time to go deeper. Check the advantages and disadvantages of these mice to decide the best one for you.
Advantages of G502
This mouse is incredibly responsive and delicate.
Extremely well-built feels.
Many programmable inputs as well as compatible software with many customization alternatives.
Downloading the software and configuring the Chroma RBG lighting are extremely simple processes.
Minimal click latency
You may use 11 programmable buttons on it.
A comfortable right-handed shape that ensures thumb rest.
Both Windows and macOS are compatible with the program.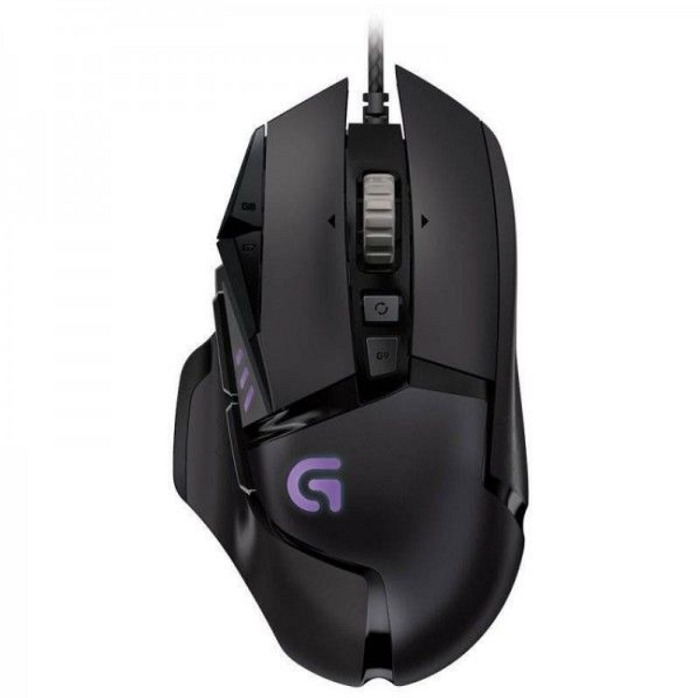 Disadvantages of G502
This one is only with wire, the wireless function is still unavailable.
In particular, the scroll wheel is quite loud. If you want a quiet mouse, this is not a suitable option.
The left-handed version of this type is not offered, and it is challenging to operate all 11 buttons.
Quite heavy.
The braided cable is less flexible.
With decency, mouse feet only lightly glide across surfaces.
Not as many buttons as MMO mice specifically.
Advantages of G502 HERO
You can simply raise the sensitivity of this mouse to 25,600 DPI by using the Logitech program. Your mouse will become quite sensitive as a result.
It features weights that you may add to it to make the mouse heavier or lighter according to your preferences.
It offers the most button customization options, allowing you to change 11 buttons to suit your own preferences.
Feels extremely well-built.
many programmable inputs
Work on both Windows and macOS without any issues.
The scroll wheel has left-right tilts and can be unlocked for unlimited scrolling.
The click latency is excellent.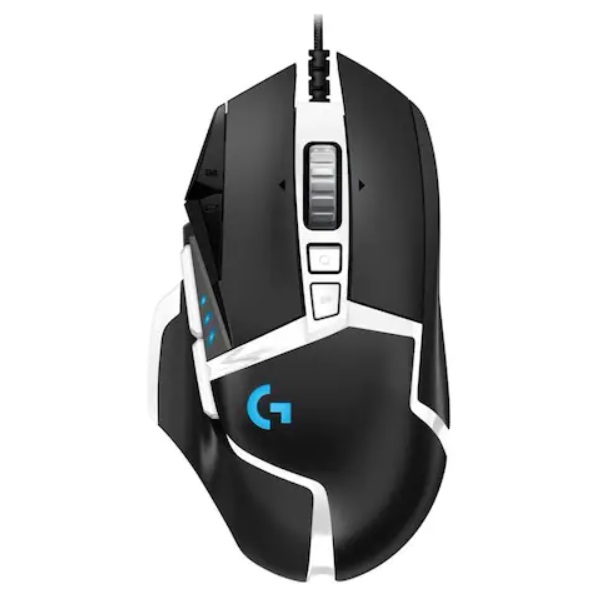 Disadvantages of G502 HERO
It is neither inexpensive nor the best value for the money.
It is not as comfortable to use as some other mice, despite having the option to use the tilt setting with the scroll wheel.
The only ideally situated programmable buttons are nine. Getting to two of the thumb buttons is a little challenging.
People with little hands can find the large design unpleasant.
Rigid cable.
Uncomfortably heavy.
Which One Is for You: G502 or G502 Hero?
Before making any concrete decision, ask yourself a question; is this worth the additional price or upgrade when compared to the old wired G502 with very little change?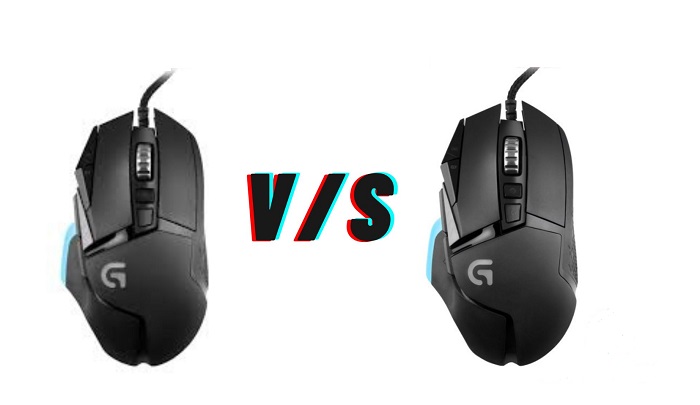 So, there is no denying that the G502 HERO is superior to the G502 as it's the updated version and comes with better hardware. But you have to keep in mind that it also comes with a higher price and logically it isn't worth paying the extra expense as they're quite similar.
Now, it's totally up to you which one you'll prefer to choose or use.
Frequently Asked Questions (FAQs)
Why is the G502 so popular?
The Logitech G502 HERO is a remarkable mouse for first-person shooter games. Because of its gripping body and right-handed design with thumb rest, it seems very well-built and easy to use. Additionally, it offers a few extra gameplay features that appeal to the majority of players.
Is the G502 Hero better?
The thing is, the G502 HERO is obviously better than the G502 Proteus Spectrum. But the G502 Lightspeed surpasses them as it's a newer version than theirs. 
Is the Logitech G502 HERO still good?
The Logitech G502 HERO is a great mouse for first-person shooter games. It also includes a built-in sniper button and feels incredibly sturdy and comfy. It offers a broad, adjustable CPI range and an incredibly low click latency.
Which Logitech G502 is the best?
The G502 Lightspeed from Logitech is the greatest wireless gaming mouse. If you desire comfort, a durable battery, and the best variety and layout of buttons, it's the most well-rounded option.
Conclusion
It's undoubtedly clear that according to the overall aspect, the Logitech G502 HERO is better than the Logitech G502. But the thing is when in terms of using, it's you to judge which one is preferable to you. You can buy the G502 HERO which has a minimal upgrade, else, you may buy the G502 which has likely all but at a cheaper price. Both of the mice can provide a lit user experience.