Having a well-configured mouse can provide a gamer with smooth and comfortable gameplay. Manufacturers are providing some extraordinary features with the mouse for a better gaming experience nowadays. There are several manufacturers that are manufacturing updated mice.
Are you going to buy a mouse for your gaming purpose and are stuck between choosing Logitech G502 versions, Hero, and Proteus?  Well, both Hero and Proteus are renowned mice. Choosing between them is a hard thing, but there are some differences in software, performance, and build quality that can affect your choice.
In today's article, we're here with a brief discussion about the Hero and Proteus mouse. This article will help you to know about the Logitech G502 Hero and Proteus mice and the differences between them and it'll make your choice easy. So, without any ado, let's begin.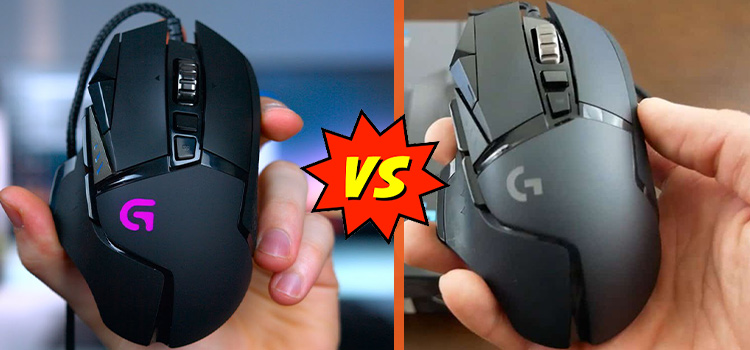 Logitech G502 Hero Vs Proteus: Side-by-Side Comparison
There are two models of Logitech G502 Proteus that are released, the first one is Proteus Core and another one is Proteus Spectrum. Both of these two mice have the nearly same specification. The only difference is, the core model has a blue LED light meanwhile, the spectrum has 16.8M colored RGB.
Here, we've provided a side-by-side specification between the Logitech G502 Hero and the Logitech G502 Proteus spectrum.
| | | |
| --- | --- | --- |
| Specifications | G502 HERO | G502 PROTEUS SPECTRUM |
| Number of Buttons | 11 | 11 |
| Number of on-board Game Profile | 5 | 3 |
| Connectivity | Wired | Wired |
| Cable Length | 2.1m braided cable | 1.83 braided cable |
| PTFE | >250 km | 250 km |
| Switch | 50M clicks | 20M clicks (Left/Right) |
| Brand | N/A | PixArt |
| Model | HERO | PMW3366 |
| Processor | 32- bit ARM | 32- bit ARM |
| DPI | 100 to 16,000 | 200 to 12,000 |
| Max Tracking Speed | 400+ IPS | 300 IPS |
| Max Acceleration | 40G | 40G |
| Response Time | 1 ms | 1 ms |
Here you can see the specifications of the two mice, HERO and Proteus Spectrum. Now, let's have a detailed comparison between them. To differentiate them, the things we need to focus on are,
Features,
Sensor and DPI,
Performance,
Durability.
These are the crucial things of a mouse and they can help you to differentiate between any mouse very easily.
1. Features
First, before buying a mouse, check the features. Both of the mice come with great features.
| | |
| --- | --- |
| G502 Hero | G502 Proteus Spectrum |
| Has an advanced optical sensor that leads a user to gain maximum tracking accuracy. | Has low click latency and good pick for FPS gaming. |
| Customizable RGB. | Suitable for right-handed users. |
| 5 custom game profiles. | 3 custom game profiles. |
| Has 11 keys. | Has 11 keys. |
2. Sensor and DPI
The G502 Hero has the Hero censor and the G502 Proteus Spectrum has a PMW3366 sensor. Of these two sensors, the Hero sensor is the speedy one. It performs well than the PMW3366 sensor.
Now, coming on Dots Per Inch or DPI, the G502 Hero has the highest DPI than a G502 Proteus Spectrum. Hero mouse can achieve 16,000 DPI whereas Proteus Spectrum can achieve 12,000 DPI.
3. Performance
Basically, G502 Hero is the upgraded version of the G502 Proteus Spectrum. And it provides better performance than the G502 Proteus Spectrum. The G502 Hero mouse offers easy customization of the button features. On the other hand, on a spectrum mouse, the maximum of actions isn't changeable.
4. Durability
Now, this point Is most important for the users. Good features with great durability can put a device on top of the user's choice.
G502 Hero can sustain 50 million clicks whereas G502 Proteus Spectrum can sustain 20 million clicks. So, it's an easy call to declare which one is more durable, it is the G502 Hero. Also, the cable it has provided is so comfortable and easy to bend in comparison to the Proteus Spectrum.
Pros and Cons of G502 Hero and G502 Proteus Spectrum
Everything does have pros and cons. Just like this, G502 Hero and G502 Proteus Spectrum also have some pros and cons.
Logitech G502 Hero
The pros and cons of G502 Hero are given below.
Pros
Top-notch performance.
Premium scroll wheel.
Sensors are fast enough and accurate.
Weight is adjustable.
Cons
Has a narrow design.
May face problems when it comes to multiple grips.
Logitech G502 Proteus Spectrum
The pros and cons of G502 Hero are given below.
Pros
Mouse RGB is syncable with the Logitech keyboard.
Weight is customizable.
Sensitivity is adjustable.
Cons
Scroll wheel creates noises.
Only for right-handed users.
Our Verdict
If you are asking from our side, then you should go for the Logitech G502 Hero. This mouse provides you updated sensor and extra features within an affordable range. So, if you want to have top-notch performance and a budget-friendly mouse then hit the dirt on the Logitech G502 Hero.
Frequently Asked Questions
What is the difference between G502 Hero and G502?
The main difference between the G502 Hero and G502 is the sensors used in them. The G502 Hero used the HERO sensor which is faster than the G502 sensor, PMW3366.
Is there a better mouse than the G502?
Yes, there are so many mice that are better than the G502 mouse. For example, the Razer Basilisk V2 and the G Pro X Superlight are one of the best gaming mice.
Conclusion
To sum up the whole thing, both the mice are good and can give you top-notch performance. The differences are negligible if you want, they don't have that many significant differences between them. The things that can attract you are, durability and price.
In this case, the G502 Hero is a mile ahead of a G502 Proteus. Hope that you have your answer by now. Buy the suitable one and enjoy their service. Happy gaming, Gracias!