LyxPro is a company that operates in the Consumer Electronics industry. Lyxpro has-10 and Lyxpro has-15 both are famous headphones with smart features.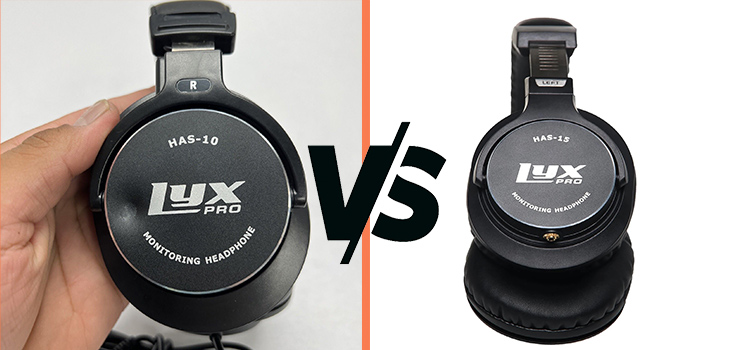 LyxPro HAS-10 Vs HAS-15 | Headphones Review
A Comparative review of LyxPro headphones is discussed in this article.
1. Review of LyxPro HAS-10
Since the LyxPro hAS-10 has so many wonderful functions, it is difficult to even begin. Its design is flawless and memorable. Our favorite feature of the design is how cozy the ear pads are.
You will be surprised to find that after wearing these headphones for an abnormally long time, you will never once feel the need to take them off. Additionally, the ear cups can be turned 180 degrees, allowing you to listen to your music as you like. You will be pleasantly delighted by the HAS-10's level of comfort when wearing it.
Also, these headphones only weigh 10.4 ounces, so you may use them for a longer period without stressing your neck. In addition, the LyxPro HAS-10's exoskeleton is built entirely of stainless steel, making the design not only highly aesthetically beautiful but also quite durable and long-lasting.
The majority of people today dislike headphones because the audio crackles when the volume is turned up. Those who enjoy listening to music loudly may find this to be very unpleasant.
The LyxPro hAS-10 normalizes the music, ensuring that the sound quality does not degrade even when the volume is increased and stays as deep and rich as ever. With a frequency range of 10 Hz to 26 kHz and a sensitivity rating of 98 +/-3dB, the LyxPro hAS-10 is capable of doing this.
The HAS-10 headphones were effectively promoted as being the ideal option for those who must record or mix their tracks. The headphones' closed-back ear cup design reduces bleed while ensuring that the sound is sealed inside. Because of this, it is gradually taking over as the preferred option for both musicians and pros who wish to mix their tracks.
Pros of LyxPro HAS-10
Closed-back architecture isolates sound.
Almost no bleeding
Ideal for expert recording and mixing
The instantaneous reaction is provided by the NdFeB Magnet System.
Arms with telescoping stainless steel
Ear cups that can rotate 180 degrees
Longer music listening sessions are possible thanks to the comfortable design.
The headband cushioning is leather.
Aluminum ear shells of the highest quality
Leather and foam ear cups that are incredibly comfy
High volume levels don't cause audio to crackle or break.
The model is sturdy because of its stainless steel construction.
range of frequencies from 10 Hz to 26 kHz
Cons of LyxPro HAS-10
The cable that comes with the product is rather brief.
The architecture is not little (which translates to no folding ability)
2. Review of LyxPro HAS-15
These headphones are undoubtedly the best available technology for the price you can pay, which may be your constant goal. You will be quite impressed with the packaging because it was carefully maintained. They were snuggled in a cloth-covered holder within the box. You should be amazed by the construction as soon as you pull them from the box. Although most other headphones at this price level have rubberized headbands and hard plastic phones, these have metal headbands and backs, which don't feel at all cheap. The cord is very lengthy and reasonably thick. It would be tough to break a wire. You might enjoy that the wire just enters one side because there are fewer potential snag points. These sound amazing when you put them on; they are clear and well-balanced. These phones might not be the best choice for you if you enjoy bass. Even though you may have tried many different pairs of headphones in the past, they will be superior to many that cost twice (or even more) as much.
Pros of LyxPro HAS-15
Excellent Construction
Even the mids seem to be very clearly audible in the crisp sound.
Commodious ear pads
Even though they aren't noised canceling and I haven't tested them with no sound inside, they do seem to block a good amount of sound.
Earplugs are incredibly cozy.
Cons of LyxPro HAS-15
These weren't intended for the gym. They are pretty heavy and don't sit in one spot on your head while you're moving owing to the weight. The cord may be too long. The cord is around 7′ long. Some people might want a cord this long, but it is not always needed.
Conclusion
In this article, we made a comparable scenario between Lyxpro has 10 and 15. Hopefully, This article was helpful to you.