What is the most important part of your PC?
During answering this question, the first thing that may come to your mind is the motherboard. Before buying or building a PC, it should be the first thing to consider. You need to compare the motherboards to get the best one for you.
You will hear the name "Gigabyte" frequently especially when you are in the market for motherboards. If you are not sure about this brand, then we are here to help you. You will learn all about the Gigabyte motherboard and you can also compare it with the other popular brands like ASUS or MSI.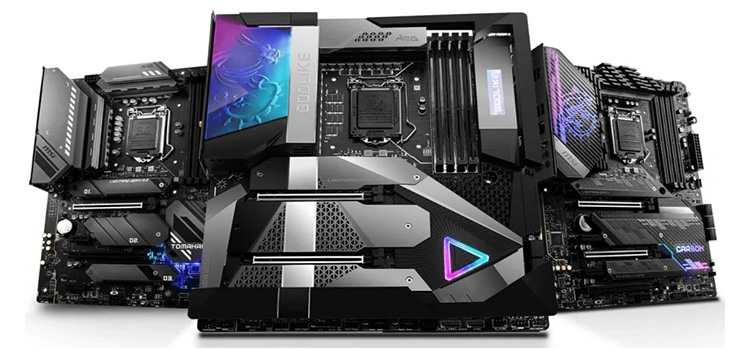 Is Gigabyte a Good Motherboard Brand – How Good Is It?
Gigabyte is a well-known brand for many years. It is popular for its excellent build quality at a reasonable price. It was the first choice of gamers previously. But now there are lots of motherboards of other brands that provide the same quality and performance.
However, some budget-friendly features of Gigabyte motherboards such as USB 3.0 and SATA III make it more special among its competitors. Also, a wide range of AMD AM3+ and FM2+, as well as Intel 8 and 9 series motherboards, are covered by this brand.
Briefly, if you are looking for a motherboard brand that provides good quality at an affordable price, then Gigabyte motherboards are what you want.
What Are the Features of the Gigabyte Motherboards that Make It Better?
There are a few brands that provide as many features as Gigabyte provides to its customers. Let's see some features at a glance that is provided by the Gigabyte motherboard.
USB 3.0 and SATA III.
Highly durable components.
Quad SLI and Crossfire support for multiple graphics cards.
highly compatible with different CPUs, RAM, and GPUs.
The BIOS software allows customizing the different parts of the motherboard.
The audio system is highly integrated.
The network controllers and ports are also standardized.
Comparison With Other Best Motherboard Brands
Gigabyte isn't the only best motherboard brand. Several brands maybe prove even better than this brand. So, let's compare Gigabyte with some of those brands.
Gigabyte VS ASUS Motherboards
Another best motherboard brand apart from Gigabyte is the ASUS. If you are searching for a motherboard for gaming, then we would recommend you to use ASUS as it provides the best features for gamers.
You can get a high-quality sound chip at a lower cost than Gigabyte in the ASUS motherboards. However, Gigabytes are known for overclocking features and higher quality boards with strong power phases.
So, if you have great features such as overclocking, and RGB lighting setup for gaming, then you can go for Gigabyte. On the other hand, if you don't need these specific features and just a high-quality motherboard at a lower price, then ASUS is best for you.
Gigabyte VS MSI Motherboards
Now, let's compare Gigabyte with MSI!
Both the Gigabyte and the MSI companies are Taiwanese which is providing a great service since 1986, and it's too hard to identify the better brand between them.
MSI is well-known for providing solid boards globally. The coolest feature of MSI is that it has a physical button on its motherboard by which you can program things like overclocking and lighting modes.
On the other hand, MSI cannot beat Gigabyte at handling heavy overclocking and maintaining high-quality power phases.
So, if you want a gaming motherboard with many interesting features, then you can go for MSI. Otherwise, Gigabyte is the way to go for you if you are concerned about power phases and overclocking.
Frequently Asked Question
Does Gigabyte Still Makes Good Motherboards?
Gigabyte motherboards are known for their quality. It is holding the place of being one of the best motherboard brands around the world for decades. You may still find some Gigabyte motherboards which are over 12 years old and still working fine! Gigabyte has upgraded itself and is still making even better motherboards with more great features nowadays.
Which Is the Best Motherboard Brand?
Top 10 best motherboard brand list:
Asus
MSI
Gigabyte Technology
ASRock
Intel
Acer Inc
EVGA Corporation
Biostar
American Megatrends
Sapphire Technology
ASUS vs Gigabyte motherboard: Which Is the Best?
It can't be said which one is the best because both are great motherboard brands. According to the query, 5 out of 10 people choose Gigabyte for its durability and reliability. 4 out of 10 people choose ASUS and most of them are gamers.
So, if you are concerned about the duration of your PC, then you should choose Gigabyte, and if you are concerned about your gaming performance, then ASUS is the best motherboard brand for you.
Is Gigabyte a Reliable and durable Brand?
The most reputable brand among tech enthusiasts is Gigabyte. It has won numerous awards including the 'Red Dot Design Award' for being in the three years in a row which is the most prestigious award among designers. In durability, the Gigabyte is unbeatable. It is famous for its reliability also.
Which Gigabyte Motherboard Is the Best?
There are various models of motherboards from the Gigabyte brand. Among them, Gigabyte Z690 Aorus Xtreme is the best motherboard in our opinion. We preferred this because it is capable of handling the most demanding CPUs by gamers. For high-end gaming and content creation, it is worth pairing this kind of heave-performance motherboard.
Conclusion
In a word, Gigabyte motherboards are one of the best motherboards around the world.
Like other motherboard brands, Gigabyte is both good and bad from some points of view according to the models. But based on user reviews, Gigabyte motherboards will remain top in high-quality duration and liability.
We hope that you have got your answer by reading this article. If you have any recommendations or personal opinions, then feel free to share them with us through the comment section below.