Back in April 2018, windows 10s mode was first introduced as a special modification of windows 10 which allows the operating system to be, according to Microsoft's official website, secure than ever, also promised to provide an everlasting performance of the PC as well. It is a user-oriented operating system with some features that overcomes some problems of its mother OS Windows 10, also lag behind the main OS in some aspects.
Features of windows 10s Mode
Unlike any other windows updates where the new version of operating systems keeps pushing the limits and possibilities to new features, windows 10s mode rather limits the resources. Applications downloaded only from the Microsoft store are allowed to be installed in windows 10s. That means, unlike the normal Windows 10 version, you cannot use any third-party application on windows 10s mode. There is only one browser is supported in Windows 10s, which is Microsoft Edge. These may seem a bit grim features of this mode, but it allows your computer to have many great advantages over the conventional Windows 10 OS, like
Improved system security is said to be the key feature of the windows 10s mode as it runs applications only verified from the Microsoft store. So any threat to the security of your computer is the last thing to fear if you're using windows 10s mode.
Everlasting performance is assured as you are not using lots of processing power as you used on a conventional operating system. In this mode, You can expect your computer to run like new.
Reduced Boot time has always been on the list of demands of PC users and in windows 10s your computer will just boot in less than 15 seconds. That's some feature every PC users want!
Optimized Battery Backup in windows 10s makes a huge difference with the conventional OS especially if you're using a laptop. As it is more like a beta version of windows 10, the S mode uses less power than other OS, up to 15%!
Autosave files to cloud service is another smart feature of windows 10s which enables you to access files on your PC from anywhere just if you're privileged with the internet.
Plenty of Applications are stored in the Microsoft store and to be found based on your necessity and more importantly, all apps are safe to use in Windows 10s.
Many think that Windows 10s was brought to market to compete with Google's Chrome OS, which was introduced earlier and has almost the same features Windows 10s has. Like Chrome OS Windows 10s is usually used in school computers to keep the use of computers to a minimal standard. This mode of windows is also used in various enterprise uses to prevent any kind of security breach as the apps running on this OS are strictly checked and scanned for any kind of malware and bugs or virus. The only visible disadvantage from the user's end is the third-party app issue. Because, when it was first introduced and was told that third-party apps cannot be installed on this OS, back then Microsoft Store was not so enriched with so many apps like it has today. Over the years Microsoft Store is including more and more apps like Netflix, Spotify, iTunes, Facebook, etc. So, the problem regarding app shortage on Microsoft store is fading away day by day, so is the reason behind not using Windows 10s. This is how this new mode of windows is getting popular every day. 
How to Get windows 10s Mode
In an earlier state, Windows 10s was not any particular windows version that can be downloaded or installed independently on any PCs or laptops. It came with some specific devices as a default operating system, like, Microsoft surface go 2, Microsoft surface pro 7, etc. Later, Microsoft decided to launch an installer pack by which you can convert your existing operating system into Windows 10s but only if you have the following Windows 10 versions:
Windows 10 pro
Windows 10 pro Education
Windows 10 Education
Windows 10 Enterprise
 And Here is How to Do It:
First, open any browser and search for Microsoft's official website or just click here and download the installer for Windows 10s.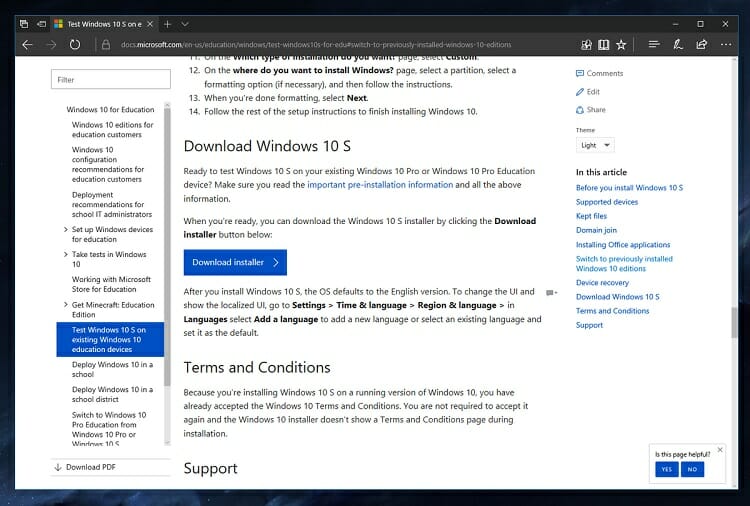 After completing the download Run the downloader .exe file as administrator.
This should open the installation window.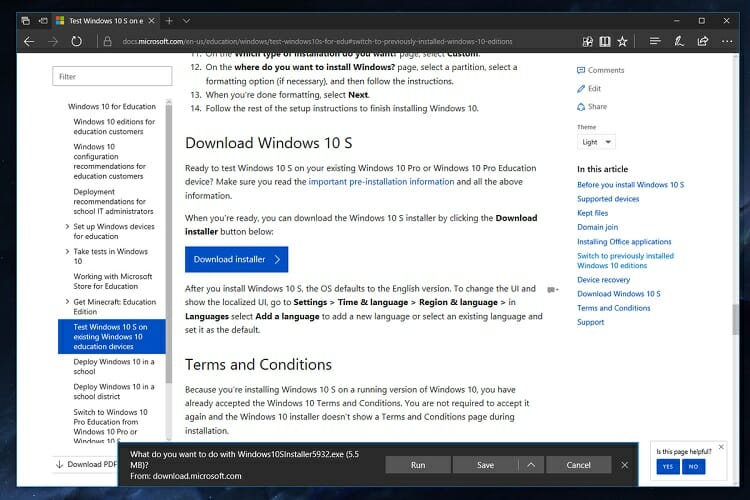 Click on Next on the installation window.
Now the installer is checking if your PC is compatible with Windows 10s OS.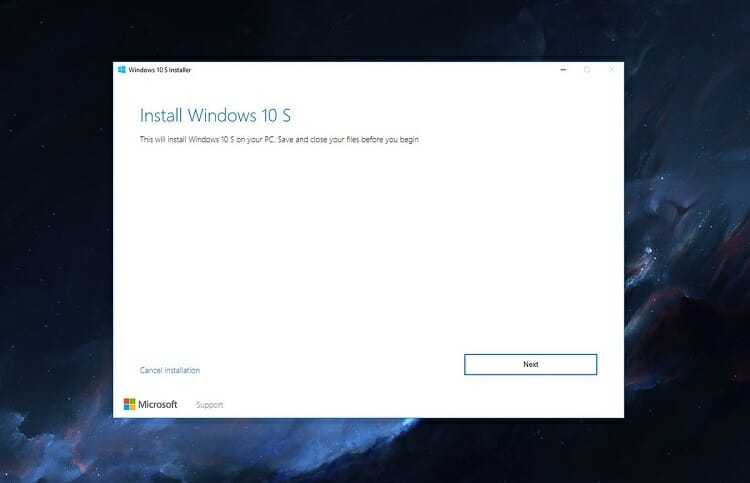 If your pc is compatible with Windows 10s, click on 'Next'.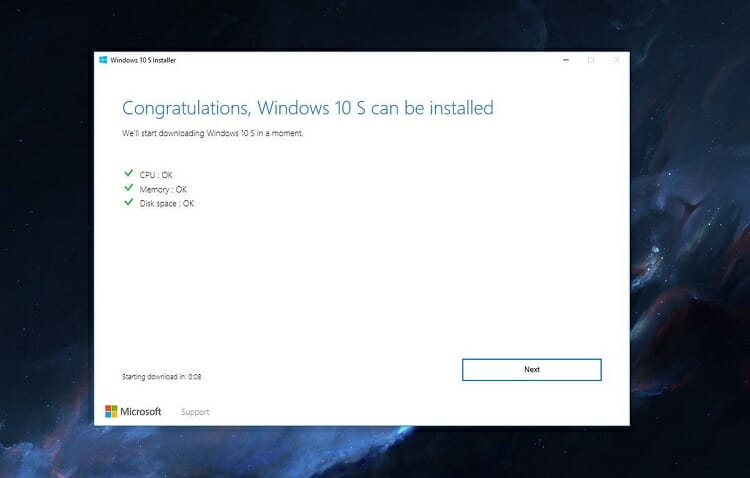 Now the installer will start downloading the Windows 10s.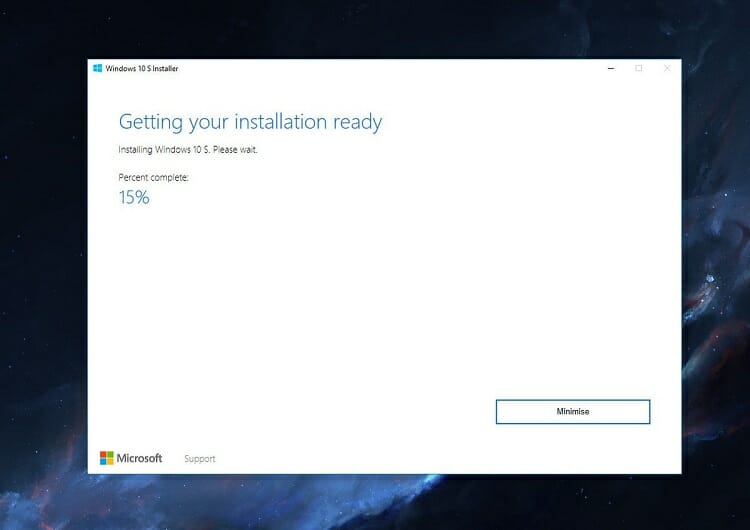 Once the download is complete you need to restart your PC. So, click on Restart now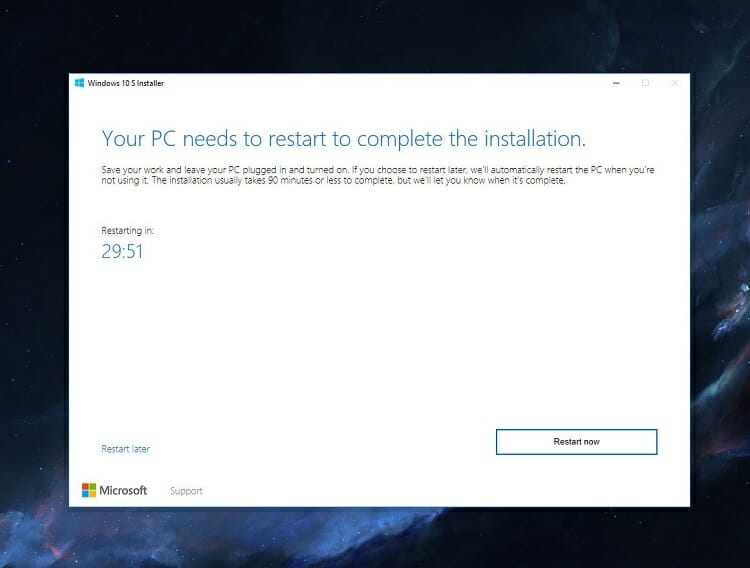 Installation of Windows 10s will now start while restarting the PC.
Once the installation is complete your PC will be turned back ON and there you have it! Windows 10s Mode.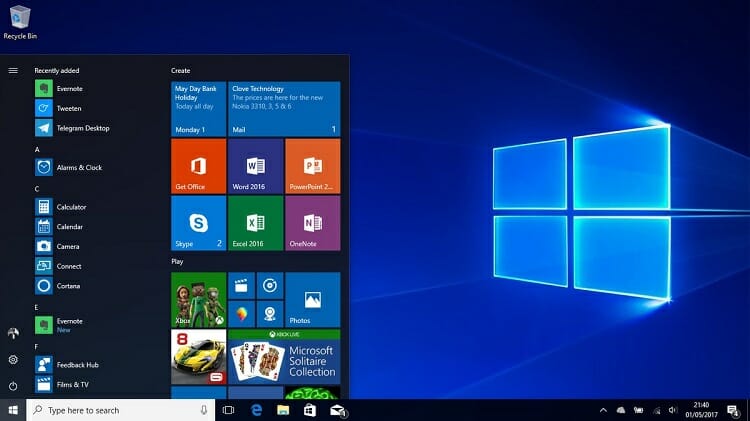 However, due to the lack of opportunity of using any apps outside the Microsoft store, users often are more interested in switching windows 10s mode back to the normal windows 10 or windows 10 pro version. But you should remember this is a one-way process. Once you switch back to the normal windows version you will not be able to switch back to the S mode.
You Can do it following These Steps:
Open settings. Then go to update&security and then to Activation
By clicking on the Activation tab you'll open the Switch to Windows 10 Home/ Windows 10 pro section, then click on Go to the Store option.
On the store page, you will find the 'Switch out of S mode' section, click on the 'Get' option.
A confirmation message will be shown, by confirming that permission the S mode will turn to the conventional Windows 10.
Conclusion:
Windows 10s mode is proven useful for various schooling and commercial purpose. But many users tend to avoid this feature for the dependency on third-Party apps which are not allowed to be installed in the Windows 10s mode operating system.