Pizza Hut App not Working [How to Fix]
For us pizza lovers, the Pizza Hut app is like the most convenient way to order pizzas online. Not only that, it allows for tracking and lets the users take advantage of special offers and exclusive deals. However, like any other app, it sometimes fails to work.
 In this article, we will explore common reasons why the Pizza Hut app might not be working and provide practical solutions to resolve these issues. So, please continue reading below.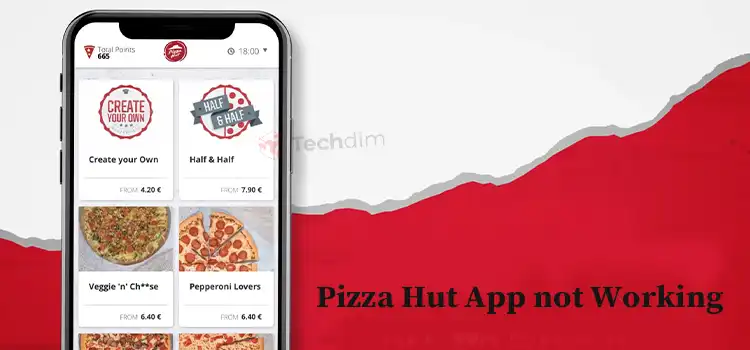 How to Fix the Pizza Hut App When It's Not Working?
Here's how to fix your Pizza Hut app when it isn't working. Try them one by one until you a fix that works for you.
A. Check Your Internet Connection
Ensure you have a stable internet connection, either through Wi-Fi or mobile data, before using the app.
B. Update the App
Keep your Pizza Hut app up-to-date by regularly checking for updates in your device's app store (App Store for iOS or Google Play Store for Android).
C. Restart the App
Close the Pizza Hut app completely and then relaunch it. Sometimes, this simple action can resolve minor glitches.
D. Restart Your Device
Reboot your smartphone or tablet to clear any temporary issues that might be affecting the app's performance.
E. Clear App Cache (Android)
If you're using an Android device, navigate to "Settings" > "Apps" or "Application Manager" > select "Pizza Hut" > tap on "Storage" > and then tap "Clear Cache."
F. Delete and Reinstall
If all else fails, uninstall the Pizza Hut app and reinstall it from the app store. This can resolve persistent problems.
G. Check for Updates
Ensure your device's operating system is up-to-date. App issues can sometimes be caused by compatibility problems with older OS versions.
H. Disable VPN
The Pizza Hut app may not work properly if you have a VPN app installed and activated. That's because it's a very localized app and has location-based features and services. Therefore, disable your VPN app and try to reload the app.
I. Contact Pizza Hut Support
If none of the above solutions work, reach out to Pizza Hut's customer support for assistance. They can provide specific guidance or inform you of any ongoing technical issues.
J. Try the Website
As an alternative, consider using the Pizza Hut website to place your order if the app continues to have issues.
K. Wait for a Fix
In some cases, app issues may be due to problems on the developer's end. In such instances, patience may be the key, as Pizza Hut may release an app update to resolve the problem.
Why Pizza Hut App is Not Working?
Below we will discuss some of the most common reasons why the Pizza Hut app might not be working for you:
1. Internet Connection Problems
This is one of the most common reasons for apps to malfunction, for poor or unstable internet connection. If your device isn't connected to the internet, the Pizza Hut app won't be able to function properly.
2. Outdated App Version
Using an outdated version of the Pizza Hut app can lead to compatibility issues and glitches. Developers regularly release updates to improve app performance and fix bugs.
3. App Glitches and Crashes
Sometimes, the app may encounter internal glitches or crash unexpectedly, disrupting your user experience.
4. Cached Data Issues (Android)
On Android devices, cached data can accumulate over time and interfere with the app's functionality.
5. Operating System Compatibility
Incompatibility between the app and your device's operating system can lead to issues.
6. Server-Side Problems
Occasionally, app issues may arise from problems on Pizza Hut's server side, which are beyond the user's control.
Frequently Asked Questions and Answers (FAQs)
Is the Pizza Hut app down for everyone?
App issues can be sporadic. If you're experiencing problems, it's worth checking with friends or online communities to see if others are encountering similar difficulties. It could be a widespread issue.
Will uninstalling the app delete my account information?
Uninstalling the app won't delete your account information. Your account data is typically stored on Pizza Hut's servers. You can log in again after reinstalling the app.
What should I do if the app is slow but not completely unresponsive?
If the app is slow, try closing other background apps on your device to free up resources. Additionally, consider clearing the app cache (on Android) or checking for app updates.
Final Thoughts
While technical issues with the Pizza Hut app can be frustrating, they are often easily resolved with a few simple steps. By following the solutions outlined in this article, you can quickly get your app back on track and enjoy your favorite pizza without any interruptions. If problems persist, don't hesitate to reach out to Pizza Hut's customer support for further assistance.
Subscribe

to our newsletter

& plug into

the world of technology