[4 Fixes] Red Light on Motherboard No Display
Do you have a pc that was functioning before it suddenly stopped? Or perhaps you recently built a new computer, but for some reason, it won't turn on? A red light on the motherboard but no display indicates that some hardware within your computer is not properly connected or is not performing as it should. Several red LEDs for particular computer components may be present on the motherboard, depending on the motherboard's manufacturer, making troubleshooting simpler.
Not a ventilator's life support is beeping and blinking at the hospital, so don't be alarmed. For the majority of them, you can quickly diagnose and resolve the red CPU light issue using this approach.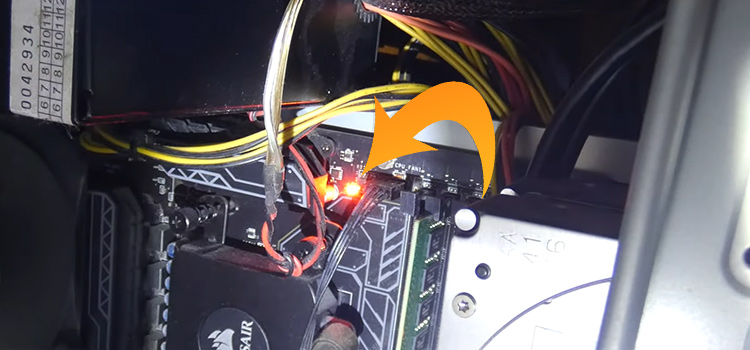 What does a Red Motherboard Light Mean?
The motherboard's Red LED problem signals several problems, including loose connections, incorrect seating, and significant hardware damage. Sometimes you won't be able to see the display even when the red light is blinking and beeping. All of these issues demonstrate that the system has some severe problems that need to be rectified.
Only one LED on the earlier motherboard shows the issue. Therefore, it is challenging to identify the hardware that is genuinely having issues. However, the existence of four LEDs that are specific to the technology in current ones makes it easier to pinpoint the problems.
What Leads to a Motherboard Problem with a Red Light?
The causes of the red light on the motherboard issue are listed below. Knowing the causes will enable you to quickly address the issue with the best options from those suggested.
1. Hardware Damage: This red-light problem may occur if any of your hardware is harmed or corrupted.
2. Loose or Broken Power Supply Cable: A damaged or loose power supply cable connection may also be the cause of the problem on your motherboard.
3. CPU or GPU Misalignment: This might occasionally cause a motherboard red light problem.
4. Overheated CPU: Running your computer for an extended period frequently causes your CPU to become overheated, which might cause your motherboard's red light to malfunction.
5. Drained CMOS Battery: This issue may arise if the CMOS (Complementary metal–oxide–semiconductor) battery you are using is entirely depleted or goes dead.
6. Damaged or Misplaced RAM: RAM that has been destroyed or misplaced is another factor that could be the root of this problem. You could get this red-light problem if the RAM is broken or not properly installed.
7. The Hard Drive Problem: In most circumstances, a malfunction with your hard disk may put you in such a predicament.
8. BIOS Issue: An issue with the BIOS may potentially be to blame for the motherboard's red light. This issue may concern you if the BIOS is improperly configured.
9. Faulty Motherboard: If the motherboard is defective, you may also experience motherboard issues.
How to Fix the Red CPU Light on a Motherboard?
Even though the reasons for the red light on your CPU appear to be severe, most of them can be resolved by paying attention to a few things. To make sure that the PSU or motherboard is not the problem, you must first run a few straightforward diagnostic tests.
1. Replace or Repair the Damaged or Affected Hardware
The primary cause of this problem has been identified as a hardware issue. In this case, the first thing you should do is to see whether there is a hardware problem. Your Motherboard has to have seated dust removed first. Then thoroughly inspect each piece of hardware. Additionally, make sure there are no loose connections or damaged sockets by inspecting all of the connectors and sockets.
2. Replace or Reconnect the Power Supply Cable
Damaged or loosely connected power supply cables are another factor contributing to this problem. This issue could arise if the power supply cable is damaged or broken. Damaged power cables are unable to supply the motherboard with enough power, which leads to the motherboard's red light problem. Additionally, utilizing inexpensive or standard cable may put you in this situation. Therefore, if the power cable is confirmed to be the problem, try replacing it with a brand-new or authorized cable to fix the problem.
3. Reseat Your GPU & RAM
The possibility of this issue developing due to improper placement of the GPU and RAM has already been raised. As improperly positioned RAM or GPU may be undetected by your system. Check to see if your RAM or GPU is installed correctly. Try positioning them correctly if they aren't already there to solve the issue. Additionally, if you have more than one RAM, make sure that each RAM is working properly.
4. Replace the Motherboard
Last but not least, if none of the aforementioned fixes work for you, it may be that your motherboard is defective. Therefore, in such a situation, your only option is to swap out your current motherboard for a new, greatest motherboard.
Why Won't My PC Turn On But Motherboard Light Is On?
The power button on the case or the wires connecting it to the motherboard may be to blame if your computer won't turn on but the motherboard light is on. Examine your motherboard to see if it has an onboard power button.
Conclusion
The problem with the motherboard's red light is rather enduring. It won't affect your PC at all, so don't worry. To test several approaches one at a time, you will need to be calm. You'll then see that the LED is no longer blinking. We hope the information above will assist you in solving this problem.
Subscribe

to our newsletter

& plug into

the world of technology