Which HDMI Port to Use for 4K LG? Does It Matter?
LG TVs with 4K displays are becoming more popular nowadays. To enjoy the best picture quality with perfect audio, manufacturers recommend HDMI connections as you can't efficiently experience 4K video without an HDMI connection.
However, all HDMI ports don't support 4K videos as the speed of all ports aren't the same. Only HDMI ports with 2.0 or higher standard support 4K videos.
If you have bought a 4K LG TV, and got confused about which HDMI port of your TV you should use to get 4K video, then don't worry. We've got your back.
We have described the HDMI ports of LG TVs and you'll be guided through this article on which HDMI port is recommended for you to get 4K video on your TV.
For that, you need to read this guide carefully.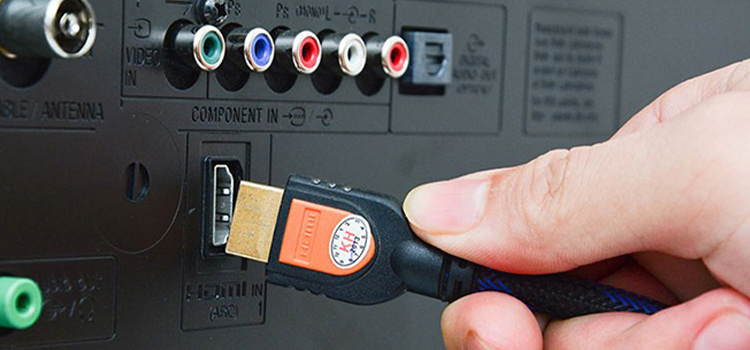 A Basic Knowledge of HDMI Cables and HDMI Ports
Before determining the correct HDMI port for 4K on an LG TV, it is best if you are aware of the different HDMI ports on your TV. Let's discuss them briefly.
Different Versions of HDMI
There are many versions available on the market such as 1.1, 1.0, 1.2a, 1.4, 1.4b, 2.0, 2.0b, and 2.1.
As the most recent version is 2.1, it is capable of transmitting up to 10K signals without any interruption. The refresh rate of 2.1 is 60 to 120 GHz with 48 Gigabytes of bandwidth. You can also get a 50 to 60 GHz refresh rate with 2.0 and 2.0b.
If the HDMI version is below 2.0, it can't transmit 4K signals. So, if you want to transmit 4K videos or above, then you need to get HDMI 2.0 or 2.1.
Different Types of HDMI on LG TVs
There are three types of HDMI TVs that you can find on the market which are:
Standard: Some LG HDTVs come with standard HDMI ports that support HD resolutions like 720p and 1080p with a 30 Hz refresh rate and 10 Gbps bandwidth.
High-Speed HDMI: LG TV that has 2.0 HDMI ports. It supports 4K resolution with a 60 Hz refresh rate and 18 Gbps bandwidth.
Ultra-High-Speed HDMI: These LG TVs have HDMI ports with a 2.1 version which supports ultra-HD resolutions like 4K, 8K, and 10K. It provides up to 120 GHz refresh rate and 48 Gbps bandwidth speed.
Upgrade your viewing experience today with the best HDMI-
Different Types of HDMI Ports
There are different types of HDMI ports that can be found on an LG TV. Here are the types of HDMI ports:
Type A: It is the standard wide HDMI port that comes with Blu-ray players and HDMI devices.
Type B: It is rare on LG TVs as it is an outdated version of HDMI ports.
Type C: It is also known as a micro-HDMI port. It also can be found on LG TVs.
Type D: Though it is one kind of micro-HDMI port, it looks similar to a micro-USB port.
Type E: It comes with ultra-high-speed HDMI connections. The LG TVs that support 10K resolution can have Type-E HDMI ports. It is known as automotive HDMI ports which normally come with cover protection to avoid moisture and dust.
Which HDMI Port Should You Use for 4K on an LG TV?
As now you know the mechanism of HDMI cables and ports, it would be easier to understand which port of your TV should you use to connect the HDMI cable to get the 4K video.
There are multiple HDMI ports available on an LG TV that supports 4K. One of them may mark as "Audio Out (ARC)" which should be in the 1st position.
If you want to get high-definition audio, then you need to connect your audio output source to this port. But if you want 4K video, you shouldn't connect your HDMI cable to this port.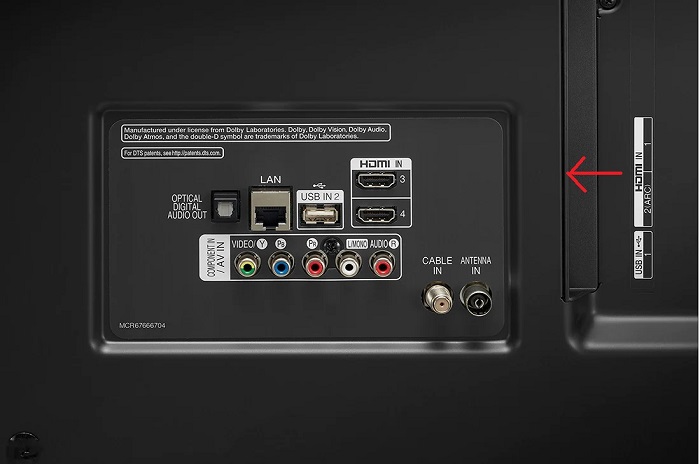 Some LG TVs mark the HDMI port as "HDMI (BEST)" so that the users can easily identify the HDMI port for 4K.
Again, some ports aren't marked as the best rather the refresh rates are marked beside them. For example, you may find "4K @ 60HZ" below the HDMI port which is perfect for 4K.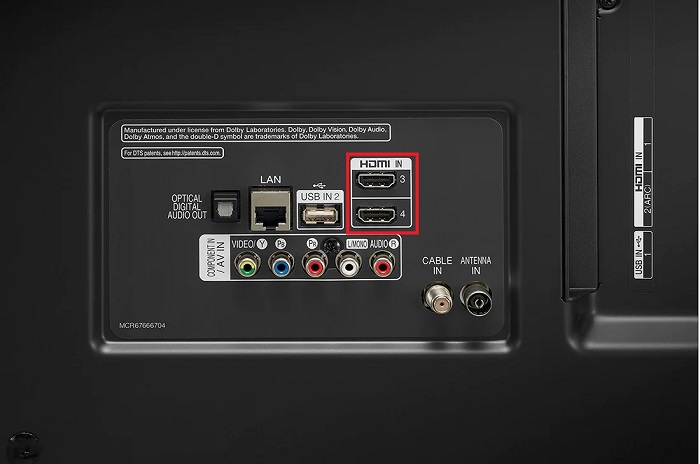 In a word, to get 4K video, just avoid the audio (ARC) HDMI port and plug your HDMI cable into HDMI 2.0, 2.1. with a minimum 60 Hz refresh rate to get 4K Videos on your LG TV.
How To use HDMI Port on LG TV to Watch 4K?
After connecting the source to the TV via HDMI cable, on the 2.0/2.1 HDMI port on your LG TV, you need to select the source from the input option of your TV. Here is the instruction to follow:
First, ensure that you've connected the HDMI cable correctly, plug the power cable into a wall outlet and turn on your LG TV.
Then, navigate to the "Input Menu" from the upper right corner of your TV using your remote control.
Once you go inside the menu, a list of connected devices will appear on your TV screen.
Select the HDMI port that you've used to connect the source device.
Finally, select "Confirm" and press "OK" on the remote control to save the change.
If this doesn't allow 4K, then try another HDMI port on your TV and select input in the same way as described above. After this, you can enjoy 4K videos on your LG TV.
Frequently Asked Questions (FAQs)
Which HDMI Port is Preferable for 4K?
If your TV supports 4K, then you don't need to be confused about choosing the accurate HDMI port on your TV as it doesn't matter which HDMI port you are using to get the 4K resolution. But if the ports are marked, 1.0 and 2.0, then always try to choose 2.0 or above to get 4K resolution.
Which HDMI Port Is Best for Gaming LG TV?
If you have a gaming LG TV, then you don't need to waste your time thinking about which HDMI port you should choose as all the HDMI ports will provide you 4K experience while gaming on your LG TV. However, the 2.1 HDMI port is better than the 2.0 port.
Should TV Be Set on HDMI 1 or HDMI 2?
You can choose any of the HDMI ports between HDMI 1 and HDMI 2. You just need to choose the correct input from the input menu of your TV after connecting the source device to the HDMI port on your TV.
For example, if you have connected your source device to HDMI 1, then you need to change the input from HDMI 2 to HDMI 1 from your TV's settings.
Conclusion
It is hard to select the accurate HDMI port for 4K on LG TVs as the HDMI ports aren't marked correctly which one among them is eligible for 4K and which isn't. However, you can easily determine the correct one after reading this article as the core knowledge of HDMI is briefly described above and also a provided a guide on choosing the accurate HDMI port on your LG TV. If you can't get 4K from HDMI, then either your TV doesn't support 4K, or the port of your TV is damaged. In this case, you need to contact LG customer care.
Subscribe

to our newsletter

& plug into

the world of technology