[What Do I Do] Why Is My HDMI Switcher Not Working?
There's nothing quite as frustrating as an HDMI switcher that's suddenly stopped working. It's like setting up a grand movie night and realizing your projector has no power.
So, why is your HDMI switcher not working? Well, it could be a range of issues, from faulty cables to an outdated switcher model.
In this article, we'll unravel the reasons behind this issue and provide solutions to get your entertainment hub back on track. So, let's dive into the world of HDMI switchers and discover why they sometimes misbehave.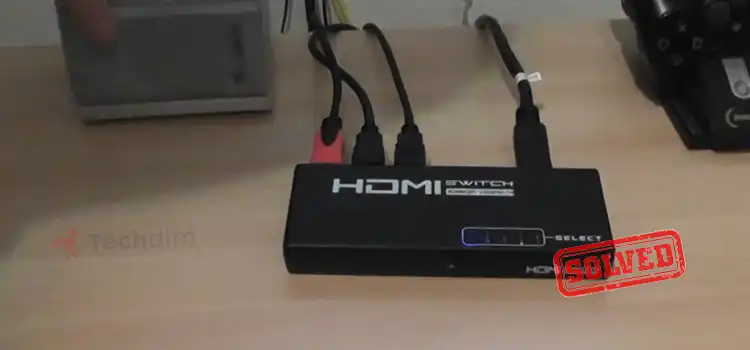 Reasons Why HDMI Switcher Might Not Work
There can be a variety of reasons why your HDMI switcher might not work. The problem might be linked to your source gadgets, your display device, the HDMI wires, or the switch in question. Here are the most common culprits:
1. Faulty Cables or Ports
Oh, cables. When they're good, they're great. But when they're bad? An absolute nightmare. A common culprit for HDMI switcher issues lies in faulty cables or worn-out ports. A tiny bend or fray might be all it takes to break the connection.
2. Software and Compatibility Issues
Software isn't perfect, and sometimes, the devices you're connecting might not be speaking the same "digital language". Software incompatibility can result in a screen as blank as my mind on a Monday morning.
3. Overheating
Just like us after a long day, HDMI switchers can get exhausted. Overheating might just be causing your switcher to take an unplanned nap.
4. Power Problems
Make sure it's not a power nap! An inconsistent power supply or a fried power input can lead to unresponsive HDMI switchers.
What to Do If Your HDMI Switcher Not Working?
Fortunately, the HDMI switcher not working is not a rare issue and there are plenty of solutions to fix it. Here are the most common fixes:
Step 1: Double-check that both the TV and the source device are powered on.
Step 2: Inspect those cables and ports. If they seem damaged or uncooperative, swap them out.
Step 3: Ensure the HDMI cable is connected to the appropriate HDMI input of your TV.
Step 4: Detach and then securely reconnect each HDMI cable.
Step 5: If you're using an active switch, ensure it's connected to a power source and is operational.
Step 6: If You're a passive switch user, try to use the shortest cables you have on hand.
NOTE: Some gadgets might not gel with a passive switch. Test with other source devices or pair the switch with a different TV or monitor to identify the issue.
Bonus Tips to Ensure the Longevity of HDMI Switcher
To keep your HDMI switcher running smoothly for longer, check out these extra tips:
Use high-quality HDMI cables.
Ensure your HDMI switcher has proper ventilation to prevent overheating.
Clean your HDMI switcher and connected devices periodically to keep them free from dust and debris
Check for firmware updates for your switcher and connected devices to stay up-to-date with the latest improvements.
Label your HDMI cables so you can easily identify which device is connected to each port on your switcher.
Wrapping Up
HDMI switchers can sometimes throw a curveball our way and refuse to work. There could be a myriad of reasons behind this—maybe it's a faulty cable, an unsupported resolution, or even just some dirt in the port. Whatever the cause, don't fret too much. Technology has its quirks, and the solution is often simpler than we think. Remember, every tech problem is a learning experience, making us more adept for the future! If you've found this article helpful or have any questions, don't hesitate to leave a comment below. We're here to help you get the most out of your HDMI switcher. Happy watching!
Questions and Answers (Q&A)
Q: How Often Should I Replace HDMI Cables?
A: Ideally, quality HDMI cables can last years. However, if you notice consistent issues, it's time for a swap.
Q: My HDMI Switcher Feels Hot, Is That Bad?
A: Overheating can cause performance issues. Give it some rest and ensure proper ventilation.
Q: What's The Best Way To Clean My HDMI Switcher?
A: Use a soft cloth and avoid wet cleaning. Dust regularly to prevent buildup.
Q: How Do I Know If It's A Power Issue?
A: If your switcher doesn't turn on or frequently loses power, the issue likely lies there. Check the adapter and outlet.
Q: Why is my HDMI switcher not recognizing one of my devices?
A: This could be due to compatibility issues, faulty cables, or a device not providing enough power to the switcher. Ensure all these aspects are in check.
Subscribe

to our newsletter

& plug into

the world of technology