6 Core vs 8 Core Video Editing | Which Processor Is Better for Video Editing?
It goes without saying that video editing is a heavy process that needs a powerful PC, especially a powerful Processor.
There are various kinds of multi-core processors available on the market which are suitable for this job. However, video editors nowadays choose between 6-core and 8-core processors for video editing.
You may be confused about which one of these two kinds of processors is perfect for video editing. Don't worry, we have explained the significant differences between 6-core and 8-core processors so that you can choose any of them according to your requirements.
Let's read on and find out.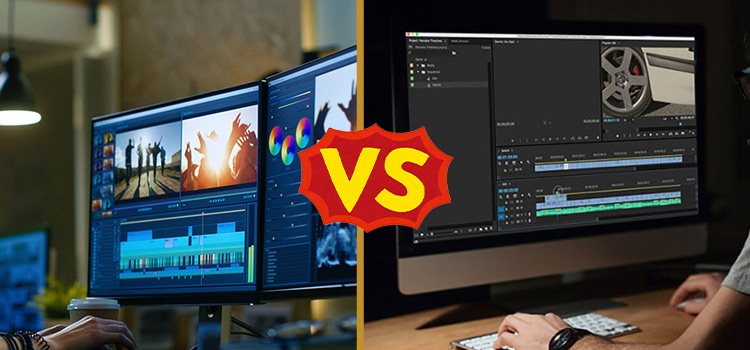 6 Core vs 8 Core Video Editing – Is There a Big Difference Between 6 and 8 Cores?
The main difference between 8 core and 6 core is, that you can have the smother performance and ability of multitasking using an 8 core than 6 core processors. Some differences between these two processors are listed below.
6 Cores CPU
6 cores as known as hexa-core processors are perfectly balanced between price and performance. It is best for full-stack web development. You can edit photos with it but may face issues while editing videos, playing heavy games, or working with any architecture software.
6 cores CPUs are used by many editors widely as the minimum requirement of video editing is having a 6-core CPU. But when you have to multitask while editing videos, 6 core may not prove effective to you.
8 Cores CPU
8 cores as known as octa-core processors are made for multitasking. This CPU is eligible for professional gamers, developers, designers, and other heavy working environments. But in the case of a light working environment, it can be considered an overpowered processor.
Most video editors prefer 8-core processors because they can edit high-resolution videos like 4k smoothly with this. However, octa-core processors are expensive and only preferable for professional video editors.
How Many Cores Do I Need for Video Editing in 2023 – Three Major Factors
It will be convenient for you to choose between these two chips after looking at some test results given below.
Performance
The difference between 8-core and 6-core processors is visibly huge in performance. You may face no major issues while working with the resolution of 1080p or 1440p videos in a 6-core CPU but certainly face lags and other issues with 4K resolution.
On the other hand, you will be able to edit video with any resolution smoothly on 8-core processors. However, the performance of 8-core processors depends on other things of a PC such as RAM and GPU. So, you have to match your 8-core processor with the other devices on your PC.
Longevity
The octa-core (8-core) processors are the winner in longevity also. An 8-core processor can provide service of about 7 years while a 6-core processor can perform well for 4-5 years. So, if you are focusing on the milage of your processor, then you can choose 8-core without any hesitation.
Price
No one can beat a 6-core processor when it comes to the value at the lower price.
You can get a lot at a low price on a 6-core processor whereas an 8-core is too costly according to its service. Either it should provide more service and features on an 8-core processor or it should be cheaper in price.
The price of 6-core processors is between $200 to $250 whereas the price for 8-cores is set between $330 to $360. So, you can save up to $100 to $170 if you use a 6-core processor for light video editing.
Which One Is More Suitable for Video Editing: 6 Cores or 8 Cores?
Editing videos is becoming complex day by day. It needs heavier software and multiple tasks need to be done at the same time during editing a high-quality video. Although, both 6-core and 8-core processors are suitable for video editing.
The number of tasks that a CPU can do actually depends on the number of cores that a processor has. It doesn't mean that you can do 8 tasks on 8-core processors and 6 tasks on 6-core processors. It means you can do more multiple tasks on 8 cores than 6 core processors.
When it comes to editing video, you cannot manage a high-quality video editing process with the 6-core. You will need 8-core in that case. However, a 6-core processor is enough for you if you are editing videos as a hobby, not a profession.
What Are the Issues faced with Both Cores?
If you have a highly configured GPU installed on your computer, then it may not work properly with a 6-core processor. Thus, it can make your PC slow. It is called the bottleneck issue.
In the same way, if your CPU is faster than your GPU then you will have issues while editing videos too. So, your CPU and GPU both need to be congruent to run your computer properly.
8-core may increase your performance but your workstation will be costly. On the contrary, you can reduce the expense of using a 6-core processor but your performance in video editing will be reduced.
Frequently Asked Questions
What Is the Minimum PC Requirement for Video Editing?
The minimum requirement for video editing is, at least a 6-core processor, 4 GB graphics card and 8GB RAM installed on a PC. If you want to reduce rendering time, then you can use 16GB of system RAM.
How Many Cores Are Needed For 4K Video Editing?
The minimum requirement for video editing software like Premiere Pro 2021 is an Intel 6th Gen Hexa-core (6-cores) processor for HD production. But for 4K or higher production, you will be required a minimum Intel 7th Gen Octa-core (8-core) processor.
What Is the Best Specification for Video Editing?
The specs for video editing are:
RAM: 16GB (8GB minimum)
Processor: Core i9 (Core i5 minimum)
Storage: 256GB SSD (256GB HDD minimum)
Graphics Card: As much as you can afford according to your Video editing software
Which CPU Is Best for Video Editing?
Here is the list of top 10 CPUs for Video Editing:
AMD Ryzen Unlocked
Intel Core i9-9900K
AMD Ryzen 7 3700X 8-Core
AMD Ryzen 7 2700X
Intel Core i7-10700K
AMD Ryzen 5 3600X 6-Core
AMD Ryzen 5 3600 6-Core
AMD YD195XA8AEWOF Ryzen
AMD YD299XAZAFWOF Ryzen Threadripper 2990WX
Intel Core i9-10920X
Conclusion
We hope now you have understood the facts about 6 cores and 8 cores processors by reading this article. If you are going to do heavy tasks such as video editing on your computer, then we'd suggest you get 8 cores instead of 6 cores. Yet, 6 core is enough for regular basis general tasks.
If you have any personal opinions or questions, please feel free to tell us in our comment section below.
Subscribe

to our newsletter

& plug into

the world of technology