Best 6 Crypto Trading Bots For 2024
The realm of cryptocurrency has continued to expand and evolve, with an ever-growing number of participants entering the market each year. As technology advances, so does the complexity and competitiveness of crypto trading. Thus, a lot of developers working on automating trading. They develop many automated trading tools including crypto trading bots.
 The crypto trade bot is considered one of the most effective in the market and is intended to help both beginners and experts maximize their trading potential.
Why Trading Bots Are Relevant?
Trading bots offer a solution to one of the most pressing challenges in crypto trading: the need for constant monitoring. Given that the cryptocurrency market operates 24/7, no individual can keep track of all market movements around the clock. Bots, being automated programs, can monitor, analyze, and act upon market signals without human intervention, making them in demand in the world of crypto trading.
A Glimpse Into 2024
Crypto trading bots become apparent that their importance is not waning. With more sophisticated strategies, enhanced security measures, and improved user interfaces, these bots cater to a wide spectrum of traders. Whether one is looking to simply automate basic trading tasks or deploy advanced machine learning algorithms, there's likely a robot designed with that purpose in mind.
In this article, we'll explore the top 10 crypto trading bots that stand out in 2024, weighing their pros and cons, and examining the features that make them unique. 
What to Consider Before Choosing a Crypto Trading Bot
Finding a good crypto trading bot can be a daunting task, especially for those new to the crypto realm. With a plethora of options available, it's crucial to know what to look for to make the best choice. Here are the key considerations to keep in mind:
(A) Security Features
Reliability of the Platform: Ensure the robot is built on a secure and robust platform. Research the bot's history; has it ever been compromised?
Data Encryption: The crypto bot should employ strong encryption techniques to protect user data, especially sensitive financial information.
Withdrawal Rights: Ideally, a bot should not have the right to withdraw funds from your account. Limiting permissions can help ensure your funds remain secure.
(B) User Interface and Experience
Ease of Use: The bot should have an intuitive interface, especially for beginners. An overly complex system can lead to costly mistakes.
Customizability: Advanced users might seek a crypto trading bot that offers customization options, allowing for more tailored trading strategies.
Mobile Access: For those who wish to track their trading on the go, a mobile-friendly version or app is crucial.
(C) Trading Strategies and Algorithms
Diverse Strategies: Bots that offer a range of trading strategies can cater to various trading styles, from conservative to aggressive.
Backtesting: The ability to backtest strategies on historical data helps traders understand the potential performance of a strategy before implementing it.
Algorithm Transparency: Some traders prefer open-source bots where the trading algorithms are transparent and can be modified or vetted.
(D) Cost and Fee Structures
Subscription vs. One-time Payment: Understand whether the crypto trading bot requires a monthly subscription or a one-time fee. Some might even offer free versions with limited features.
Hidden Fees: Be wary of any hidden costs. Some bots may have additional fees related to trades or withdrawals.
(E) Community and Support
User Reviews: Checking reviews and feedback from other users can offer insights into the bot's performance, reliability, and customer support.
Customer Support: A responsive customer support system can be invaluable, especially when dealing with financial platforms.
Active Community: Bots with an active community can be beneficial. Community members often share tips, strategies, and updates, aiding in optimizing the bot's use.
(F) Integration and Compatibility
Exchange Support: Ensure the bot supports the cryptocurrency exchanges you use or plan to use.
Software Compatibility: Check if the crypto trading bot is compatible with your device's operating system, especially if you plan to use it on multiple devices.
(G) Regular Updates and Maintenance
Adapting to Market Changes: The crypto market is dynamic, and a good robot should receive regular updates to adapt to these changes and stay effective.
Bug Fixes: Regular maintenance ensures any software bugs or glitches are promptly addressed.
A Complete Guideline for 6 Crypto Trading Bots
Here are the features, pros, and cons of 6 crypto trading bots. Let's start.
1. Optimus
Optimus, developed by the Cryptorobotics platform, is an advanced crypto trading bot designed specifically for the sideways market. Its main goal is to optimize trading based on favorable price fluctuations.
Features
Algorithmic trading strategies: Optimus uses algorithms based on various indicators, primarily the RSI oscillator. So, for example, he can start trading when the RSI is in certain ranges.
User-friendly interface: Despite the complex algorithms behind its operation, the Optimus interface is intuitive for the user.
Mobile application support: Like most modern tools, Optimus is supported on all mobile applications for the convenience of users.
Pros & Cons
Pros:
Focus on favorable price fluctuations, reducing the risk of losses.
Flexible trade exit strategies based on different RSI scenarios.
Ability to set up Stop Loss and Take Profit for additional security.
Cons
Limited mainly by sideways market movement.
2. Cyberbot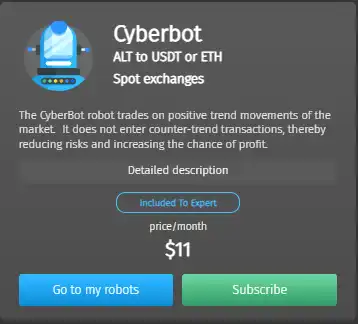 Cyberbot is a cryptocurrency bot that is designed to maximize profits and minimize risks. It is guided by a complex of indicators, including the Moving Average (MA4, MA9, and MA20) and the RSI oscillator, and specializes in trading in a clearly defined trend.
Features
Algorithmic trading strategies: Cyberbot uses various trade entry and exit scenarios based on the intersection of different Moving Average lines and RSI dynamics.
User-friendly interface: With an intuitive interface, Cyberbot simplifies the trading process for users of all levels.
Mobile application support: The crypto trading bot is supported by mobile applications for the convenience of trading on the go.
Pros & Cons
Pros:
Focused on maximizing profits and minimizing risks.
Sophisticated but effective trading strategies based on Moving Average crossovers.
Offline management after initial setup, which simplifies the trading process.
Cons:
It is suitable for a market with an uptrend and it doesn't work in a sideways and fallen market.
Cyberbot is a powerful tool for those who are looking for an automated approach to trading in the cryptocurrency markets with a focus on clearly defined trends.
3. Trade Holder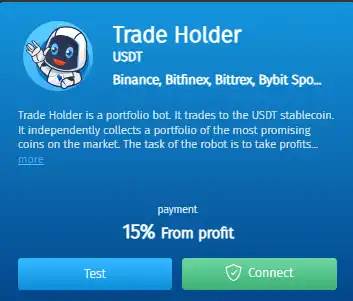 Trade Holder is a crypto trading bot designed with a focus on long-term investment strategies, especially Buy&Hold. Designed for long-term investors, this bot focuses on strategic portfolio management.
Features
Algorithmic trading strategies: Trade Holder uses advanced algorithms to create and manage a portfolio, relying primarily on USDT as the base currency. It aims to optimize buying and selling for maximum long-term profits.
User-friendly interface: Despite the complex approach to portfolio management, Trade Holder offers an intuitive interface for user convenience.
Mobile application support: Users are to manage their portfolio and follow the performance of the crypto trading bot through mobile applications.
Pros & Cons
Pros:
Focused on long-term investment and Buy&Hold strategy.
Automatic portfolio management of the nine most promising cryptocurrencies.
Continuous market monitoring for optimal portfolio adjustments.
Cons:
Suitable mainly for investors with a long-term perspective, which may not suit the desires of those who are looking for quick profits.
Trade Holder is the most useful tool for those who are looking for an automated way to manage their long-term investments in the cryptocurrency market.
4. AI Alpha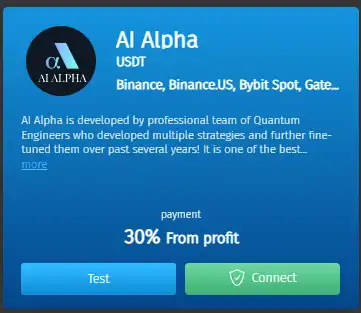 AI Alpha is a crypto trading bot designed with advanced AI technology. Its goal is to maximize profits for traders based on the principle of buying and holding assets in anticipation of their growth.
Features
Algorithmic trading strategies: AI Alpha uses sophisticated analytical algorithms to determine the optimal entry and exit points in the market. The bot adapts to current market conditions based on various indicators such as moving averages and relative strength index.
User-friendly interface: Despite the complexity of its algorithm, AI Alpha offers an intuitive interface that even beginners will find easy to use.
Mobile application support: Users can monitor the performance of the crypto bot and manage their investments on the go using the mobile application.
Pros:
Application of artificial intelligence to optimize trading strategies.
Suitable for both professionals and novice traders.
Focus on long-term asset growth.
Cons:
Too many signals are given simultaneously. As a result, you need to divide the deposit into many parts in order to enter all signals and maximize profits, but not everyone has such a deposit to divide it into 100 transactions.
A fairly large number of coins for which signals are given, many of them are not included in the top
Stop-loss is set too far
5. Crypto Future

Crypto Future is a crypto trading bot that allows you to trade on the futures market. Users have the ability to profit under any market conditions, whether the market rises or falls, thanks to a smart trading algorithm. The bot is divided into 3 types of robots with different levels of risk management: conservative, moderate, and risky. On a conservative strategy, the lowest values ​​for take profit and stop loss are set, while on a robot with increased risk, these values ​​are maximum. The number of available crypto pairs for trading also varies depending on the chosen strategy.
Features
Trading algorithms based on technical and mathematical analysis.
Simple and clear interface for the user.
Mobile app support for easy trading anywhere.
Pros and cons
Pros:
Flexibility in choosing trading leverage and optimizing strategies.
Three different risk levels: conservative, medium, and high.
Adaptive Take-Profit and Stop-Loss parameters.
Test mode for beginners.
Cons:
Opportunity trade only futures on Binance Futures
6. Noah
Noah is one of the best crypto trading robots on the Cryptorobotics platform. Designed for optimal trading, Noah actively uses the most liquid pairs for the most profitable trades in the market.
Features
Algorithmic trading strategies that provide a high degree of profitability.
An intuitive user interface that allows you to easily set up and control trading.
Support for a mobile app for the ability to trade directly from the mobile device.
Pros and cons
Pros:
Ability to trade in both rising and falling markets and open long or short positions.
A high percentage of successful transactions is due to adaptation to different market conditions.
Instead of buying a subscription to one of the PRO packages, Cryptorobotics offers a profit-sharing system that makes using the crypto trading bot more accessible.
Cons:
Trading is carried out only in the futures markets.
How to use a crypto trading bot?
Using a crypto trading bot on the Cryptorobotics platform typically involves a series of steps. While the exact process might vary based on the bot or the updates the platform has received after my last training data in September 2021, here's a general guideline on how to use a crypto trading bot on similar platforms:
Sign Up/Log In.
Connect the platform to your cryptocurrency exchange account using API keys. 
Choose a Bot.
Configure Settings.
Define your trading parameters. This can include the amount of capital to trade, the specific pairs to trade, risk parameters, and more.
Launch bot.
Regularly check the bot's performance.
Withdraw Profits received by crypto trading bot.
End Notes
To sum up, using a proper bot in the crypto trading scenario can help you maximize your trading potential. Check out the aforementioned trading bots as we have tried to cover up most of the information about them and still if you have any queries regarding them; don't hesitate to let us know in the comment box. Use the bots and be the Jack of all crypto trading!
Subscribe

to our newsletter

& plug into

the world of technology