Do you want to know how to remove yourself from a Snapchat group? Then you've arrived at the right location. This page is intended to assist you with this Snapchat issue.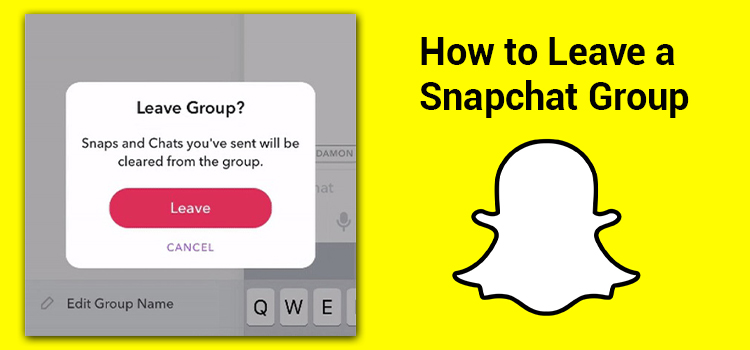 How to Leave a Group on Snapchat?
You'll be able to achieve it if you follow these steps:
1. If you haven't already, open the Snapchat app and log in to your Snapchat account.
2. At the lower left, tap the conversation icon.
3. Tap and hold the group conversation to bring up the menu, then tap "More."
4. Choose "Leave group" from the drop-down menu.
5. To confirm that you want to quit this Snapchat group chat, use the "Leave" button.
Is There a Way to Leave Snapchat Group Without Notifying Other Members?
This question has a simple answer: no. If you leave a Snapchat group, everyone in the group will receive a message in the chat reading, "[username] has left the group." They will not, however, receive a separate notification; instead, they will only see the message if they open the conversation.
Furthermore, when you quit the group, all of your messages, snaps, and videos will be removed immediately. As a result, if you were an active member of the group, there was no way for you to leave quietly.
With that said, several people have reported that there is a hack that can assist you in a circumstance like this. However, before you try it, keep in mind that there is no guarantee that it will work. You can read it first and then determine whether or not it is worth the risk.
How to Leave Snapchat Group Without Notification
The first step in ensuring that no one is informed of your departure from the group is to block them. You only have to block them for a few minutes, so don't worry.
When you block someone on Snapchat and they're in the same group as you, they won't get any of the messages or snaps you post to the group. All of this is part of the app's extensive privacy policy.
As a result, you can block all of the chat members one by one before leaving the group. In this manner, they won't be aware of your departure because they won't be notified of any of your group activities.
Doesn't it appear to be simple? To make things easier for you, we'll show you how to block a user on Snapchat.
Step 1: Log in to your Snapchat account using the Snapchat app on your smartphone.
Step 2: To complete your assignment more quickly, go straight to the group's information. To do so, click on the group's bitmoji. You'll see a list of all the users that are members of the group there.
Step 3: Long press the first member's username. There will be a pop-up menu. There are a variety of choices available, including Snap, Chat, Audio call, Video call, and More. More can be found by clicking on it.
Step 4: A new pop-up menu will display after you've done that. From here, select the second option, Block, which is written in red.
So there you have it. Now all you have to do is repeat the process with the rest of the group members to ensure that no one knows you're departing.
Also, remember to unblock them all as soon as you leave the group. While there's no way they'll notice you've blocked them that soon, it's better to be safe than sorry.
Finally, keep in mind that, while they will not be told that you have left the group, it will only take a second for them to click on the group information and notice that you are no longer there.
Conclusion
We compiled all of the relevant info about the topic you were looking for. We hope you got the answers you were looking for in this post.