For a better recording output, the Nintendo Switch users record or stream their gameplay on a PC by using a capture card. We assume that you are a newcomer to streaming or making Nintendo switch gaming content. You are willing to record your gameplay but don't have a capture card.
Well, for recording Nintendo Switch gameplay, a capture card is not a crying need. Nintendo Switch gameplay recording on PC can be handy by using screen recording software; Filmora WonderShare, EaseUs RecExperts, WorkinTool VidClipper, Joyohsare Vidikit, etc.
So, fasten your seatbelt and have a ride through this article and gather knowledge about how you can record your Nintendo Switch gameplay on your PC without a capture card.
The process to Record Nintendo Switch Gameplay on PC Without a Capture Card
When you are willing to record gameplay on Nintendo Switch without a capture card, the switch console allows you to record a clip of 30 seconds. There is a capture button on the Nintendo switch that allows you to do so.
But 30 seconds is not enough and you need a full gameplay recording. For this reason, screen recording software will be a great option for you. Screen recording software like Filmore wonderShare, Joyohsare Vidikit, etc. can provide you with gameplay recording with top-notch quality. You can get 1080p resolution by using this software.
First, connect your Nintendo Switch to your PC by using an HDMI cable. Now, download the screen recording software whichever you want. The Filmora Wondershare has varieties of features while screen recording and for that reason, we have shared the procedures here.
Step 1: Launch Filmora Wondershare on your PC and click on Screen Recorder.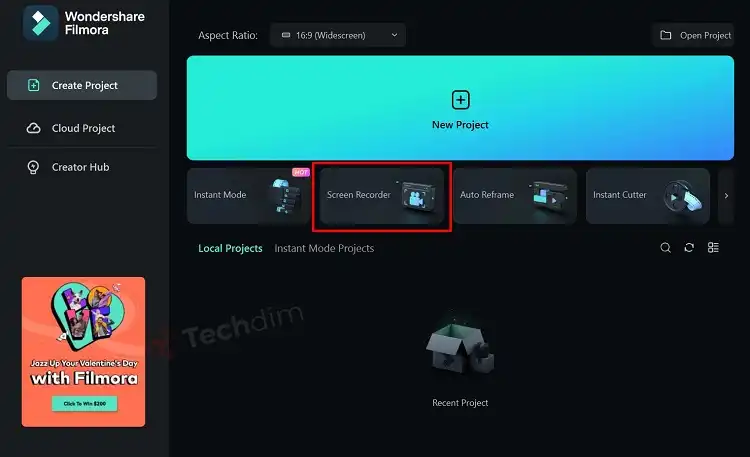 Step 2: On the next window, you will get the Wondershare Screen Recorder interface. Now, if you want to customize the recording settings, Click Settings to expand.
Step 3: There you will get the File location option, Frame rate settings, Quality settings, and other relevant options. Also, from the settings, you can choose when you want to stop the gameplay recording.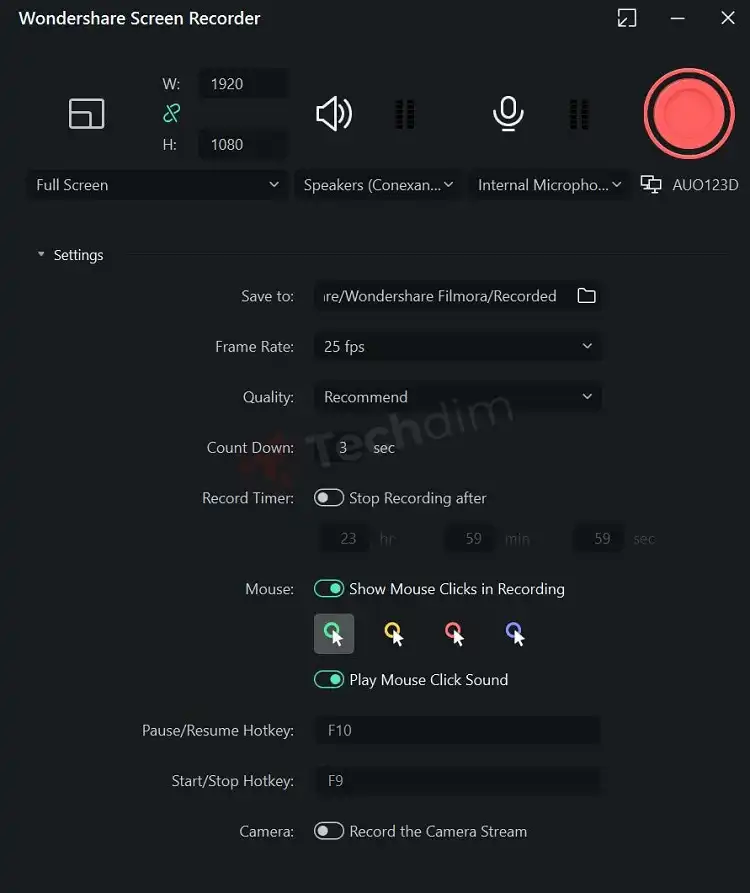 Step 4: Now click on the Red-dabbed Circle icon to start the recording.
Step 5: When the recording is done, click on Red-dabbed Circle with a Square icon to Stop and export the recording.
Now, you have successfully recorded your Nintendo Switch gameplay on your PC without a capture card.
By using Filmora, you can also create videos for different aspect ratios and save the recorded files in different video file formats like MP4, WMA, etc.
Frequently Asked Questions And Answers
Can I use my PC as a capture card for Switch?
Yes, you can. Install screen recording software on your PC and you will able to use your PC as a capture card for Switch.
Can I stream switch on a PC without a capture card?
No, you can't stream switch on a PC without a capture card. But you can use Xbox one console to stream switch gameplay on a PC. In that case, you won't need a capture card then.
Conclusion
To sum up, without screen recording software you won't be able to record your Switch gameplay on PC without a capture card. So, download a screen recording software and record your gameplay and share it with your friends and social media. Lastly, if you have any further queries, let us know in the comment box. Gracias!