When you've had countless heart-wrenching moments in the past when someone used your dial-up modem phone, you'd appreciate what technology has done. Gaming has been completely revolutionized with tons of new tech like wireless gaming keyboard, mouse, router pouring in to make it more enjoyable. One innovation you can't stop appreciating is the gaming router. For this, we're going to talk about how to setup a gaming router to have the best connectivity and ping ranges for gaming.
This piece of hardware's got the right features to keep you connected. A gaming router acts as a link between you and the outside world. Its relevance to gaming, particularly online gaming, isn't contestable.
To experience like a pro online gamer, you should learn how to set up a gaming router in the right way. This article is a perfect place that you can learn to experience another level of gaming.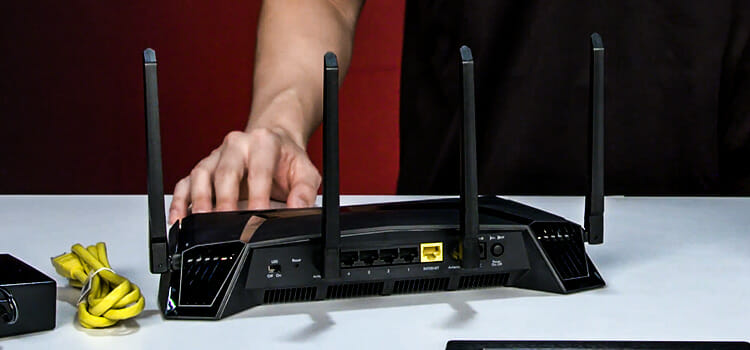 How to Setup a Gaming Router – 4 Considerable Factors
So, to ensure you remain in touch with the world here's all the info you need to know about how to setup a gaming router
1. Check Your Router's Bandwidth Range
You could've heard the word 'bandwidth' before but don't really know/care what it means. Well, for a properly-functioning router, you've got to know what it is! 
Bandwidth is the volume of data that can travel from, and to your computer. Check to ensure your router will perform with a more pronounced bandwidth range, so go for much higher data connection devices.
2. Check Physical Connections and Modem
If you're not hooked to a wireless internet connection, the finest step is to check your modem and router's connection. And that's not where it ends!
To avoid glitches, make doubly sure that your chosen router has the right firmware. If you're not sure of the firmware your router's currently running on, it's better to check for an update.
Also, ensure you use Ethernet cables in connecting the router to your computer.
3. Run a Speed Test
After successfully connecting your computer to a router, the next step is to run a speed test. Running this test helps you confirm the overall speed of your ISP.
It's necessary you do this to avoid disappointment with your data service in the middle of your gaming adventure. 
4. Go for Wired Connections
When gaming is concerned, it's a sure thing a pro will tell you to go for a wired network. And there are numerous reasons. With advantages such as more stable connections over time, lesser interference and more, wired connections are right for your gaming experience.
So, for the best link to your online game, a wired server is currently your best bet for an unhinged gaming experience.
Benefits of a Wired Connection over a Wi-Fi Router
Greater bandwidth
Faster response
Lower chance of interference
It's no secret some may believe cables have a disadvantage when it comes to distance. But while gaming, there's no need to stay too far away from your PC/console. And to cut off distance, there're router cables which could measure up to 50 feet!
For making your router-console operation easier, know that there're two methods that could easily make it happen;
Direct connection
Here're the steps for establishing a direct connection with your router;
Unplug your modem
Using the Ethernet cord, link the modem and router
Connect the dial-up or pen modem to your console/PC
Plug the router in and allow to boot
Connect a console to the router using an Ethernet cable
On your browser, log-on to the router's setup page and follow the sign-up prompts
Finalize the router's set-up and get gaming!
Port Forwarding
Make use of the universal linking (Plug-n-Play) option and switch to enable. Or you can also use the Advanced Network settings depending on your router's model.
After this option is enabled, restart your router
Choose port forwarding from the drop-down list or menu of your router
Enter the name and IP of your game
To locate the IP address of your console, locate it in the LAN Devices section of your router.
What Type of Router Should I Go For?
When in the market for a choice router, there's a ton of options. These options hold the perfect router for you when you're equipped with relevant info.
Routers mostly come with Ethernet ports capable of data transfer within 10 – 100Mb/s. It's a fact that most games don't need much data transfer for seamless functioning.
The most popular routers perfect for gaming today are 802.11n and 802.11b/g. So the best ps4 router for your games need not have excessive specs.
Another very vital part of the selection process is the type of link the router uses. We've talked a lot about Wi-Fi and cable connections, so the choice is left to you. 
Final Word
With all the simple steps you now know how to set up a gaming router, it's going to surely be a breeze to get the router of your choice started up for gaming.
Set it up the right way, and enjoy the best gaming on your chosen network, hassle-free!