How to Use Both Integrated and Dedicated Graphics for Gaming? Simple Guide for You
When it comes to gaming, squeezing every bit of performance from your system is often the goal of every enthusiast. One common question among gamers is whether it's possible to utilize both integrated and dedicated graphics simultaneously for better performance.
In the past, the answer was largely "no." But with technological advancements, things have changed.
In this guide, we'll explore the concept of using both integrated and dedicated graphics to enhance your gaming experience and discover whether it's possible to use both at the same time. Let's get started!
how do I Set Up and Use Both Integrated and Dedicated Graphics
Here is how you can use both integrated and dedicated graphics for gaming.
Step 1: Check Compatibility
Ensure your CPU has integrated graphics (most modern Intel CPUs and some AMD APUs do).
Your dedicated GPU should be compatible with the dual graphics feature. This is more common with certain AMD pairings.
Step 2: BIOS Settings
Boot into your motherboard's BIOS.
Look for settings related to graphics or IGPU Multi-Monitor.
Enable that settings to allow both integrated and dedicated graphics to work simultaneously.

Step 3: Install Necessary Drivers
Ensure that both integrated and dedicated graphics drivers are installed. This might involve downloading drivers from Intel and NVIDIA/AMD.
Step 4: Configure Graphics Settings
For NVIDIA: Open NVIDIA Control Panel > Manage 3D Settings > Global Settings tab, and set the preferred graphics processor to "Auto-select."
For AMD: Open Catalyst Control Center > Power > Switchable Graphics Application Settings, and set the game's .exe file to use "High Performance."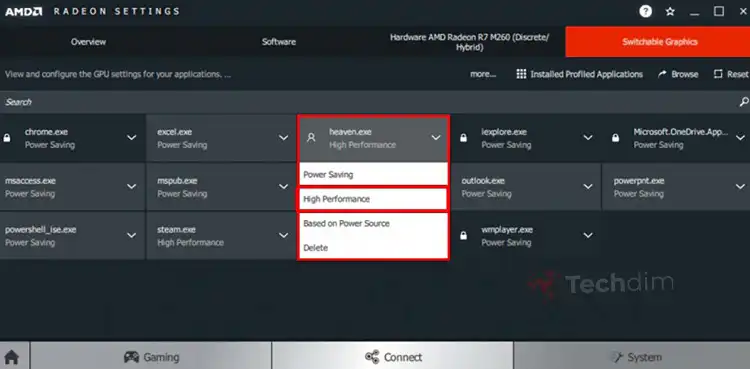 Finally, run a game and check the performance. Utilize software like MSI Afterburner to monitor GPU usage.
When Can You Switch Between Integrated and Dedicated Graphics?
The technology that lets you switch between dedicated and integrated graphics is commonly known as switchable graphics. Laptop manufacturers have developed methods that allow the laptop to seamlessly switch between graphics solutions to balance power consumption and performance.
NVIDIA's Optimus Technology: If your laptop has NVIDIA graphics, it likely uses Optimus technology. It automatically switches between your dedicated GPU and integrated graphics based on the application.
AMD's Switchable Graphics: Similar to NVIDIA's solution, AMD's technology allows the laptop to switch between energy-efficient integrated graphics and high-performance dedicated GPU.
Factors to Consider While Using Both Integrated and Dedicated Graphics at The Same Time
Before we move into the "how to" section, let's answer the question of whether it is possible to use graphics simultaneously. And before that, let's clear up some factors about integrated and dedicated graphics.
Integrated Graphics: These are graphics processors integrated into the computer's central processing unit (CPU) or built into the motherboard. They are typically less powerful and share system memory with the CPU.
Dedicated Graphics: These are separate graphics cards installed in a PCIe slot on the motherboard. They have their own dedicated video memory (VRAM) and are designed for high-performance gaming and graphics-intensive tasks.
Traditionally, when a dedicated GPU (like NVIDIA or AMD graphics card) is installed, the integrated GPU becomes idle. Integrated graphics, usually from Intel, are part of the CPU and use system RAM, whereas dedicated graphics cards have their own memory. Dedicated GPUs are built specifically for intensive tasks and thus are better suited for gaming.
The concept of using both integrated and dedicated graphics is known as "dual graphics" or "hybrid CrossFire." This setup allows the integrated GPU to handle less intensive tasks, preserving the dedicated GPU for more intensive processes. The result? Potentially better performance and power efficiency.
Limitations and Considerations of Using Dual Graphics
While using dual graphics, games can benefit from slight performance gains and can easily run on multiple monitors, there are some limitations. There could be compatibility issues, and in some cases, performance might even take a hit.
Here are the common issues you might encounter when using dual graphics:
Software Conflicts: Having multiple graphics management tools can lead to conflicts. Stick to one, either the software that comes with your graphics card or the built-in options in Windows.
Heat Management: Relying too much on the dedicated GPU, especially in laptops, can lead to overheating. Ensure your system is well-ventilated.
Battery Consumption: Dedicated graphics can drain battery life rapidly. When not plugged in, switch to integrated graphics or a balanced mode to conserve battery.
Wrap Up
Using both integrated and dedicated graphics for gaming can be a way to maximize the potential of your system. However, the benefits largely depend on the specific hardware combination and the games being played. Before setting up, it's crucial to do thorough research and understand the potential benefits and limitations of your unique setup. Always remember: the ultimate goal is smoother gameplay, so use whichever configuration achieves that best for you!
More Questions to Ask
Is dual graphics the same as SLI or Crossfire?

No. SLI and Crossfire involve using two dedicated GPUs, while dual graphics utilize integrated and dedicated graphics.

Will this harm my computer?

No. However, ensure that your system has adequate cooling as both GPUs will generate heat.

Can I use Intel-integrated graphics with an NVIDIA card?

Yes, primarily for multi-monitor setups or to save power, but not in the dual graphics performance-boosting sense as with some AMD setups.

Does this mean I can game without a dedicated GPU?

While integrated graphics have improved, for modern games at high settings, a dedicated GPU is still recommended.

Will I see a drastic improvement in FPS?

Not necessarily. The gains are usually modest and can vary depending on the game and resolution.
Subscribe

to our newsletter

& plug into

the world of technology