Razer Ouroboros is a popular gaming mouse for being super friendly to both right-handers and left-handers. Another great feature of this mouse is wireless. This mouse doesn't only connect with the computer wirelessly but also has a wireless charging feature.
If you are facing a problem with the wireless of your Razer mouse, then don't worry. You are not alone in facing this problem for the first time; fortunately, there are some effective solutions to fix this problem too.
So, let's follow our guide thoroughly and you will be able to fix your Razor mouse by the end of this article.
Why Razer Ouroboros's Wireless Not Is Working?
You may face a problem connecting back to your Razer mouse when you unplug the USB cable and plug it into the Ouroboros Dock. It is a frustrating issue that you need to remove the drive from the device manager each time so that it can auto-detect your mouse.
There can be a few reasons why the wireless of your Razer Ouroboros mouse stopped working. The most common reasons are:
Faulty Software
Problematic Drivers
Issue with Synapse software
Issues with the battery
How to Fix 'Razer Ouroboros Wireless Not Working'?
As you are not sure about the exact reason why your Razer mouse wireless stopped working, you have to follow the given troubleshooting method step by step to solve this issue.
Method-1: Run the Troubleshooter
The first thing you should do after facing the mentioned issue is, run the troubleshooter.
Type "Troubleshooter" in the search box and select Troubleshooter. Then select peripheral devices and follow the further on-screen process. It will fix if there are any software-related problems with your Razer mouse.
Method-2: Update Razer Mouse Driver
If the 1st method is unable to fix the problem, then you have to update the driver manually. Follow the instruction below to update the Razer driver.
First, you have to go to the official Website of the Razer and select PC from the list.
Then, click on Mice and select your mouse from the list.
Now, scroll down and click 'Download Software and Firmware Updates.
Then, expand "MICE & MATS" and your Razer Ouroboros device, and finally, click "Download".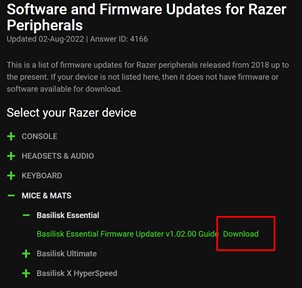 After finished downloading, install the driver and firmware and check if the issue is solved or not.
Method-3: Re-install Razer Synapse Software
There is a possibility of a defect in the Razer Synapse app that causes wireless not working problems with your mouse. So, re-installing this software can help you fix this issue. Here is what you should do:
Uninstall Razor Synapse using the Revo Uninstaller while enabling the option – 'Delete everything (Razer folder and files).
Then, unplug the peripherals and restart your computer.
After that, download Synapse from the official website of Razer and install Razer Synapse 2.0 as Admin.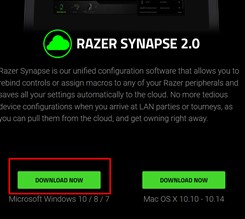 Now, login to Synapse and let it update.
After completing the update, the wireless not working issue with the Razer Ouroboros mouse will be resolved automatically.
If you are still facing a problem with your mouse, then you have to contact Razer customer support to fix it.
Frequently Asked Questions
How Do I Make My Razer Ouroboros Wireless?
Razer Ouroboros mice are designed to be user-friendly. So, you don't have to do anything special to make your mouse wireless.
Just unplug the USB cable from your mouse and put it in the Razer Dock. Now pair the mouse with your computer and your mouse will be ready to use wirelessly.
How do I turn off my Razer Ouroboros?
It happens to many users that they turn off their computer and yet the Razer mouse is still turned on. It is because the wireless mode of your mouse is still on and it is searching for pairing inactive device.
To turn it off, press and hold both DPI buttons which are between the left and right click and hold it until the lights are turned off.
How do I pair my razer wireless mouse?
First, push the slider switch to the Bluetooth mode. The slider switch is situated on the backside of the mouse.
Then, press and hold the two side buttons, and the DPI up button simultaneously to activate the pairing mode.
Now pair it on your computer.
If the Razer logo blinks twice in a repeated way, then your device is in pairing mode.
Why is my wireless Razer mouse not charging?
There can be several reasons why your Razor mouse may stop charging. The possible reasons are:
Connection problem
Problem with Synapse app
Faulty Razer Mouse Driver
Dead Battery
How to Pair Razer Ouroboros Wireless Mouse to a System?
First, press the pairing button and hold the side 6,7,9, and 10 buttons simultaneously.
Then, if the lights of your mouse and charging dock start blinking, then it is ready to be paired.
Finally, the lights will stop blinking when your mouse is paired successfully with the system.
Conclusion
We hope you can successfully resolve the issue of Razer Ouroboros Mouse Wireless Not Working by applying the methods provided in this guide. But, first of all, don't forget to check the battery and replace dead batteries.
If you still have any suggestions or confusion, please feel free to tell us in our comment section below.