It is amazing how we are able to get thousands of digital content with a few clicks; isn't it? I am sure that all of your download and enjoy music, videos, apps, software, games, and much more digital content. Some of you may buy original games or songs online. Android developers and content creators are the ones who make it possible for you to enjoy every bit of digital life. Like real-world products with buyers and sellers, digital contents have the same organs and characteristics. That's why licensing and copyrighting digital products for android developers are as crucial as for saying a computer seller or a super shop owner. This is where the DRM license in android phones comes into the scene. We will know ins and outs of the DRM license in this article.
What is DRM License on Android Phone?
DRM is the abbreviation of Digital Rights Management. DRM license allows the android developers to secure their digital contents by copyrighting and licensing while these contents are distributed among the consumers. It is a way of protecting the works of the content creators in terms of financial and intellectual benefits.
Suppose you want to purchase an original android game from your phone. After the purchasing is done and downloaded successfully on your phone, a digital license will also be downloaded by which you will be able to open that game. The android developers put in encryption during the development of any content so that random people cannot get access to it. As you have purchased the product legally hence you will be able to decrypt it with the use of a DRM license. Sometimes this license is not automatically downloaded on the phone; in these cases, the owner company manually sends the license copy.
DRM license comes up with a key or password which is required to get access to the purchased product. However, the key can be easily shared among the mass, right? So, we need a set of rules and regulations in order to check and balance the integrity of the consumers so that the android developer is not hurt financially or intellectually. DRM license allows this scrutiny to take place. Whenever you are about to open a purchased digital content, the DRM license will check whether the subscription is legal or not and then allow you to enjoy it.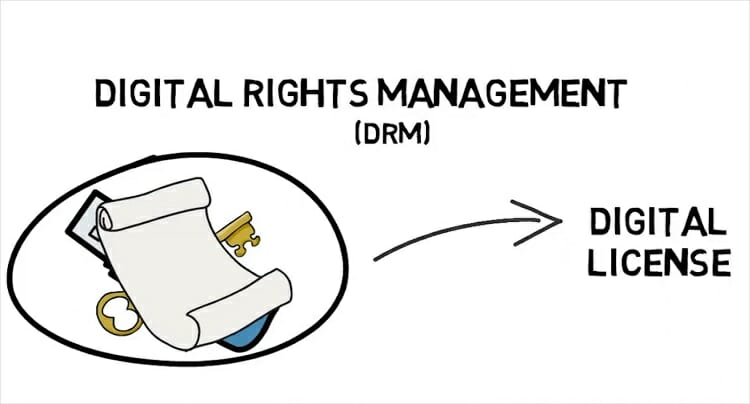 Why is the DRM License Necessary?
Before going to the benefits section of DRM licensing, at first we have to decrease the practice of using pirated copies of digital content. What is the use of a DRM license if we continue to listen to pirated songs, play unauthorized games, and watch unofficial movies for the sack of a few bucks? On the other hand, if we purchase more and more original products, the benefits we will get through DRM licensing are immense. Some of them are-
Android developers and content creators will be encouraged more as they will be benefitted financially from the use of DRM licenses.
Your android phone's security will be improved to a great extent. Pirated contents tend to infect the devices with viruses, or malware, and malicious ransomware.
DRM can verify an app even when you are offline.
DRM license protects the apps and games of the play store or other non-traditional app stores from any digital thief.
When to Remove DRM License from Android?
First of all, you should not remove or reset the DRM license from your android phone unless you will sell the phone or give it away to the other person. As you cannot get access to purchased digital content without having a DRM license for that content on your phone, you must not remove it while using the phone. Only when you decide to sell the phone, you have to DRM reset it because you should not allow the other person to use your purchased item for the sack of copyright issues. 
Once you DRM reset the phone, you cannot access the purchased contents anymore; you have to re-purchase them renewing DRM licenses. Don't worry about other files and documents on your android phone while doing a DRM reset because all the other things except the DRM licenses will remain intact. It is a major difference from factory reset which deletes everything on the phone including DRM licenses; however, you should apply both the reset operations before selling the phone.
How to Remove DRM License from Android?
Now, let's come to the point of how to reset DRM licenses from your phone. The process can vary a little from phone to phone. The general steps of removing DRM license from the android phone are- going to settings>>> then choosing backup and reset>>> selecting reset DRM license option>>>clicking OK. After a few minutes, your phone should remove all the DRM licenses. Again the caution: only apply this reset operation when you decide to sell the android or give it to someone else.
Conclusion
DRM license has spread its applicable area from mere songs or movies to medical documents, trades, and other sensitive data which are digitally stored. As the world is becoming more online-based in nature, the protection of various contents and documents of the internet is becoming more important. Also, we should not take things for granted by using thousands of pirated content. This is where Digital Rights Management (DRM) license in android phones comes as a savior.